Love It Or List It's David Visentin Has A Simple Fix Your Home Needs Before Selling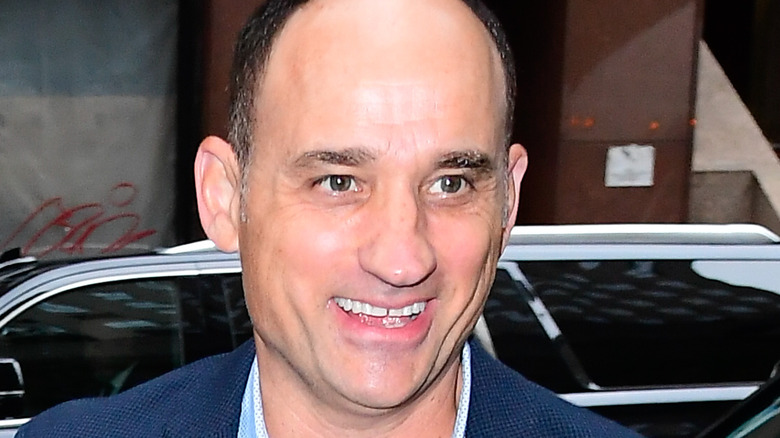 Raymond Hall/Getty Images
If you're considering putting your house up for sale, David Visentin of "Love It Or List It" knows the simple fix it may need before selling. With more than 30 years of experience as a real estate agent, Visentin has some basic, yet vital advice to make your home market-ready. While some properties may need more grunt work than others, the long-standing realtor recommends not making things too complicated. "A coat of paint and really good staging can do a lot," he said (via Realtor.com). You might touch up interior spaces, including walls, cabinets, and other significant surfaces with modest, yet appealing shades to make a lasting impression on potential homebuyers. 
Besides brightening up your home with freshly painted walls, showcase each space with a clean and tidy look. Focus mainly on highly utilized areas like the living room, dining room, kitchen, and master bedroom. These rooms should look warm and inviting with a limited amount of furniture and personal items on display. Additionally, consider the style and placement of your furnishings with accurate staging. Visentin continues, "It can really boost how you're presented on the market without getting into a major renovation." You might also update everyday essentials, including hardware and appliances, although, you don't need to make dramatic changes. However you prep your home before it hits the market, you can create a saleworthy listing without going over budget.
Simplify the presentation with minor updates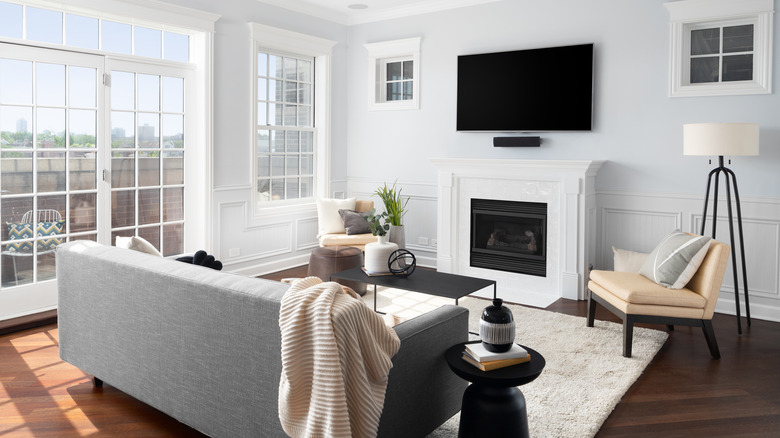 Joe Hendrickson/Getty Images
While a good presentation is a big part of making a successful sale, there are a few ways to keep your efforts minimal. When painting, pick warm neutrals for the living room and bedroom walls like beige, gray, or white. However, the kitchen and bathrooms might benefit from light blue or blue-gray shades. While the right wall color can attract prospective buyers, it doesn't have to stop there. HGTV's David Visentin says, "Even painting the cupboard, doing some smaller stuff that doesn't impact the pocketbook too much." Whether dark or light, serene hues like blue, gray, or green throughout your cabinetry can make white walls and lighter backsplashes stand out significantly. Bright, overpowering colors would be something to avoid altogether.
For basic improvements, upgrading old handles, door knobs, and light switch plates is a quick and easy way to showcase a new, modern look for a sellable home. Determine whether or not new lighting is needed, as it can be pricy. If you have it within your budget, consider energy-efficient or recessed lighting options. Additionally, whatever furnishings and pieces you decide to replace, fashion your living room with a relaxed, welcoming motif. While staying within budget, choose suitable furniture that complements each room. Amidst various decor, plants, and other accents, you can showcase an attractive interior with original taste.
Avoid huge, costly renovations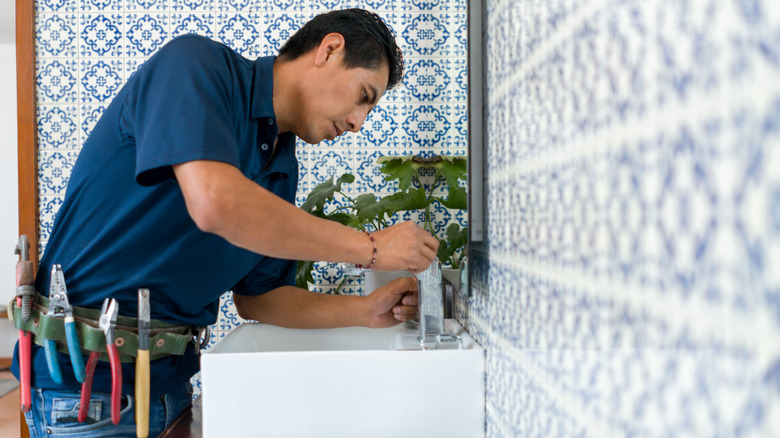 Andresr/Getty Images
Although it's important to fix things that are broken or unsafe before selling your home, you may want to skip impractical, overpriced remodels. David Visentin explains, "The cost of wood and everything is so high right now, renovations are very expensive." While newly updated kitchens and bathrooms generally pique the interest of homebuyers, they're also known to have the highest price tags. Additionally, the limit of materials has steadily continued following the economic drawbacks of the pandemic. Visentin continues, "Because you're going to (move) out, risking the least amount is probably the best way to go."
Ways to improve these areas without getting into a deep project may be found within subtle appearances. In the kitchen, keep all windows clear, counters clean, and shelves organized. Position bar stools and chairs around an island or table accordingly with a small vase of flowers and/or a bowl of fruit. Each bathroom should be presented without signs of stains, rust, or mold. Apply caulking where needed and provide the space with ample, natural light. You could also enhance the bathroom or spa with plants, crisp, folded towels, and an alluring fragrance. Overall, create scenes that potential buyers can picture themselves living comfortably.