Here's Why You Shouldn't Overspend On A Sofa, According To Emily Henderson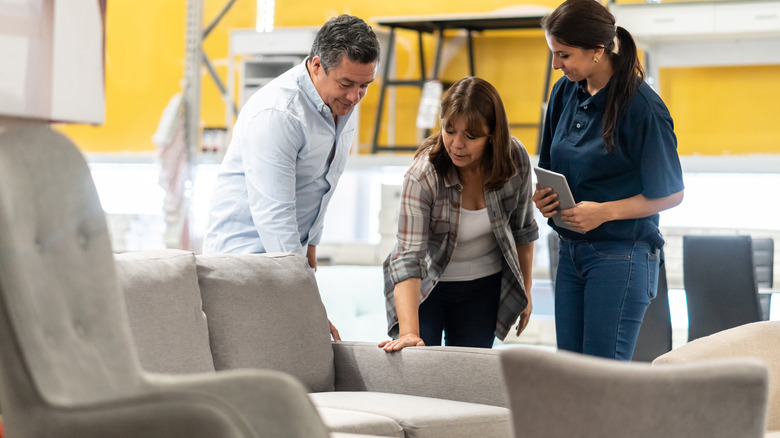 Andresr/Getty Images
When designing your living room, HGTV's Emily Henderson doesn't recommend spending most of your budget on the sofa. "These days, there are some exceptional sofas ... that are also incredibly affordable," explained Henderson, per Homes & Gardens. "It used to be, 'splurge on the sofa because you're going to sit on it for nine hours a day.' It's not that you should invest in a cheap sofa by any means, but that's not where I would splurge." Instead, the interior designer recommends spending less on this piece of furniture so that you can spend more on a showstopping item, such as a vintage rug, that can't be easily replicated.
Of course, everyone has various ideas on what "overspending" really means, since there are different opinions about how much you should budget for a sofa. Generally, though, the cheapest pieces can be purchased for around $300 to $1,500, with an average of $900. However, unless you score a high-quality sofa at this price, you may need to spend more. Staying on the lower end of the mid-range spectrum — i.e., $1,500 to $3,000 (or little over $2,000 on average) — is a great goal to have. If the piece costs more than $3,000, you may be moving into overspending territory.
Elements to look for in a sofa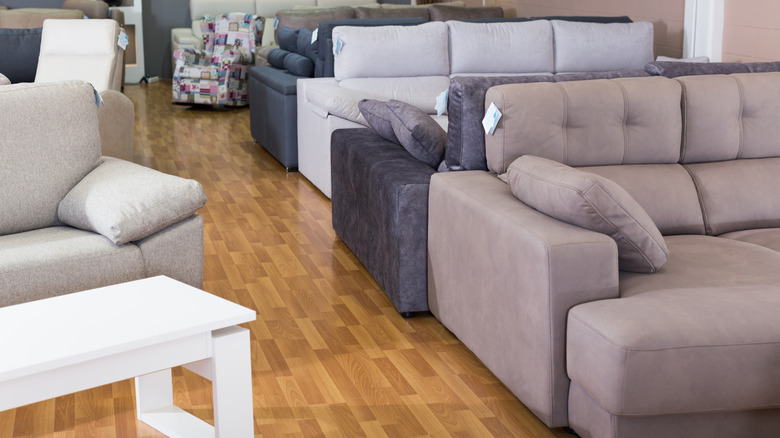 Jackf/Getty Images
Just because you shouldn't overspend on a sofa doesn't mean you should choose the cheapest piece you can find, either. According to Emily Henderson, there are a few things you should always try to avoid when picking out the right seating for your living room — regardless of how much you spend. "There are some sofas that transcend bad in a way that is hard to come back from," said Henderson in her blog, Style by Emily Henderson. "[B]ad fabric, bad shape, weird curved legs or winged arms, multiple fabrics, and just what I like to call 'try-hard' details."
Instead, she recommends focusing on good quality and comfortable materials that look fairly high-end. Per Henderson, "I'm not saying buy expensive sofas (at all) nor am I suggesting to buy super stylized sofas. No one loves a simple sofa more than me because they are so easy to style." The best sofa designs are those that aren't in your face but that add a subtle amount of interest to your space — and you don't have to overspend to find that.
Where to buy a quality sofa (and not overspend)
There are a few retailers that sell quality sofas at fairly inexpensive prices (read: at least under $2,000), which will help keep you away from possibly overspending on your next sofa piece. For instance, IKEA is a great place to begin your search. Most of its pieces of furniture are made out of fabrics that can come in a number of different colors. Further, its website tells you how firm or soft the piece will feel, which could be helpful when ordering online. Many of IKEA's sofas are under $1,000.
Another place you might consider checking out is Snug Sofa, which specializes in velvet pieces that look much more expensive than they really are and that come in a number of color options, too. Expect Snug Sofa pieces to cost between $1,000 and $2,000, or about $1,000 away from the overspending threshold. Finally, if you're looking for a material like leather or bouclé, Article may be the place to start your search. This retailer also has other materials like fabric and velvet, and its sofas range in price from about $700 to $2,000.