How To Style A Leather Sofa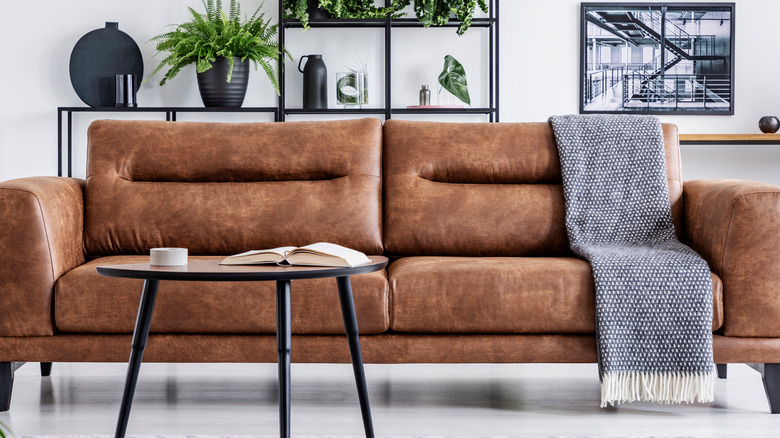 Photographee.eu/Shutterstock
Leather sofas are a real statement piece in any home. A dark leather sofa can almost seem overpowering at times, depending on the size of the room they are placed in, and there are some great ways to soften them up and make them blend seamlessly into their surroundings. Light leather sofas may need a little something to help them match the aesthetic in your home.
Maison de Pax explained how leather sofas are a real investment and, if properly looked after, can last for a long time. Sofas are often the largest piece of furniture in a room, and depending on the style of the sofa, you may or may not want them to dominate the room. They are great for families with children as they are liquid resistant and easily wiped down. So with that in mind, what is the best way to decorate them and change up the look during their life in your home?
Soften things up
Olga Miltsova/Shutterstock
Dark leather sofas can often be quite masculine, and a brilliant way to add a softer touch is to use throws, rugs, and cushions in light or contrasting colors. Dasta Furniture said that picking out cushions in colors that match the room in either solid colors or bold patterns is one of the easiest ways to decorate your leather sofa. Soft throws are another way to use fabrics to mix up the look of your sofa. Spreading a warm, light-colored, soft blanket across the back can break up the darkness of a brown or black sofa and add texture.
If you have hardwood floors, using a large rug under the sofa is a good way of decorating and defining your seating area. Using these soft furnishings together and making sure to pick out colors from other items in the room such as rugs, curtains, or wallpaper really softens and draws the whole look together. Lighter-colored leather sofas usually have a softer look, so you might prefer to use some bold accent pillows or throws to give the whole room the look you're going for.
Decorating the space around your sofa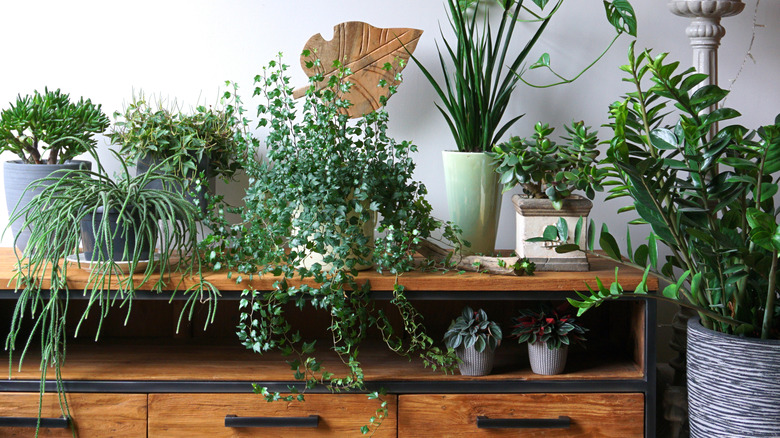 L. Feddes/Shutterstock
Depending on the sort of look you're going for, sometimes decorating the space around the sofa is the way to go. Centsational Style suggested that pairing the leather sofa with upholstered armchairs or seats can give your room a collective feel if opting for more leather feels too much like you're making everything look perfectly duplicated.
Bringing in books, artwork, and plants can help to change up the whole look of your room, making your sofa work for you. As leather upholstery is an investment piece that will last a long time, it's easy to change things up in the vicinity to bring your whole aesthetic up to a more modern standard.
One of the great things about this type of sofa is its ability to work with so many different interiors. Lazy Loft touched on a few interior design styles such as cottagecore, shabby chic, industrial, and urban modern that pieces like this work well with. Something as simple as putting your sofa on a bold statement rug can work wonders and make your whole sitting area feel instantly different.