What Are Envelope Closure Pillowcases And How Should You Style Them?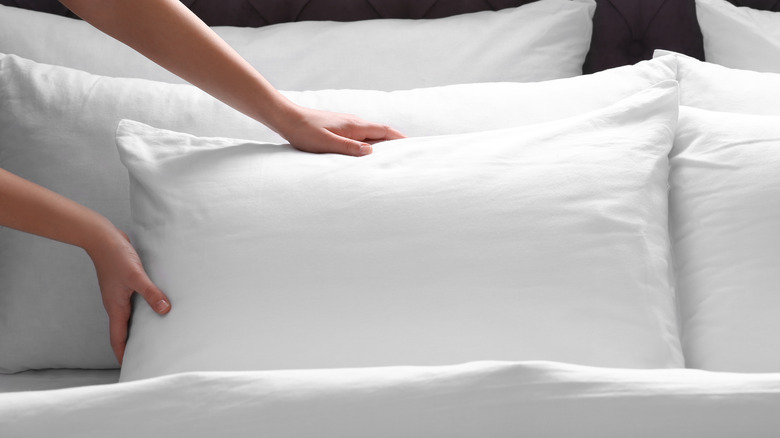 New Africa/Shutterstock
Pillowcases are an integral part of any bedroom's décor scheme, coming in all manner of sizes, colors, and fabrics. If you're looking for a great way to transform or elevate a bedroom for little cost and time, switching out your usual open-ended pillowcases for new ones — like an envelope closure pillowcase — is a surefire way to get an instant impact.
Envelope closure pillowcases, also known as tuck-in pillowcases, are commonly found in Europe, and, as their name suggests, they fold in and around and encase the end of the pillow itself — keeping the pillow securely inside and out of view. There are a number of key benefits to using this style of pillowcase, as well as ways to use them to the best advantage in your bedroom, living room, or anywhere in your room aflush with soft, cushioned surfaces. You can even turn a standard-fit pillowcase into a pocket, enveloped variety yourself with some strategic folding.
Benefits of envelope pillowcases
Envelope closure pillowcases offer a number of benefits, including a more streamlined, cohesive look without the underlying surface of the pillow poking out on a carefully made bed. It's also better for the pillow, particularly if you don't use additional pillow dust covers. An exposed pillow can not only be unsightly but means the pillow itself will be in need of more washing. Older pillows can also become stained and discolored, just with age. Enclosing the pillow completely also prevents the struggle of trying to keep a loose pillow inside its case if you, or those you share your home with, are an active tosser and turner when you sleep.
Further, because they stay in place, envelope pillowcases are far less likely to become wrinkled during use, presenting a cleaner surface overall. What's more, a smoother pillow surface can potentially help to protect your face during sleep by reducing "friction" on the skin, as dermatologist Dr. Ryan Turner explained to Mattress Firm.
How to style envelope pillowcases
You can pick up envelope-style pillowcases at a number of retailers, particularly online. Many throw pillow covers use buttons or other embellishments to secure the flap of fabric that creates the envelope design on the outside. Envelope closure pillowcases for the bed, meanwhile, usually remain smooth in appearance, though some incorporate small buttons for both decoration and function.
If you have a regular set of standard pillowcases you love, you can also adapt any pillowcase into an envelope-enclosed one by implementing a few strategic folds, according to Nate Berkus. You simply need a pillow size that's smaller than your case by a few inches. He suggests using a standard-size pillow in a king-size case. Pulling the pillowcase's short sides together and folding them under DIYs a pocket you can tuck the pillow's end into, keeping it firmly encased.
This transformation technique is often the trick hotels use for a clean, crisp bedscape every time. Envelope-style pillow covers are also great for throw pillows on couches and other places around the home, often allowing easier insertion with a wider mouth than zippered cases.