The Time Erin And Ben Napier Turned Old Gym Flooring Into A Stunning Dining Room Table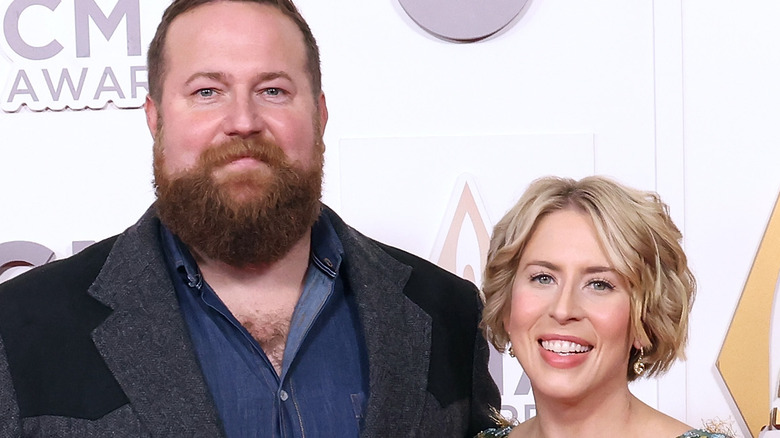 Taylor Hill/Getty Images
When thinking about the kind of home you want to buy and live in, you might think about a brand-new house with a mix of new and vintage décor and furniture. However, depending on where you're currently residing, there's the chance there aren't new homes available. While some older homes aren't in the best shape, there are ways to transform a rundown house and give it a polished look. Moreover, including furniture that gives sentimental value can make a home feel more special, like when HGTV's "Home Town" stars Erin and Ben Napier used reclaimed gym flooring to turn it into a dining table. House Beautiful's TikTok shows a clip of Erin and Ben discussing the dining table and its unique features. They took a small part of the slab that they cut into a star and placed it in the middle of the table instead of using the entire gym floor to create a whole dining table. 
Using reclaimed lumber to build furniture is better for the environment since it helps prevent cutting down more trees and uses the scraps from those that have already been cut down. Since the wood is older, it has a more mature look that you can't get from new lumber. In addition, it's stronger than newly sourced wood because it was derived from older trees, so it'll last for years. You don't have to use reclaimed wood for your flooring; instead, use it in furniture or décor, as Erin and Ben did.
Story behind the Paulsens' dining table
During an episode of HGTV's "Home Town," co-hosts Erin and Ben Napier worked with three siblings, Pam Paulsen Danielson, Tom Paulsen, and Jennifer Paulsen Thornton, in Laurel, Mississippi, to spruce up a dated Victorian home that was built in 1900. The siblings wanted to be closer to their father and allow the chance for their children to grow up in the same environment they did. While Erin and Ben had to meet three different people's requirements, a lot had to be changed. However, the results ended with a gorgeous house with a new wraparound porch, kitchen cabinets, counters, and a handmade dining table.
As mentioned, the dining table is expandable and can seat up to 10 people. Erin claims, "The whole heart of this [dining] room and the heart of this house is this table" via House Beautiful. Ben worked on the table with a team at Scotsman General Store & Woodshop, and an interesting feature they included in the table can be collapsed by unlocking and rotating it. Ben talks about the outer part of the table being made of maple wood, while the star in the center is made from one of the gym floors from the University of Mississippi, where the Napiers' and Paulsens' attended. The siblings were so surprised to hear that their dining table had a piece of the university; they were in awe.
How to DIY wood furniture with old gym floors
If you want to add history to your home, you can DIY your own wood furniture using old gym floors. Geeks Wood Shop goes step-by-step on how he made his reclaimed gym floor workbench on YouTube. You'll need gym floors, a circular saw, protective glasses, quick clamps, PVA glue, a planer, a table saw, a jointer, a domino jointer, a drill gun, a sander, and a handheld planer.
First, cut your floor slab in half if it's too large. The gym floors have nails, so you'll want to lock them in by hammering down every nail. Then, glue both slabs together and drill in other nails to keep them in place. Next, measure how large you want your workbench to be by clamping down each side, removing the nails you installed, sawing off the extra bits, and cutting the slabs into smaller boards. Using the planer, smooth and level out each board and cut them again on the saw table for them to be your desired size. After, use a jointer to cut the ends at an angle. Once cut, glue them together and mill them in the planer to make them smooth. Next, use the domino jointer to place dominoes inside to make openings where you can place small wood pieces to connect each board to the base. Finally, insert screws to keep the panels in place, sand the surface, and use the handheld planer to even out the surface.