Turn Your Sofa Into A Stylish Cloud Couch With This Blanket Hack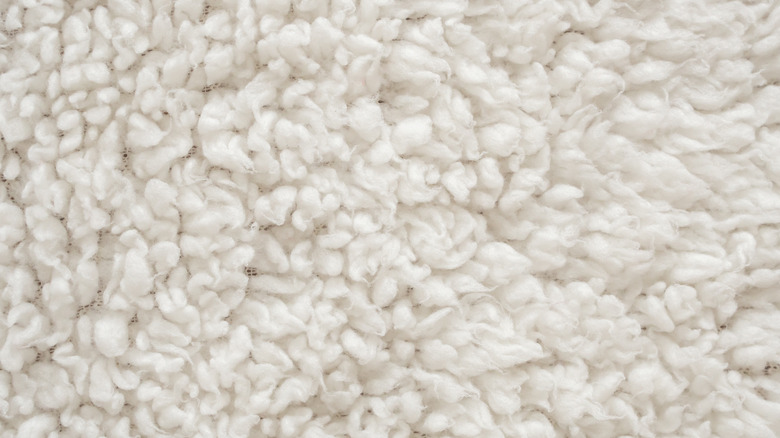 Kwangmoozaa/Getty Images
Boucle fabric, or its slightly less expensive and fluffier cousin teddy fleece, has been a rising trend in recent years, with nearly every home retailer offering its own version of sofas and accent chairs in these popular fabrics. A more rich and textured version of plain white or cream upholstery, it's often a great choice to add some dimension to the room. Boucle or fleece also tends to be durable and more child/pet friendly than fabrics like velvet or linen. The tactile effect is soft, touchable, and luxurious.
Enamored of the stylishness of a boucle sofa but wary of the high price tag? TikTokker homeofshade recently showed off her modification of an existing velvet couch with much less expensive duvet covers and basic sewing machine skills. The look is both cozy and surprisingly budget-friendly. Its appearance and feel make it a dead ringer for couches that often sell in the thousands.
What you will need
After you have measured your existing couch, you can determine how much fabric you will need in the form of individual blankets or duvet covers. Make sure to allow extra for creating the pocket covers that will enclose any cushions that are loose. Teddy fleece, boucle, and shearling throws or standard blankets are available from many retailers, in stores and online. If possible, shopping in person can help you get a sense of how a blanket feels before you create your cover. While a little stretch is good for making a slipcover, too much can move around excessively or lose elasticity over time.
Using your blanket like any fabric, you can sew your cover together with a machine using a number of patterns and tutorials available online for slipcovers, making sure to allow enough fabric to tuck in at the edges and fit over the arms while still reaching the floor and providing coverage. Best results can often be achieved with sofas that have free cushions along the back, which can be outfitted with their own individual covers. If they are attached, you will have to create a cover large enough to drape and tuck in around the existing cushions.
Styling your sofa's new look
While many boucle and fleece sofas are white, cream, or other neutral colors, blankets or duvet covers come in a variety of shades, so you can customize yours to fit your design scheme. As a loose cover, it is also fully washable and most will only get softer and more comfy over time, like a much-loved blanket. This is particularly handy with children or pets in the mix. You can also secure your slipcover with wooden dowels or an unused broom or mop handle pushed down in the creases to help hold the cover in place.
The ruddiness of a teddy fleece or boucle upholstery pairs especially well with other textures and colors in a neutral room, including throw cushions in tweeds, velvets, and corduroys. This provides more dimension than the generic and sterile white or cream sofas that often populate contemporary living rooms. It's a look that can also be duplicated on a chair or ottoman using less fabric.