The WD-40 Hack That Makes Spray Painting Even Easier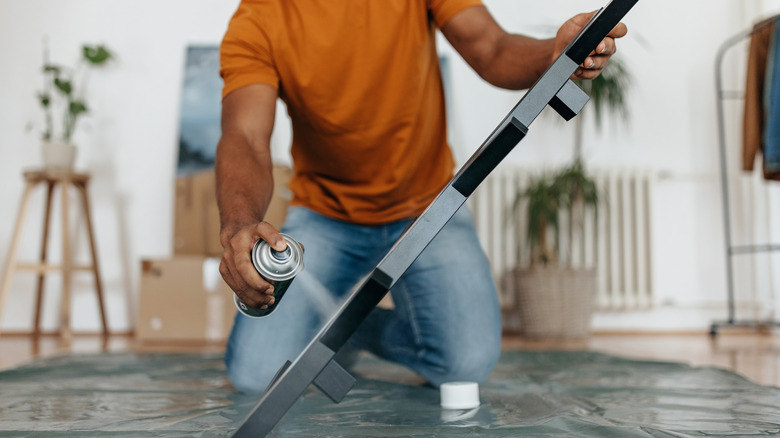 Supersizer/Getty Images
We may receive a commission on purchases made from links.
If you're refurbishing a dresser you found at a yard sale or you're trying to give new life to your old dining chairs, spray painting is a must — but sometimes it can be difficult to get a nice, even layer of paint. Spraying paint on too thickly can leave you with cracks in the paint, but not spraying enough or having uneven coverage can leave your project full of streaks. The nozzle of spray paint cans is often difficult to work with, but with this WD-40 hack, you'll have an easier time getting your project to look perfect. With just the top of a can of WD-40, you can paint more evenly and avoid the hassle.
This hack, posted on TikTok by @partyideas4you, shows how to switch the regular nozzle on a can of spray paint with the one from a can of WD-40. The longer spout from the WD-40 lid will help you to spray your paint with the evenness your project requires.
How to use WD-40 to spray paint with ease
In the TikTok of this WD-40 hack, the nozzles of the spray paint can and the WD-40 are pulled off, removing the spraying mechanisms. The top of the WD-40 can is then popped onto the top of the spray paint. While online retailers and home improvement stores sell attachments for spray paint cans that have a similar function, like this one from Amazon, this hack can save you a few bucks and a trip to the store.
Once you have your modified can of spray paint, move the long, thin nozzle of the WD-40 top perpendicular to the can, which will ensure it's unlocked. Now, you can press the top and spray your paint. The longer nozzle will allow you to be more precise while spraying, and it should provide a more even coverage of paint. It should also be easier to press down, so your finger won't cramp.
Other ways WD-40 can be helpful while painting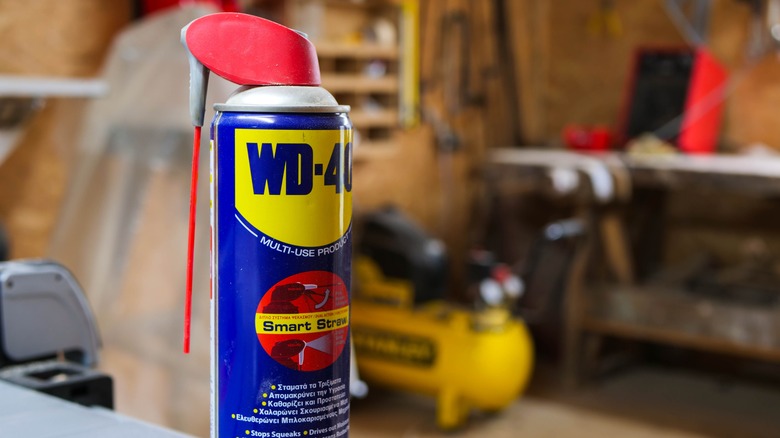 Benedek Alpar/Shutterstock
While this WD-40 trick can save you from aching hands and uneven layers of paint, it won't help you if the nozzle of your spray paint is already clogged from previous use. If you forgot to clear out the nozzle during your last painting session and it's become sealed shut, don't throw it out. WD-40 can also be used to unclog your spray paint can. Pull off the tip of the nozzle like in the last hack, and insert the tip of the WD-40 sprayer into the paint can. Give it one quick squirt and it should clear out the dried paint. You can do the same with the plastic piece of the nozzle, or it can be soaked in a small amount of WD-40.
When you're getting ready for your next DIY home project, consider keeping a can of WD-40 on hand to make your project's spray-painting step easier.