Here's How Much It Costs To Install An Outdoor Shower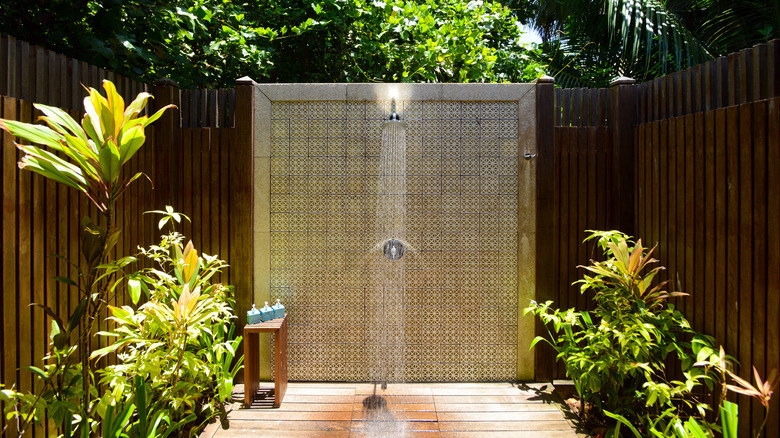 Phototalk/Getty Images
There are many reasons to install an outdoor shower. If you have a pool, you can have a place for guests to shower before entering the water. If you live by the beach or have a vacation home by the shore, an outdoor shower gives you and your family a spot to rinse the sand or dirt off before entering the house. Perhaps you spend a lot of time in the garden or doing yard work, and an outdoor shower would be great to rinse off the dirt and sweat throughout the day. Regardless of your reasoning, this outdoor feature offers a great way to cool off during the summer months and adds value to your home. 
To install an outdoor shower, the average cost, including installation, is between $1,000 and $5,000. There are so many variables and other costs you may not think about which may or may not apply. The type of shower you choose, the materials you choose, the hardware finish, the placement, potential extra plumber's costs, etc., are some of the major considerations. It's possible to DIY certain types of outdoor showers, but the savings aren't really enough to make a difference, especially if you don't have a lot of plumbing experience.
The types of outdoor showers and their price range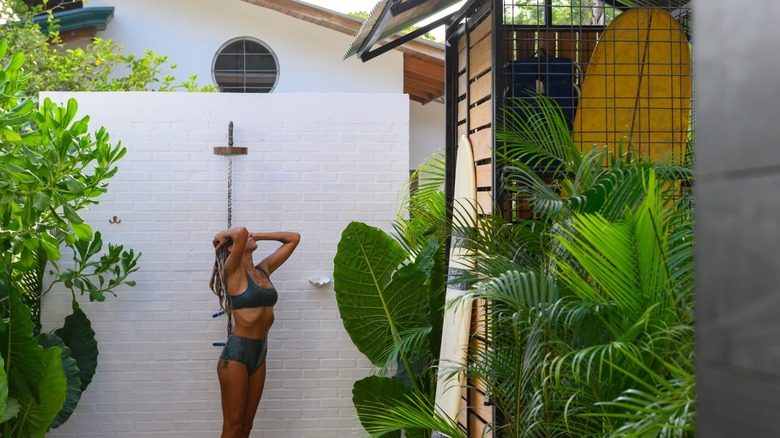 Stockstudiox/Getty
There are three types of outdoor showers, but they fall under two main categories. Wall-mounted is the first type, with a price range of between $100 and $500 for the shower. They're typically stationary and connected to the outside wall of the main house. You can save some money on installation by placing them near your existing plumbing system.
The next type is freestanding, which can either have stationary fixtures or are portable. Stationary fixtures are the most expensive, ranging from $500 to $2,000. The reason the cost is higher is due to the fact that they require the assistance of a plumber to tap into the water lines underground. You can sometimes use above-ground faucets, but the plumbing is more complex for this kind of freestanding outdoor shower. Last and least expensive are portable outdoor showers, with an average price of between $50 and $300. They're cheap, easy to install, and can go anywhere your garden hose can.
Additional cost considerations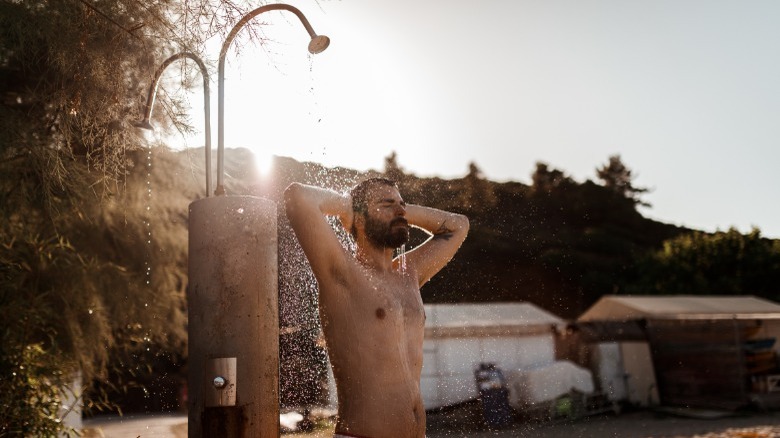 Domoyega/Getty
There are lots of other cost considerations. For example, do you want hot and cold water, or do you just want cold? Other questions will involve whether or not you want an enclosure and if you'll need flooring and drainage or not. If you just want something simple and functional and are flexible on placement, you can typically have it installed for under $1,000. But if you want something freestanding with stationary fixtures, an enclosure, and flooring with drainage, the costs can skyrocket to over $8,000.
Be sure to get several estimates when you're ready for your outdoor shower to get the best price overall. A plumber's rates will cost about $100 to $150 an hour. When you hire a plumber, always check to ensure they're licensed. You can check by state and look at reviews at PHCEid. According to Realtor.com, installing an outdoor shower has one of the biggest ROIs of outdoor features, with a 97% premium per square foot. An outdoor shower makes a great investment and will help keep you clean and cool all summer!