The Non-Negotiable System Upgrade Every Home Needs, According To 100 Day Dream Home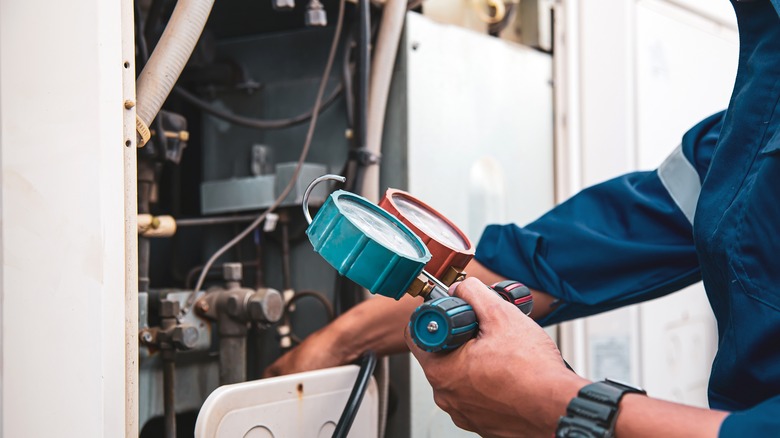 Eakrin Rasadonyindee/Shutterstock
Home design and construction experts Brian and Mika Kleinschmidt have stunned us for several seasons as they start from ground zero to design, build, and decorate their client's dream homes in under 100 days. Partially because they let the contestants have so much say in the designs because the final product needs to be totally catered to their tastes in order for it to become a true dream home. But there's one area of the planning and building that Brian and Mika won't compromise, and that's the HVAC system.
While a lot of home-building and renovation shows focus on aesthetics, like kitchen islands, built-in bookshelves, and so on, the unseen systems are equally as important. In a conversation with Realtor, the couple spoke of HVAC's importance, with Mika saying, "In the real estate world, if I'm going to a home inspection or walking through a property, I'm looking at the systems first before I look at the design — because you could have the prettiest room in the world, but if the things behind the walls aren't really functioning right, you could have a huge problem."
HVAC really matters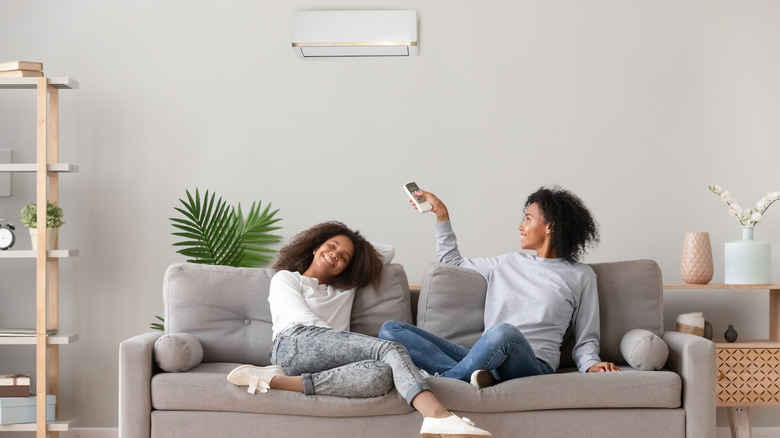 fizkes/Shutterstock
In the last few years, many cities have been hit by unprecedented, record-setting weather events. Torrential rain, region-covering freezes, and scorching temperatures have impacted many as climate change wreaks havoc on our environments. For that reason alone, even if you didn't grow up with a proper HVAC system or haven't needed it before, it's essential to have one at this point.
Not having one is "almost like going to look at a car and the car looks beautiful; but when you turn the key, the engine's not working," Brian Kleinschmidt adds. Too often, folks value form over function and aren't willing to put their money on something that works behind the scenes.
But these systems can drastically impact your quality of life. Brian adds, "That's why, with each new construction, we let our clients pick pretty much what they want except HVAC. We have a partnership with American Standard Heating & Air Conditioning now, and that is the standard on all our builds."
How to maintain an HVAC system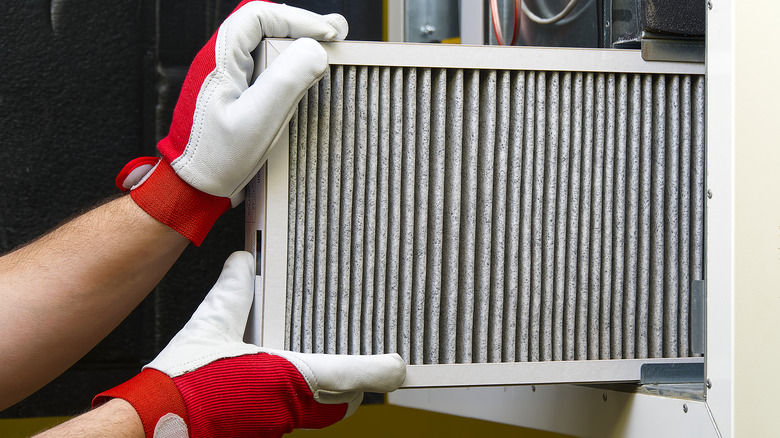 InFocus.ee/Shutterstock
When folks complain that their HVAC systems run inefficiently and hardly make a difference even while consuming loads of energy, the problem is often that the system hasn't received proper maintenance over time. If the HVAC seems to be running okay, many people hesitate to reach out to a local professional to give it a tune-up because nothing is majorly wrong, and those maintenance appointments can be expensive.
But that's a mistake, as Mika advises, "You've got to treat your house just like you would a well-oiled machine. I think maintaining those really critical systems like your HVAC, for example, is key." Plus, consistent upkeep will save money over time.
Cleaning your vents and replacing your filters frequently, for instance, helps the system to run more efficiently without requiring as much energy, which means lower costs on your utility bill. That's because the HVAC system isn't having to work through clumps of lint and debris in order to produce hot or cold air.
Additionally, while HVAC maintenance visits can seem expensive, they prevent you from having a total system failure, which would require a full replacement of your unit. So these small tweaks can keep your system working well without draining your bank account.