We Turned A Pool Noodle Into A Bathtub Pillow And Our Necks Couldn't Be Happier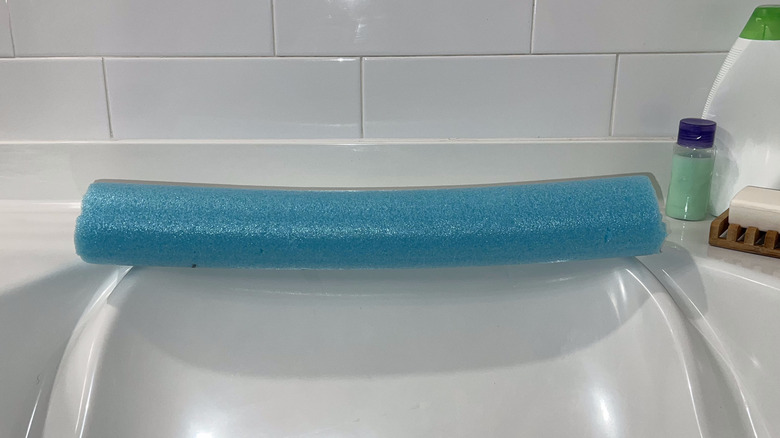 Darby Wagler/Static Media
We may receive a commission on purchases made from links.
Many of us retreat to one place after a stressful day at work or a long day with the kids: the bathtub. Soaking in a warm bath with the scent of your favorite body wash and the colors of a tantalizing bath bomb is a fantastic way to relax and rejuvenate. However, if you're accustomed to climbing out of the tub with a stiff neck, you could be less inclined to rely on this luxurious amenity. Unfortunately, our tub leaves something to be desired in the comfort department, so we tried crafting a DIY headrest with just a pool noodle and two suction cups.
As explained by TikToker Stephanie Booth, to complete this DIY project, you'll need to cut a pool noodle to size, attach two suction cups, and press them onto the back of your tub. Then, when you're lying in your bath, you'll have a comfortable place to rest your head. While this may seem silly and looks more than a little tacky, if it saves us from purchasing a $30 bath pillow, the absurdity may be well worth it. We also wanted to see if it was as easy to complete as it seemed and if it would actually make our bathroom feel more like a spa. (We were resigned to the fact that the aesthetics of this project wouldn't be spa-quality, but for under $10, we couldn't exactly complain about kitschy results.)
Buying the materials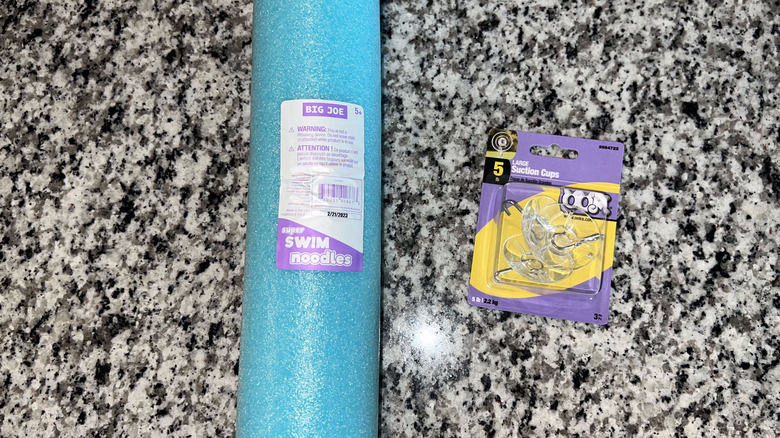 Darby Wagler/Static Media
You'll only need a few materials for this hack: a pool noodle, suction cups, and scissors. Unfortunately, we could only find this extra-large pool noodle at our local Walmart for $3.48, which was manufactured by the Big Joe brand. Because it was a bit thicker than average, we decided to use large hooked suction cups from the OOK brand, which we also purchased from Walmart for $2.48. These came in a pack of three and can hold up to 5 pounds.
We tested this hack in the white bathtub in our rental apartment, which is part of a combo tub and shower. The setup for this hack was extremely easy. To be frank, the most laborious task we had to tackle was scrubbing the tub with cleaner and a sponge so you wouldn't see our shampoo rings and grout grime. Once that totally necessary task was completed, we were ready to (hopefully) upgrade our tub's comfort factor. 
DIYing the headrest and testing it out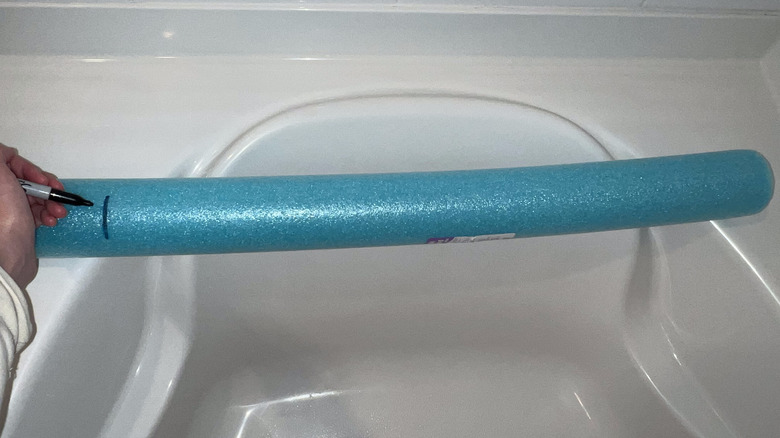 Darby Wagler/Static Media
To create the makeshift headrest, we placed the pool noodle across the back of the tub to measure how much needed to be removed. Next, we drew a vertical line with a permanent marker to mark where to cut. We then grabbed our scissors and cut along the line. Finally, we pushed the metal hooks of two suction cups into the noodle a few inches from each edge. We also placed the hooks on the underside of the noodle so that it would stay in place. 
When attaching the headrest to the back of the bathtub, the first issue was that the suction cups were too far apart. Luckily, this was an easy fix, as removing them from the foam and pushing them in closer together was simple. This wasn't a big deal, as the holes are so small that they're practically unnoticeable. The second problem we faced was that, because the back of our tub is shaped like a headrest, the pool noodle didn't sit flat against it. So we cut the noodle down to a smaller size to remedy this issue.
We then filled the bathtub with water, sat down, and leaned back; to our delight, the headrest supported our neck well. However, the extra-large noodle did feel a bit bulky. It's also worth noting that one of the suction cups popped off while we were bathing, but the "pillow" thankfully stayed in place. 
Should you make this for yourself?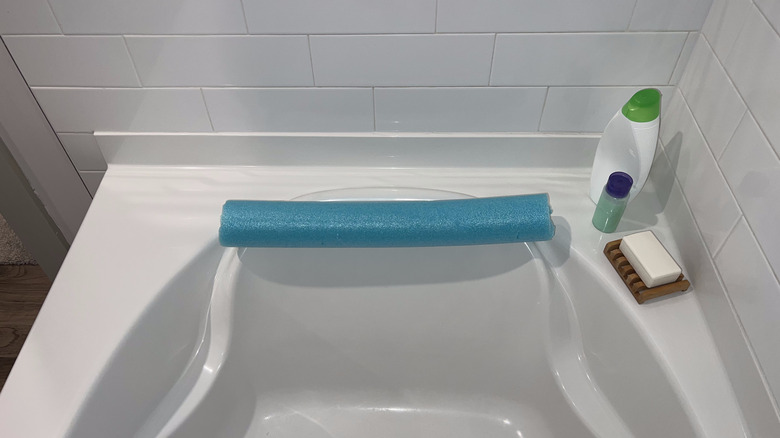 Darby Wagler/Static Media
Not only is this hack inexpensive and easy to execute, but it's also beneficial for several reasons. First, it provides decent head and neck support while bathing, which may help you relax more than you would without it. While we typically prefer a shower over a bath, if we did take frequent soaks, we could imagine ourselves reaching for this headrest often. Another benefit is that if you ever find yourself sliding toward the center of your large, slippery tub, this pool noodle will help you stay in place. It's also straightforward to remove and store somewhere else, so it doesn't always have to remain attached to your tub. 
For these reasons, this DIY project is worth the effort. While it's probably not as comfortable as an actual bath pillow, it will provide you with more support than you would have if you used nothing. However, because a bold-colored pool noodle sticks out like a sore thumb, you may want to find one in a neutral color, like the white one in Booth's TikTok. While not completely necessary, this would help it blend in and give your space a somewhat more sophisticated appearance instead of evoking images of children playing in the pool. You should also look for a regular-sized pool noodle, as the extra-large one felt bulky and was slightly tricky to bend.