What Is A 'Spathroom' And How Can You Get The Relaxing Vibe In Your Home?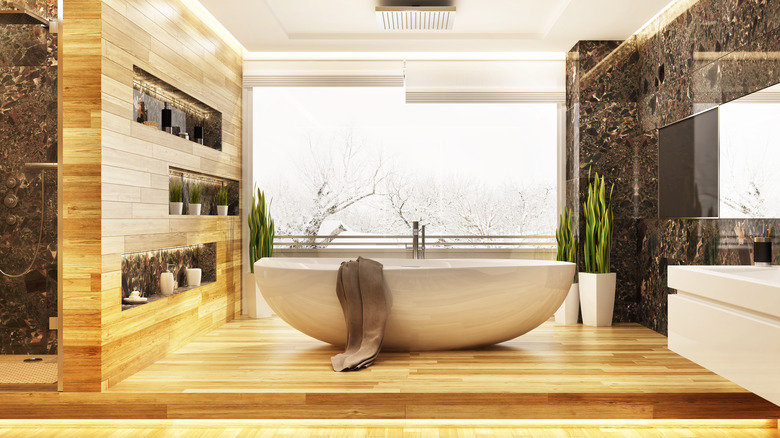 Sl-f/Getty Images
If you feel like you've been seeing a lot more at-home spa-like bathrooms in your Pinterest feed, it's for good reason — welcome to the 'spathroom' or spa-bathroom. As people look to make their homes their personal sanctuaries, they are taking more time and effort to make each room feel indulgent and relaxing. Bathrooms have long been looked at as purely functional spaces and not as an opportunity for stunning designs. 
This is unfortunate because bathrooms are one of the few spaces in the home that offer true privacy. But turning your bathroom into a spathroom can easily transform it into your favorite space in the house. There is a range of tips for transforming your bathroom that can work with any budget and DIY level. Here are the best ways to make your bathroom more relaxing, which can make a huge difference in making your bathroom your happy place.  
Incorporate organic materials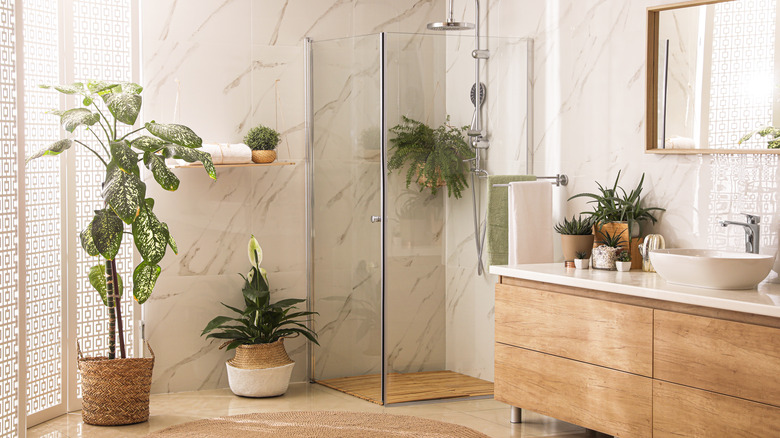 New Africa/Shutterstock
Part of making any space feel serene and calm is using natural elements like wood and stone. But you don't need to gut your bathroom to incorporate them into your space. Consider a bamboo or grasscloth wallpaper on an accent wall, or adding a solid wood floating shelf above the toilet. A small bowl of smooth stones, a miniature zen sand garden, or a small wicker basket full of hand towels look great beside a bathtub or on the countertop. These are small but affordable ways to bring a bit of nature inside. 
Plants are also an affordable option when you want a more organic, spa-like environment. You just need to know which plants thrive in humidity and warm temperatures. Bamboo, golden pothos, and snake plants are great choices, as they can tolerate humidity, low or bright light (especially important in the case your bathroom is windowless), and balmy temperatures. 
Invest in plush bath linens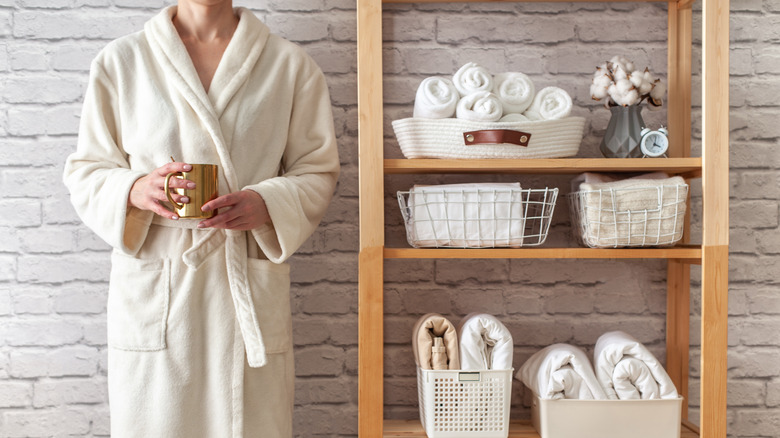 Kostikova Natalia/Shutterstock
Towels and bath linens are one of the things many people hesitate to toss out. After all, you only use them on your body when they're clean, and they do technically still get the job done, right? But in reality, linens lose their efficacy after just a few years as the fibers become clogged with oil, detergent, and dirt. Of course, you can use a few heavy-duty cleaning options to extend your towel's life, but it is recommended to replace your linens around every two years. 
So, if your old bath towels are taking up room in your linen closet, it might be a sign to invest in new fresh bath linens not just from an aesthetic viewpoint, but in hygiene and function as well. A new set of matching all-white extra-large bath sheets, a fresh robe, and new bath mats, will go a long way to making your bathroom and shower routine feel more like a spa-like experience. 
Make mini-upgrades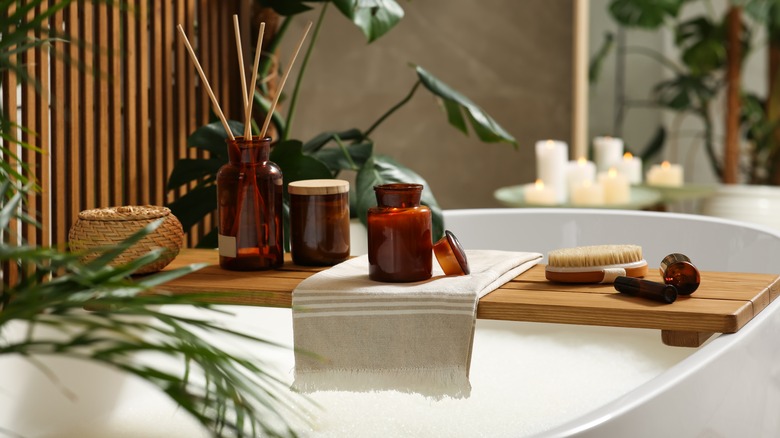 New Africa/Shutterstock
Reconfiguring your bathroom into a spathroom is all about the little things. Adding a bath tray and swapping out your mismatched body wash, shampoo, and conditioner bottles for amber-glass-like containers is a quick and relatively affordable upgrade. As are luxury candles and reed diffusers. Though they may seem expensive on the initial investment, high-end candles and oil diffusers actually last longer and better diffuse their scents. The gorgeous jars and labels are just a bonus. 
You can make other, more functional upgrades as well. New faucets and drain covers can make a big difference, while shower heads are surprisingly easy to swap out — even renters can usually replace them without facing a penalty, but be sure to check in with your lease agreement before installing one. Look for shower head attachments that have high-pressure and adjustable manual settings, or go full zen and opt for a rainfall shower head.