Here's Why Design Experts Are Loving Jennifer Aniston's Mid-Century Kitchen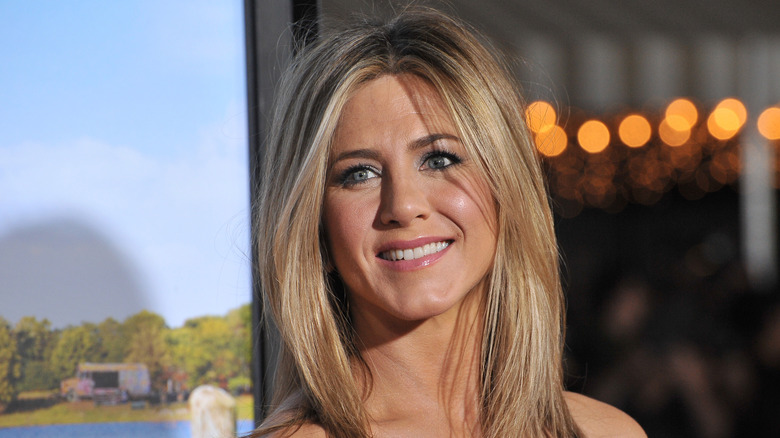 Featureflash Photo Agency/Shutterstock
Actress Jennifer Aniston's mid-century modern-inspired kitchen has made a splash, receiving praise from fans and design experts alike. LochAnna Kitchens' kitchen category manager, Sinead Trainor, loves how the Hollywood A-lister's design captures a chic, minimalist look within her Bel Air home. An open concept, the retro kitchen features many handleless doors and drawers amidst black and tan cabinetry, as seen on her Instagram. "'People want to create larger open living spaces where they can socialize, work, cook, and study without feeling restricted or confined to a cluttered room. Continuous, uninterrupted lines help to create this smooth transition between spaces and an open feel throughout." says Trainor (via Homes & Gardens).
Purchased in 2011 with her then-husband, actor Justin Theroux, the "Murder Mystery" star worked with interior designer Stephen Shadley to create an open and inviting space within the kitchen area. Designed in the 1960s by architect A. Quincy Jones, the impressive home encapsulates a mid-century vibe throughout with various elements of wood and stone, which are prominent within the design of the kitchen. From smooth lines to authentic materials, Jennifer Aniston's kitchen is both beautiful and functional, as it captivates the world of design on various levels.
Handleless cabinets create both space and intimacy
Grand, yet modest, design experts find actor and producer Jennifer Aniston's California kitchen an ideal mid-century modern creation. Sinead Trainor says, "The uncluttered, handleless design doesn't pull focus from the cabinetry itself and adds a sense of openness to any room" (via Homes & Gardens). Without the limit of handles, there's more room to breathe and move within Aniston's overall kitchen space. Additionally, the smooth and sophisticated texture of the black and tan cabinets is effortlessly embedded within the mold of the kitchen. This seamless look feels naturally inviting and ready for entertaining. While attractive and practical, handleless cabinets are no new thing. The minimal style emerged in the 1970s and was fashioned on most cabinets and drawers within various home designs. 
Trainor says, "Handleless cabinetry is truly here to stay." While this style might not suit everyone's tastes, it can provide better flow and function while staying connected with others within a more spacious environment. "Ultimately, the handleless trend is about creating a space representative of your individual style, especially if you prefer continuous, straight lines," continues Trainor. Depending on the size of a kitchen, the simplicity of handleless cabinets make way for other amenities like the "The Morning Show" star's vast kitchen island, wood-fired pizza oven, and encased wine rack (as pictured above).
The materials are natural and seamless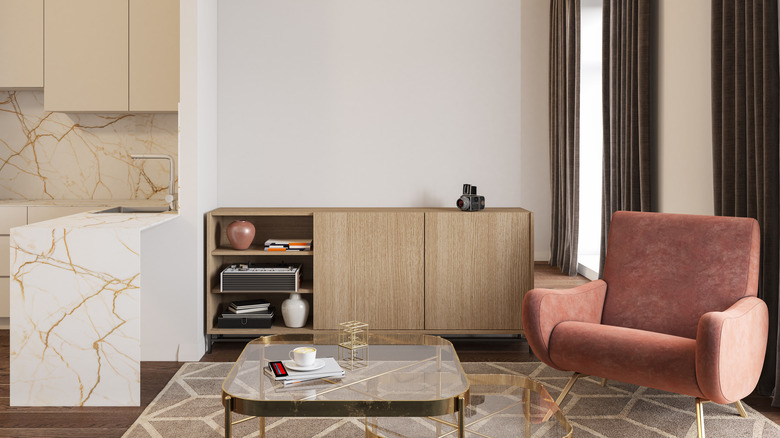 Ykvision/Getty Images
Another great thing about this kitchen is that the layout is seamless, where the outdoors and indoors meet, particularly within the colors and materials of the cabinetry. Sinead Trainor explains, "Continuous, uninterrupted lines help to create this smooth transition between spaces and an open feel throughout" (via Homes & Gardens). There's also a classic mix of materials. Warm, golden hues from the wood (possibly teak) cupboards and drawers immediately catch the eye, while the dark, black onyx countertops provide a deep contrast. While it's unclear the exact material of the counters, minute veins are present that appear similar to soapstone or marble.
In reference to typical mid-century style kitchens, Sinead says, "(they're) all about sleek, integrated and pared-back designs." Other neutral elements that merge well into Aniston's framework are stainless steel appliances, including the range oven and hood. Subtle contrasts are also present within the white walls and ceilings, charcoal-gray flooring, and black facade of the wood-burning oven. Notable furniture pieces that blend walnut wood and leather are the designer island bar stools by Blackman Cruz. A skillful blend of warmth and elegance, Jennifer Aniston's mid-century kitchen may have us entranced for years to come.