The Best Kitchen Appliance Color, According To An Expert Designer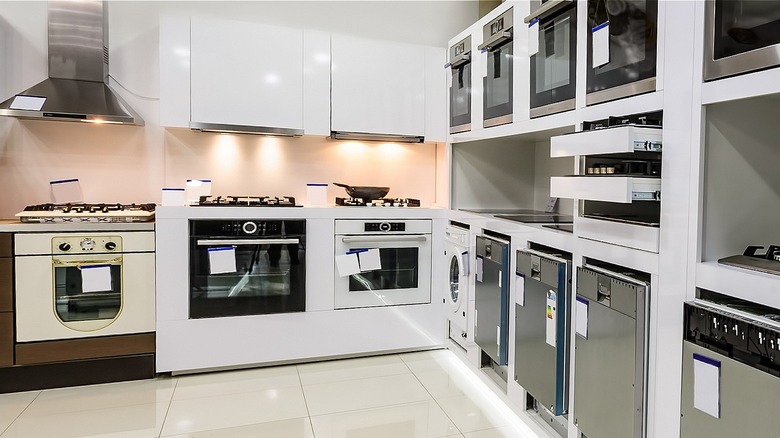 Serghei Starus/Getty Images
When it's time to purchase a new kitchen appliance, you need to do more than just consider what you need it to do. You also want to think about what it should look like, which includes its size, shape, and color. Although the first two aspects might depend on the space you have available, when it comes to choosing the best color for your appliance(s), you may want to opt for a modern, yet classic, color that's complementary to virtually any kitchen space and palette: stainless steel.
Formerly an option that you would only tend to see in professional restaurant kitchens, stainless steel appliances started to become a popular choice for homes at the beginning of the 2000s. At the time, the look perfectly went along with a push toward a turn-of-the-millenia cutting-edge aesthetic.
A durable material that's still trendy today and relatively easy to keep in good shape while featuring an attractive sleek finish, stainless steel appliances often suits homes with a contemporary style, minimalistic space, or industrial look. It can also work, however, in kitchens that contrast the cool tone of the metal with warm wood or natural stone accents.
Stainless steel-colored appliances are a safe bet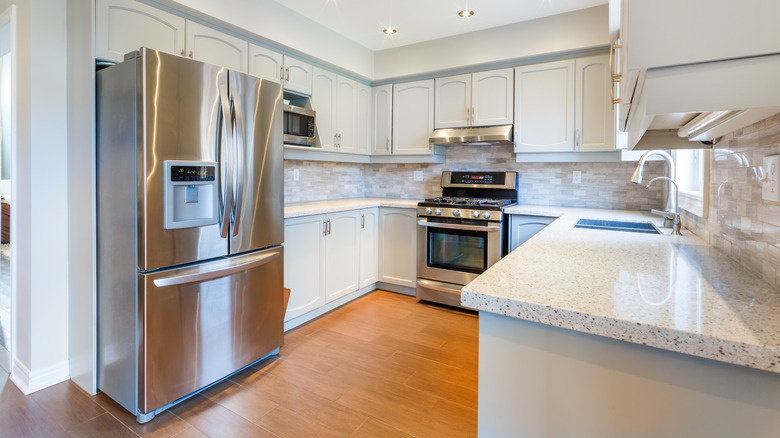 Sergey02/Getty Images
Though stainless steel may seem like a rather common color choice these days for kitchen appliances, that's one of the reasons why it's such a sure bet for pretty much any abode. As expert designer Isfira Jensen, CEO of Nufacet Interiors, explained to Homes & Gardens, stainless steel is the best color for appliances because it's "like a pair of jeans — it's versatile enough to match most design styles and aesthetic goals."
While that means stainless steel will very likely fit right into your current kitchen, the color will also continue to suit the space if you make any changes. That's not to mention the fact that stainless steel appliances tend to age well, too, which can allow you to keep them around for longer. Also speaking to Homes & Gardens, interior designer Artem Kropovinsky said of the color, "[S]tainless steel remains a favorite finish for kitchen appliances due to its longevity, adaptability, and compatibility with other colors. It can enhance the look of any kitchen, regardless of its style."
Of course, if you end up choosing to have stainless steel appliances in your kitchen, you'll want to be sure to give them the proper TLC in order to keep them looking as good as possible for as long as possible.
Keep the color of stainless steel appliances looking great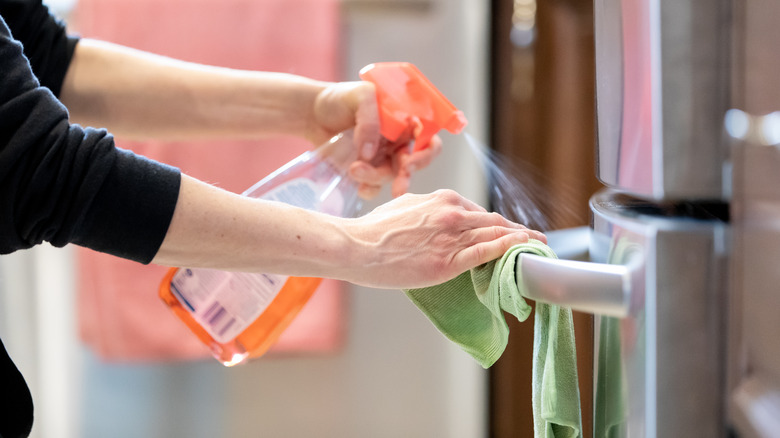 Onfokus/Getty Images
While experts may agree stainless steel is one of the best, if not the best, colors for kitchen appliances, the color won't flatter your kitchen if the exterior becomes dingy. That's why you need to take care of the finish and keep the outside of your stainless steel appliances clean. In order to do that, you'll need to get your supplies: microfiber cloths, warm water, and a stainless steel cleaner.
When it comes to stainless steel, stay away from products that are too harsh, such as bleach or chloride, as well as any kind of oven cleaner. Not only can they scratch the surface and ruin the polished color if they're gritty but they can also damage the layer that's applied on the appliance before you purchase it that's meant to protect the steel.
When you're ready, start by figuring out which way the texture of your appliances flows (just like in a piece of wood). Next, use the microfiber cloth and a bit of water to wipe the exterior in the same direction. As you do so, get rid of any grime and dirt.
Next, you can target fingerprints and tough-to-remove substances with the help of the stainless steel cleaner, which you can spray, spritz, or rub on before wiping it off with the same cloth (or a new one) — again, while following the grain. Finish things off by using another microfiber cloth to tackle any remaining issues and leave your appliance with a polished sheen and color you can appreciate for years to come.