The Kitchen Appliance Trend That Is Making A Comeback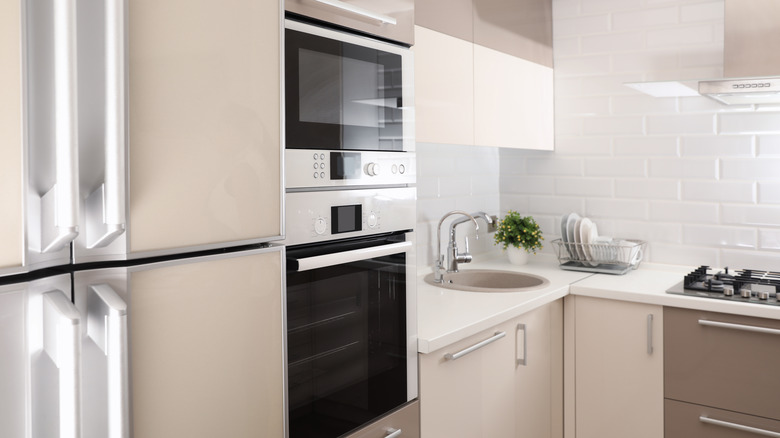 New Africa/Shutterstock
Kitchen appliances have become state-of-the-art features in the modern home. They incorporate cutting-edge technology to impart greater energy efficiency and cost-effective operation than older versions. But with the progression of technology has come a constant march toward sleeker designs and increased metal and sheen plastic construction.
This look may suit some kitchens and some homeowners' visions, but for others, this becomes an unsightly blotch on an otherwise beautiful kitchen design. One unique way of working around this concern is a design trend that many won't already be familiar with; nevertheless, it's one that's remained a staple of interior decorating for many years. Crystal Hackl, a professional interior designer, explains further: "Over the past several years, we've really seen an evolution of the kitchen from a purely functional space to an extension of the living space in the home" (via Better Homes & Gardens).
This transition of the space means that homeowners are spending more time in and around the kitchen. And in open-concept properties, the kitchen often remains a visual focal point, regardless of where you are in the common areas of the home. With this change brings a necessity to enhance the visual aesthetic of your kitchen to an even greater height.
Paneled appliances are a luxurious alternative to the steel look
While metal and plastic appliance faces have dominated the marketplace for many years, there is a quiet resurgence of paneled appliances that's continuing to make waves in the industry. Paneled appliances are those that use cabinetry as the front face of the unit. These cabinet features look fantastic and can add a cohesive feeling to your kitchen by matching the actual cabinets of your space to this addition.
With paneled appliances, a homeowner is able to do away with the cold and purely functional aesthetic of a typical refrigerator or dishwasher. Home Trends Magazine reports that paneled appliances create a luxurious and custom look in the kitchen and allow for the appliances in question to sink into the background of the space with great effect.
Paneled appliances can be seen in some of the homes of famous celebrities, according to Davies Appliance, and the appeal of this feature is obvious when browsing through pictures of the luxurious spaces that they round out. Considering utilizing this trend in your own home can elevate the kitchen and provide you with a unique point of focus that quickly melts away when conversation or eyes shift to something else — rather than the stark lifeless face of a stainless steel feature.
Multipurpose kitchen spaces are desperate for a change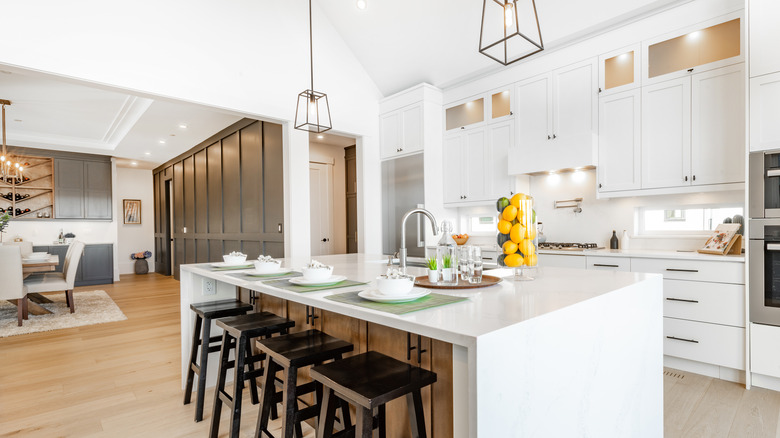 Sheila Say/Shutterstock
Another key feature of the market (for consumers, at least) is the use case of the kitchen space. Kitchens — especially those in open living households — act as the foundation for much of life's happenings. Not only is this space crucially important for cooking and other meal preparation tasks, but it's a meeting space for family members, a study hall for kids to complete their homework, and even a game night location and hub of activity during a sporting event. It's not just Crystal Hackl who is noticing a shift in consumer behavior in the kitchen, the National Kitchen and Bath Association offered a similar take on the guts of a home's kitchen in a 2023 Design Trends report: "Homeowners are looking to open the look and feel of the kitchen while adding elements that hide clutter."
The kitchen is becoming a more versatile space, to be sure. However, the trouble for homeowners looking to define this customized space that can be used for all manner of tasks is the appliances themselves. Hackl notes, "Appliances tend to consume a lot of visual real estate in a kitchen" (via Better Homes & Gardens). They are significant space occupiers, and stainless steel faces actively attract a viewer's gaze. Instead, many homeowners are looking to "blend many appliances seamlessly into their surroundings and reduce their visual impact by integrating them, which creates a more harmonious, calm, and luxurious experience in our kitchen living area," she offers.