Here's How To Properly Get Rid Of Your Used Couch Without Dumping It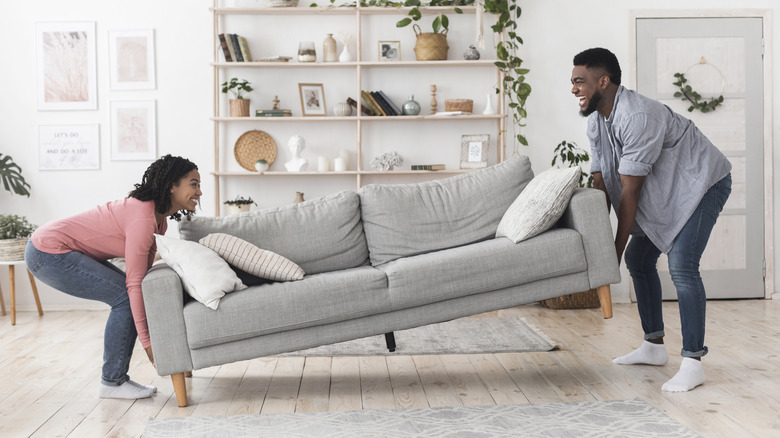 Prostock-studio/Getty Images
Have you been keeping up with the blue couch drama on TikTok and Twitter? The viral video shows a person in New York City taking home a designer couch dumped on the side of the road with the caption, "Got my dream couch for free" (via TikTok). For context, it was the Bubble sofa from Roche Bobois, which cost around $8,000. Though leaving furniture items outside for others to take is very typical in big cities, there are other ways to get rid of your used couch, like donating it or connecting with interested collectors.
Dumping an old couch on the side of the road is an easy way to throw away something you don't want anymore because it only requires you to step out of your front door. However, it might remain there for days and become spoiled or damaged, making it hard for anyone to use it. On the side of the receiver, it can be hard to gauge the condition of the sofa because you can't usually talk to the owner. This is why many people were worried for TikTok user @yafavvmandaa, as the street couch could have hidden bedbugs even after her deep cleaning. Dumping it in the trash can also pose problems because it will be hard to collect with the rest of the garbage. To properly get rid of your used couch without dumping it, give it away or sell it.
Give away the couch for free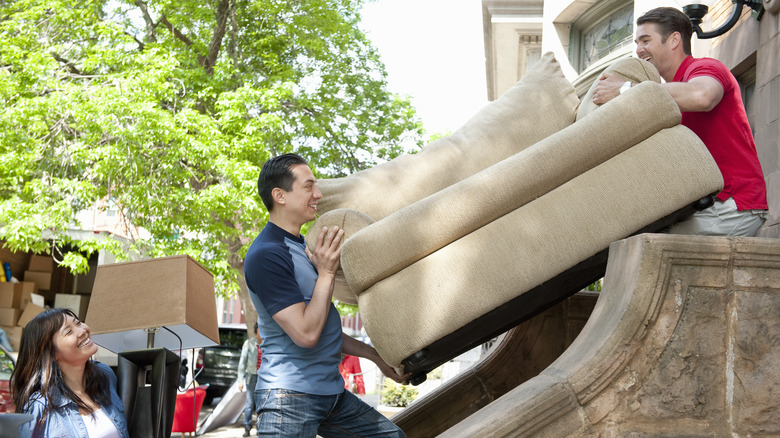 Yellow Dog Productions/Getty Images
Before you pass on your used couch to someone else, ensure it still looks and feels great. It shouldn't be sagging, faded, or have clear signs of wear and tear. Next, offer it up in a way that someone who needs it can collect it more directly. Try donating it to a local charity, thrift store, or nonprofit organization that accepts furniture donations and can give it to individuals or families in need. Some examples are Habitat for Humanity, Salvation Army, and Goodwill.
Some neighborhoods have furniture banks or recycling centers that accept used furniture to refurbish or recycle it properly. Check if there are such organizations in your area and see if they can take your couch. If your used furniture simply needs to be trashed, get a professional junk removal service that can collect and properly dispose of it, which is better for the environment.
Or sell it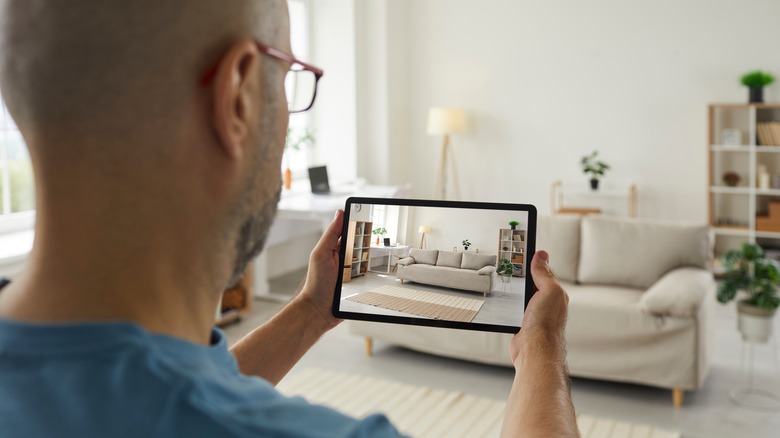 Studio Romantic/Shutterstock
To properly get rid of your used couch without dumping it, consider listing it for sale on sites like Facebook Marketplace, Craigslist, eBay, or local platforms if it is still in great condition. These typically involve the seller and buyer being in the same area so it's convenient to deliver or pick up. However, you can also consider covering a wider range by being willing to ship the couch. The costs will be higher on your end, but you will be able to reach more with your listing.
Next, you should think about your asking price and how flexible it is. Take great photos and make the listing description as detailed as possible. No matter what route you take, remember to thoroughly clean the couch before it leaves your home by vacuuming and removing any debris. Fabric fresheners, deodorizers, and airing it out are also great ways to make it presentable for its new owner.