Fixer To Fabulous Star Jenny Marrs Shares Her Favorite Kitchen Paint Color
There's no simpler way to update the look and feel of a space than by splashing a fresh coat of paint on the walls. As the star of one of HGTV's most successful shows, "Fixer to Fabulous," Jenny Marrs especially knows this to be true. After completing hundreds of renovations with her husband, Dave, on several network shows and spinoffs over the years, it's safe to say Marrs has picked out her fair share of paint samples during her tenure.
While she doesn't shy away from using bold colors in her designs when called for, she reveals that when it comes to the kitchen in particular, she likes to keep it a bit more understated and neutral. In a TikTok video shared by House Beautiful, Jenny revealed that her favorite paint color to use in kitchens is Farrow and Ball's "Drop Cloth," which she describes as a "creamy, off-white" shade. This dreamy neutral tone lends itself well to all different design aesthetics and helps brighten up the kitchen while also making it feel inviting and warm. "It's just a very neutral, beautiful, soft color that really is nice for kitchens," Marrs explains (via Delish).
Why this rich, creamy hue is perfect for the kitchen
Because of its subtle warmth and versatility, Drop Cloth is a great choice for those who want to brighten up their kitchen but desire a more attention-grabbing and rich tone than a stark white. The mid-grey beige hue is also suitable for homeowners who gravitate towards slightly more moody, neutral tones but know, like Marrs, that using grey in design is no longer on trend. In a recent episode of "Fixer to Fabulous," Marrs makes her stance on grey paint known, saying that while it was once an incredibly popular choice, it's now on its way out and is being replaced by "warmer and charming" tones (per Realtor).
In addition to this rich, neutral shade for kitchens, Marrs says she also relies on lighter neutrals, like white tones, throughout her house. "It makes everything feel a little bit brighter and a little bit bigger because we have a small house," she says (per Better Homes & Gardens). 
Why you should use light neutrals in the kitchen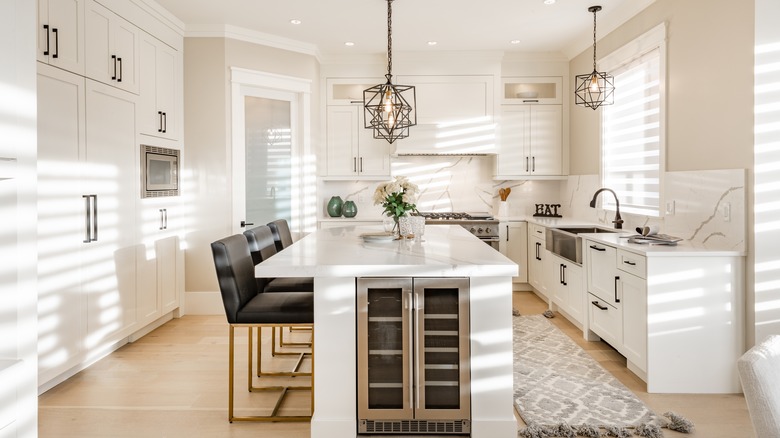 Sheila Say/Shutterstock
While some people avoid using light-colored paint in high-traffic areas or rooms that otherwise see a lot of messes, splatters, and spills, like the kitchen, Marrs finds light walls the easiest to keep looking nice for longer. (Given she and Dave share their house with their five children, it's safe to say she would know.) "In an ideal world, I would touch up our paint more often, but I just use a magic eraser and I call it a day. Where, if you have a really dark paint color, and it gets nicked, you're in trouble," she says (per Better Homes & Gardens).
On top of dark paint revealing wear and tear, it can also make your kitchen way too dark and difficult to see in. This is especially true in kitchens with minimal natural light. Dark walls in the kitchen can also make the room feel smaller and more cramped, whereas lighter colored walls can help it feel more open and inviting – which is much more ideal if you entertain guests or enjoy a lot of family time in the kitchen. Consider satisfying your taste for bolder colors by painting your cabinets instead. These are perfect for darker, more saturated hues — especially if you have a relatively large kitchen.