Here's How Much A Walk-In Tub Shower Combo Costs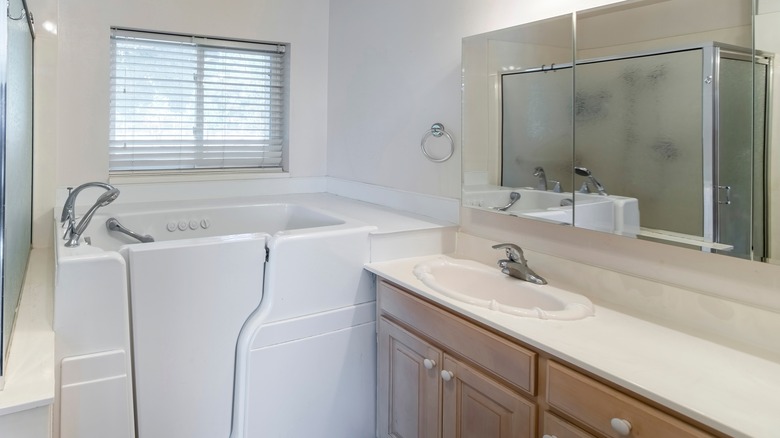 Jason Finn/Shutterstock
When seeking ideas for remodeling a bathroom, you have several directions in which you can go. Remaking the bathing area is a popular choice, but it also can represent a significant portion of the remodeling cost. If you are considering a walk-in tub and shower combination, you can expect to pay $3,000 to $10,000 in most cases, although some jobs will go well beyond $10,000.
The quality of the materials in your tub and shower, any add-ons you want for the product, the amount of time needed for the removal of existing items, and the installation time required all affect the overall cost for this type of project. If you must move plumbing pipes, replace tiles, and repair drywall, your cost will go up quickly.
When buying a walk-in tub, it's important to keep in mind that the initial price quote may not include the installation cost. Be sure to ask about any cost for the installation so you can avoid any unpleasant surprises. Salespeople may avoid telling you about the cost to put in the appliance to try to convince you to spend more money, so don't be afraid to ask questions to receive the most accurate price estimate. You may be tempted to save some money by installing it yourself, but this is an extremely difficult process. You may need to move plumbing or electrical lines, for example, which is work that's best left to a professional.
How design and materials affect the cost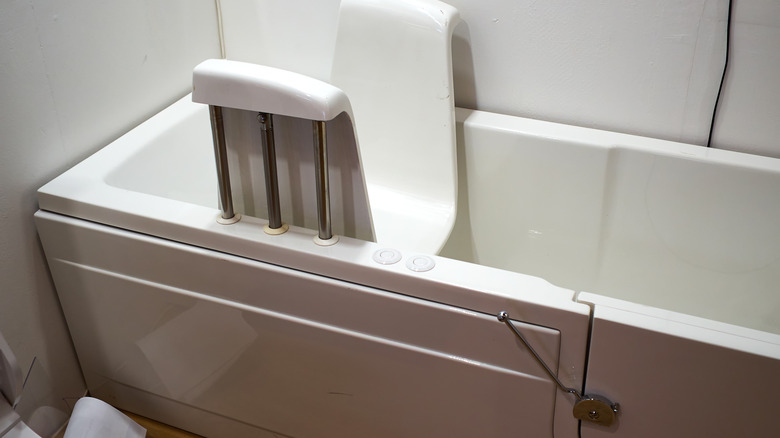 Ron Zmiri/Shutterstock
Many different types of walk-in tubs that will work with a shower are available. These units should have higher walls to avoid spray and splashing from the shower onto the bathroom floor. Some products are made specifically so you can place a bathtub in a small bathroom, while others are quite large and have some special features. Expect to pay more for a larger capacity. All of the prices listed here are for the product only, as installation costs extra.
A basic walk-in tub where you can also shower could cost as little as $1,500. However, if you need a longer space, allowing you to recline, products start at $3,000 and cost as much as $10,000. A hydrotherapy bathtub that includes air jets also could cost between $3,000 and $10,000. If you want some luxury add-ons, such as a heated seat or a remote control that turns on the shower, you could pay as much as $20,000 for the equipment.
If you need a design that makes it compliant with the Americans with Disabilities Act, or ADA, you may need grab bars or seats. It may need to be large enough and have double doors to accommodate a wheelchair. Such products may cost anywhere from $3,000 to $10,000, but they can be even more expensive if they have special hardware.
Costs for installation of the walk-in tub shower combination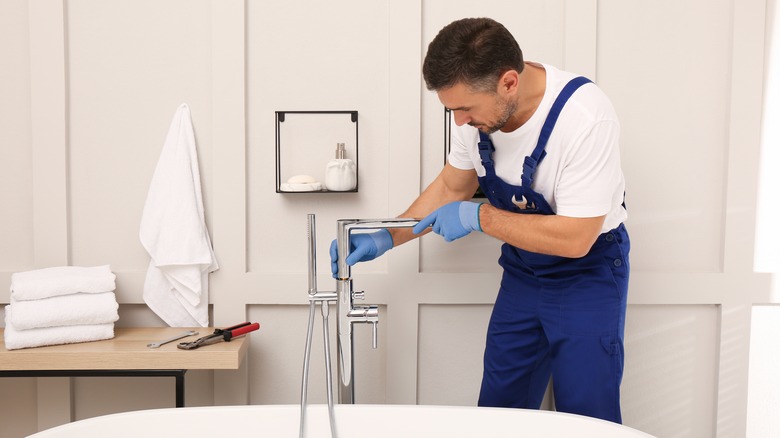 New Africa/Shutterstock
Installation costs can run anywhere from $1,000 to $20,000, depending on the work required. Contractors and plumbers tend to receive payment by the hour, so a more challenging installation that takes longer will cost more than a quick installation process.
Removal of any existing fixtures and demolition work will be part of the installation cost. Depending on the configuration of your bathroom and the size of the walk-in bathtub you are installing, this portion of the work may take a long time and require a few different professionals, driving up the price. If some repair work needs to occur to the floor, walls, drain lines, or plumbing lines after removal of the old items, this can be expensive as well. You may need to reinforce the existing floor or walls to work with the new purchase.
When it's time for the actual installation, you may need to move plumbing lines to supply water to the tub and shower. If it has therapy air jets or heated seats, you may need an electrician to hard-wire it to your home's wiring, or you may need a new electrical outlet that can handle the power demands. You may want to add grab bars to help people move into and out of the bathtub safely. If the installer needs permits from your local government to do the work legally, these will add to the installation cost.