HGTV Star Jasmine Roth's Favorite Kitchen Cabinet Colors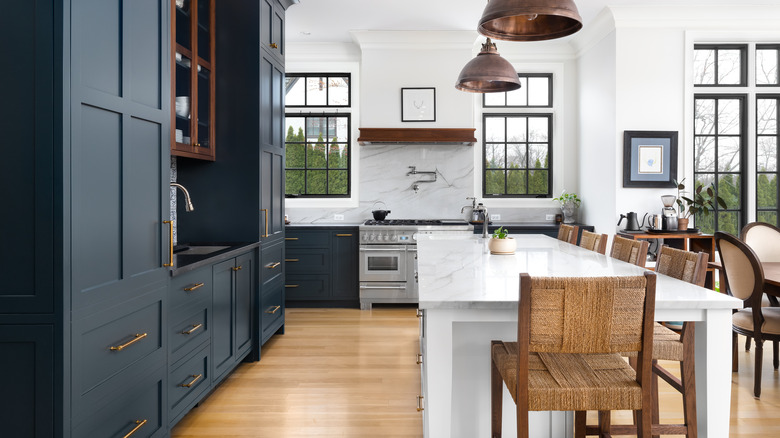 Hendrickson Photography/Shutterstock
Color adds personality to any space, and one of the best places to introduce a bright hue is the kitchen. Choosing a colored finish instead of a wood stain for kitchen cabinetry can help elevate the room and add a bit of visual interest. And while white has been the go-to non-wood color for years, more shades are beginning to grow in popularity. 
Jasmine Roth, host of HGTV's "Help! I Wrecked My House," said she has white cabinets in her own kitchen (via TikTok). However, she notes that all-white can sometimes feel austere. "I try to mix in a lot of other things so it doesn't feel so stark and boring," she explained. Her love of white, though, doesn't stop her from adding a colorful pop to cabinets in other designs. When styling a home for her clients, she favors straying away from the neutral norm and incorporating various shades of blue.
So many shades available
After neutral colors, blue is one of the most popular options. While this hue isn't a true neutral, it can act as one because it pairs well with almost everything. So, it comes as no surprise that this shade is a favorite of interior designer Jasmine Roth. "One of my favorite colors to use on cabinets is blue," Roth said (via TikTok). "So, whether it's like a vibrant royal blue or, like, a really nice light calm blue — all the way to almost an oceany blue that has a bit more of a pop. Those are all really great examples; you can't really go wrong."
By simply choosing the right blue shade for your kitchen, it can look stately and grand or laidback and relaxed. It pairs well with a variety of metal finishes, countertop stone variations, and backsplash colors. Whether you're one to make a bold statement with color or want a more understated accent, there is a shade of blue that will pair perfectly.