Why Martha Stewart Uses Bubble Wrap To Plant Potted Vegetables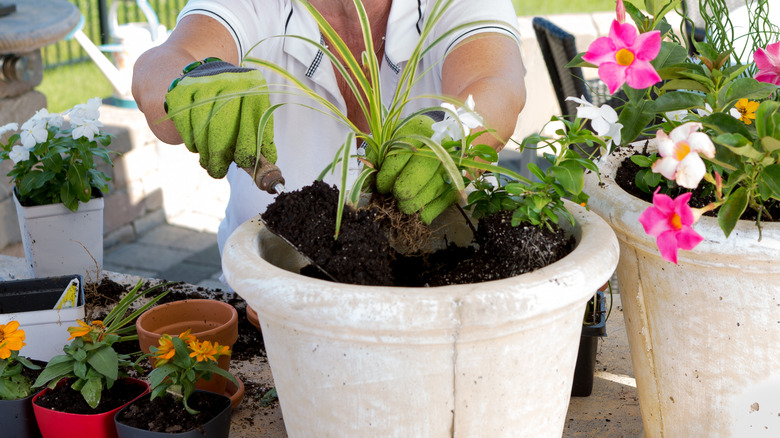 Ozgur Coskun/Shutterstock
When it comes to gardening, most Martha Stewart fans will dig whatever tips and hacks she offers, like an unusually shaped whisk broom that makes swift work of post-gardening clean-up. Using Bubble Wrap when planting potted vegetables, however, might stretch the imaginations of even the most diehard Martha Stewart devotees. How can Bubble Wrap, you might be asking yourself, help make planting vegetables better? Other than pressing and popping the fun bumpy plastic to relieve any stress you might feel after a hard day of digging, weeding, watering, and wondering if you spaced your seedlings far enough apart, what good is the plastic packaging filler?
Trust Martha, home and gardening expert par excellence, to have an answer: Bubble Wrap can fill the bottom of a large pot, container, planter, or even a raised bed, filling in space that isn't needed by the plants for their roots. The wrap (which you might have hanging out in a bag in your closet) costs next to nothing, especially in comparison to relatively expensive potting mixes and composts.
Before you break out Bubble Wrap for the pot and some bubbly to toast your savings, you'll want to make sure that what you're planting doesn't need to grow deep roots. It's important to leave enough space in the planter for good dirt where eager roots can stretch out. To do that, you'll need to know what you want to plant and do just a little homework.
How deep is your (root) love?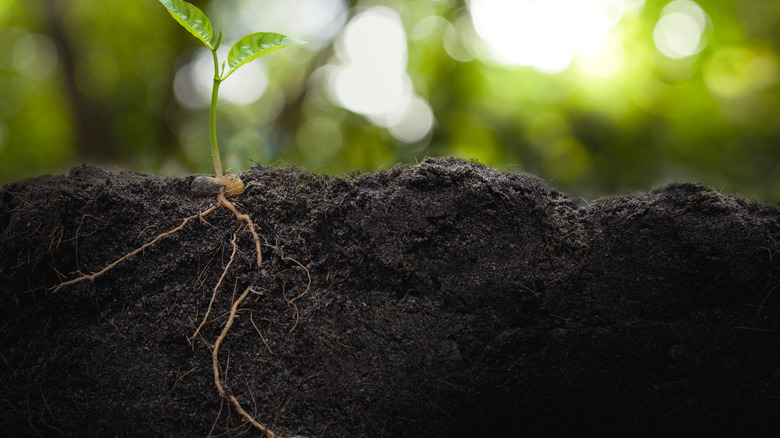 Jirasak JP/Shutterstock
Martha Stewart's tip for placing Bubble Wrap in the bottom half or so of containers when she's planting her vegetables is one of those smack-me-in-the-forehead moments that make you say, "Why didn't I think of that?" It makes sense to fill up a huge planter with something that won't compact and isn't expensive. 
It's a good idea to know how much space you truly need to allow for the growth of the plants. While the Bubble Wrap will help fill up a large decorative pot inexpensively and keep it from being too heavy to move, it's important to fill the planter with enough potting mix to surround the seedlings and provide room for expansion.
According to the University of Nebraska-Lincoln Extension, most vegetables don't grow deeper than 12 to 24 inches, so there's no need to have your container or raised bed soil exceed that depth. Some herbs can have much more shallow roots; chives, for example, only need 6 inches.
Once you know what you want to plant in the container, add holes for drainage, cover them with a rock or a piece of landscape fabric so that excess water escapes but soil stays in, then add your wadded-up Bubble Wrap. When you reach the point where the deepest roots would be, start loading up with a quality potting soil or mix.
Going beyond Bubble Wrap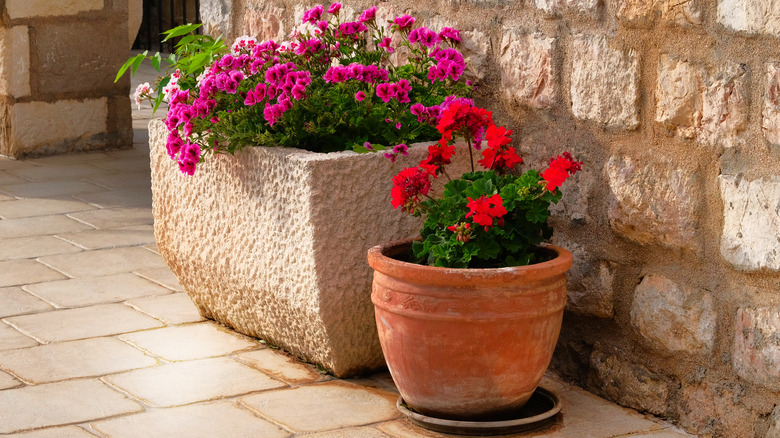 Ga_Na/Shutterstock
While Martha Stewart's Bubble Wrap idea is, as her famous phrase goes, "a good thing," it isn't the only viable way to fill up large pots. Ideas abound for how to reduce the amount of expensive, heavy dirt loaded into those containers.
A Canadian homesteader in her Little Garden on the Prairies video outlined 9 types of fillers to use in large pots. She used big red buckets that had previously contained minerals for her livestock (the sturdy buckets are a perfect size for vegetable gardening), showcasing how to fill them to within about 8 to 12 inches of the top with a variety of organic and inorganic materials, all free and found around her yard or home.
The materials began with logs, which would break down slowly, followed by hay or straw. She recommended adding grass clippings and leaves, a little soil, some rocks or gravel, and some kitchen scraps and materials that were headed for the compost bin. The blogger followed the materials up with a few layers of inorganic materials like noncompostable plastics, packing fillers, recyclable materials like paper towel rolls, and old fabrics or worn clothing. On top of everything was good dirt for the plants.