Save Major Space With This Viral IKEA Shoe Storage Hack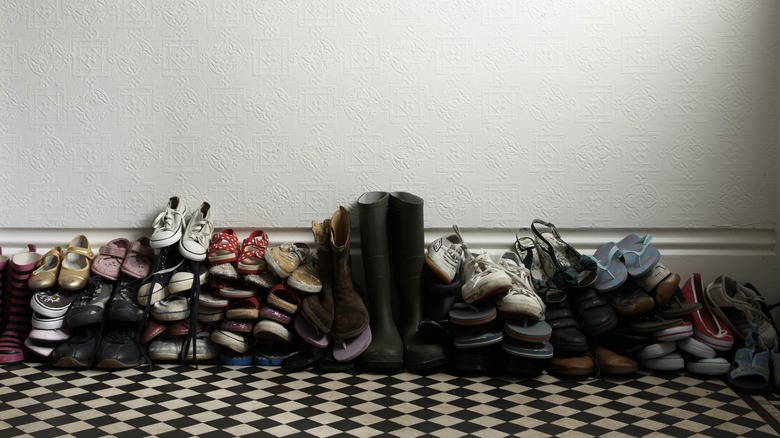 Martin Poole/Getty Images
The average American owns about 19 pairs of shoes, with most men owning about 12 pairs and most women owning around 27 pairs. Add in several more pairs of shoes for each child, and it's easy to see how a family can quickly feel overwhelmed by footwear. Even if you live on your own, shoes can be a tricky thing to keep organized, especially if you live in a small space. The TRONES wall-mounted shoe storage cabinet from IKEA is a genius way to organize shoes, tuck them out of sight, and clear up some floor space. But unfortunately, the caddy is made of polypropylene plastic that tends to look and feel somewhat cheap. Luckily, there's nothing that a little DIY can't fix! TikTok creator Christina, who goes by the username heyitskeeso, added a simple wood board to turn the TRONES storage cabinet into a classy entryway shelf for their small apartment.
If you're tired of living with piles of shoes by your front door, you need to pick up one (or four) of these handy IKEA storage bins. Learn more about how the video creator pulled off this beginner-friendly hack, what viewers are saying about the idea, and other ways you can upgrade your IKEA shoe storage for small spaces. 
The quick transformation from cheap to classy
In the video shared on Christina's TikTok page, the camera pans over a sleek-looking TRONES shoe cabinet from IKEA with a warm wood shelf on top. "We cut, measured, and stained the wood, then we used heavy-duty double-sided tape to stick it on top," states the video voiceover briefly explaining the process. To make the TRONES look even more like a homey hallway table, the creator styled it with a potted pothos plant, a white tapered candle, and a small bowl for catching keys and jewelry. 
The hack creates an impressive difference, turning the plastic TRONES unit into a storage shelf that looks and feels much more expensive and cohesive in the space. Perhaps the best part of this IKEA hack is that it's surprisingly affordable and extremely easy to complete. At IKEA's online store, you can currently purchase a set of two TRONES shoe storage bins for just $39.99. The cost of a wooden board can vary depending on which type of wood you choose, but the cost of an unfinished pine board similar to the one used by Christina shouldn't go above $10.00. If you choose to stain your wood, a jar of wood stain may cost up to $15, but you'll get dozens of applications from one small can. All in all, the hack can be completed for less than $65.
Getting creative in the comments
Christina's TikTok video didn't demonstrate how they completed the hack or walk viewers through a step-by-step guide, so many commenters had questions before trying the hack for themselves. Answering a comment about the wood piece measurements, Christina quickly replied, "The wood is 6.25D x 40.5L x .75 H." Another commenter felt concerned about the long-term usability of the IKEA product. "How durable are they? They are plastic, correct?", they asked. "They're pretty durable! I use them daily and so far no issues," stated Christina. 
Other commenters were curious about adapting the hack to suit their own aesthetic. "Hey what wood stain did you use?", one person asked, to which Christina responded, "I don't remember the name but it has a cherry tone to it! Hope that helps." Another commenter wondered about painting the piece, perhaps to match their wall color or compliment other furniture. The video creator wasn't sure, but suggested, "You can probably spray paint them!" Of course, painting IKEA furniture's difficult surfaces can be tricky, so if you're not into messy DIYs, IKEA has some prettier wood-look shoe storage options, like the STÄLL. These cabinets are extremely versatile, so even if shoes aren't your problem, you can still consider trying this hack for storing vinyl records, dog leashes, magazines, purses, and more.