29 Pantry Shelf Ideas That Will Transform Your Kitchen Storage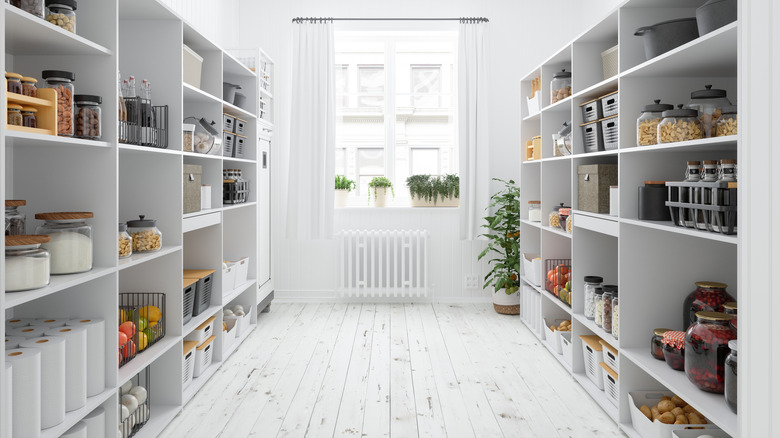 Onurdongel/Getty Images
One of the most difficult places to organize in the home may just be the pantry. Because it's crammed full of food, dishes, small appliances, and other items, unless you're proactive about keeping everything orderly, it could easily become disheveled. Further, some small kitchens don't have enough room for a large pantry, so your food storage space may be cramped.
If you're trying to decide how to design your pantry, we're here to help. One of the most important things to consider is what kind of shelves you want to use. This starts with choosing the right material, like wood, metal, or wire, and then the right color, from white to dark brown. You'll also need to decide if you want to use open shelves or closed ones behind cabinet doors. And, if your kitchen doesn't have a designated closet for the pantry, you may need to find an alternative place to keep your dry groceries. To provide you with some options to choose from for your pantry shelves, we've gathered 29 design ideas below.
1. Double-sided shelves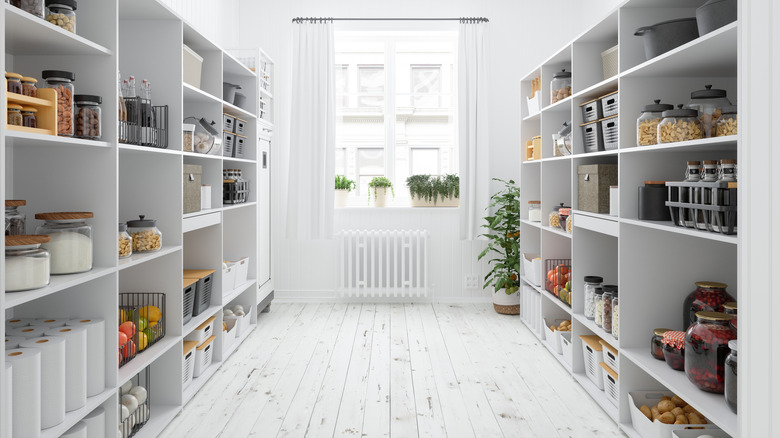 Onurdongel/Getty Images
If you're blessed enough to have a large room dedicated to your pantry, line your walls with tall shelving units. Keeping everything light and bright, from the shelves to the walls to the flooring, could also benefit the appearance of the space. Because you'll have so much room in your pantry, you can store extra items in this area like paper towels, large pots and pans, and plants. 
2. Adjustable shelves
Sheila Say/Shutterstock
One way to make sure you use all the space available to you is by choosing adjustable shelves. If you go with this shelf idea, you'll be able to change the height of the shelves to provide more room for certain items and less for others. White is a great color choice, as it will lighten the small area and could make it feel larger. If your pantry is limited in square footage, a pocket door may make the most sense as well. 
3. Light wood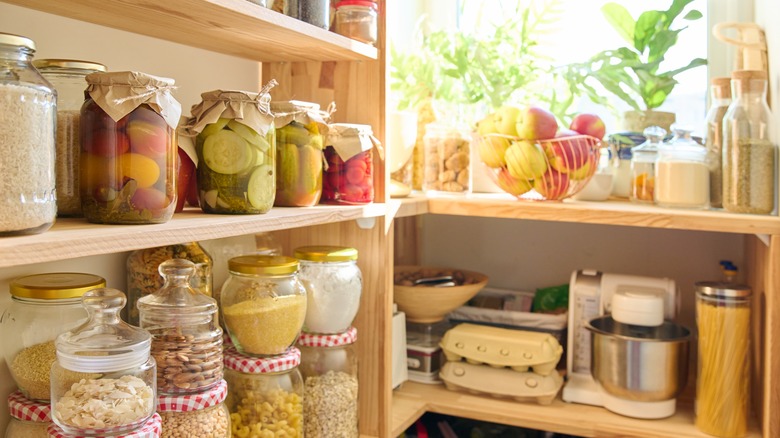 VH-studio/Shutterstock
Just like with white shelves, those made out of light wood can also make a small pantry feel more spacious and add a natural material to the space. Another tip is to fit your shelves around any windows in your space, instead of placing shelves in front of the window. This will allow you to grow herbs and other plants in your pantry, which could make cooking more convenient. 
4. Shelves with an edge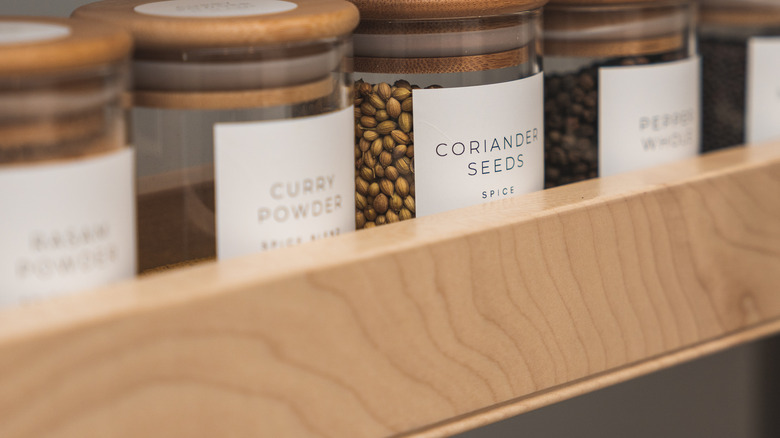 Angelica Pasquali/Shutterstock
While most shelves are completely flat, some have a small edge on the front. This can be beneficial because it will prevent things from falling off of the shelf and potentially breaking or making a mess. If you like to decant your food into glass jars, you may want to consider this option, so you never have to worry about the glass shattering. 
5. Mixing materials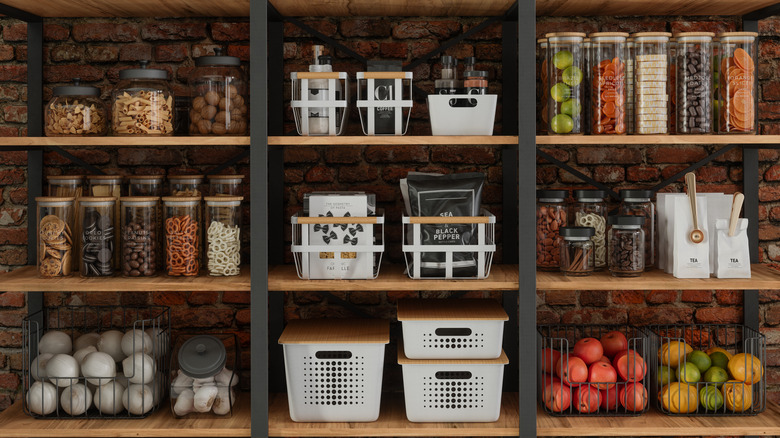 Onurdongel/Getty Images
When deciding what material is right for your pantry shelves, there are many options to choose from. The most popular choices are wire, metal, wood, and plastic. If you can't decide which of these choices to use, consider mixing multiple materials together. For instance, one idea, as seen above, is a frame made out of metal, while the shelves themselves could be wood. 
6. Open and closed storage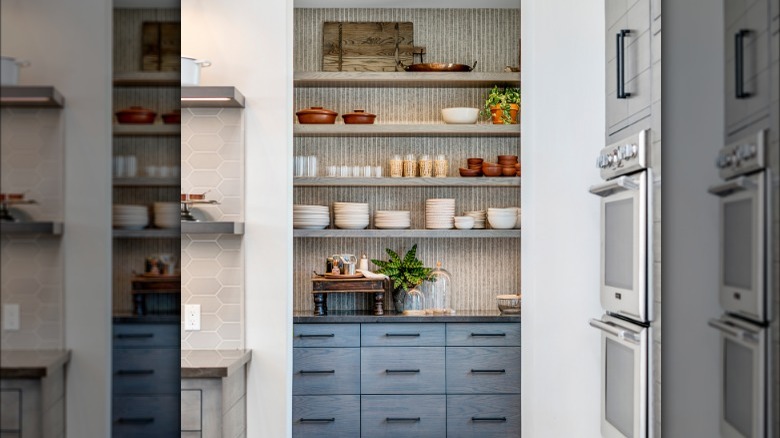 C Woods Photography/Shutterstock
While most pantry spaces only have shelf storage, this doesn't have to be the case. If you'd rather hide away some of your items, try pairing open shelves with closed cabinets. This idea could be especially beneficial for those who have an open pantry, or one with no door, because it will be easier to create an orderly appearance.
7. Vertical space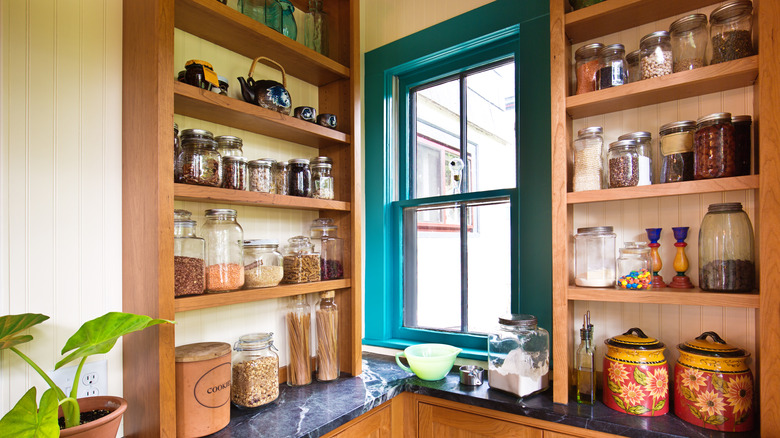 Yinyang/Getty Images
If you have a small kitchen, you may be stumped on how to fit all your food and other items inside the space. If so, try using as much vertical space as possible. For instance, you could install narrow shelves on the walls above some of your countertops. Then, to reach the top shelves, you can use a step stool or a small ladder. 
8. Door storage
Sometimes, the pantry is just a small, shallow closet with a swinging door. If this is the case for you, you may need to use all your available space. One way to do this is by hanging an over-the-door unit on the inside of the door. These shallow shelves, which are typically made out of wire, are perfect for things like spices, oils, or small jars. 
9. Sliding cabinet doors
Another way to make the most out of a small kitchen is by using some of your upper cabinets for food storage. Instead of choosing typical cabinets with doors that swing open on hinges, you could choose ones with sliding doors. You could also use your counter space for other items that would typically be stored in the pantry, like oils, spices, and a bread box. 
10. In the cabinet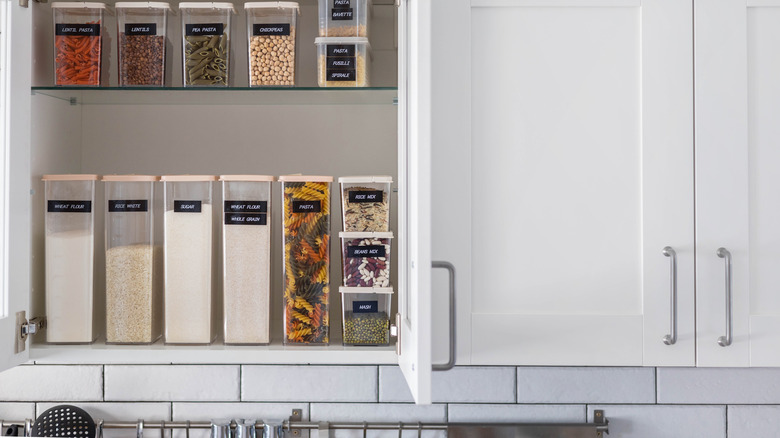 Kostikova Natalia/Shutterstock
Of course, if you have any extra cabinet space, store your food on the shelves in this area. As in the image above, the best way to make this as functional as possible is by using labeled containers that are all roughly the same size or that can be stacked on top of one another. A benefit of choosing cabinets with swinging doors over those that slide is that you could add storage on the inside of the doors. 
11. Cabinets that flip open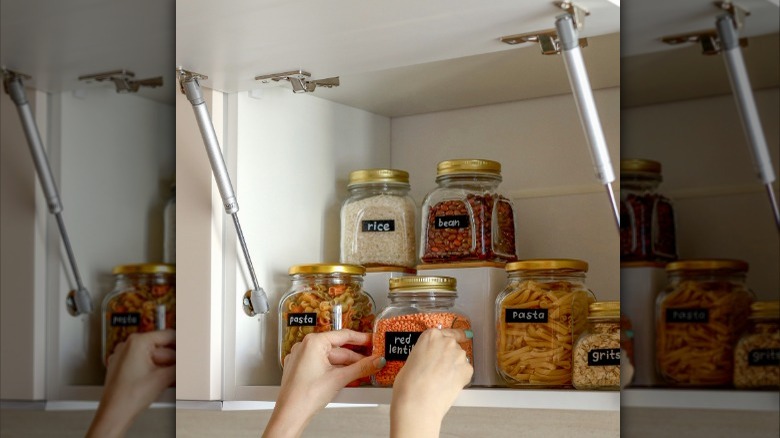 Kolpakova Daria/Shutterstock
Another type of cabinet that you could consider is one with a door that flips open from the bottom. Just like with cabinets that have sliding doors, this won't allow you to include any storage on the inside of the door; however, it will give your space a unique appearance and could be more convenient to keep open, since the door will be above your head. 
12. Multiple shelving units
A pantry with a window may need to be creatively designed, as you don't want to block out the natural light. On all the solid walls, you could include floor-to-ceiling shelving, which could hold things like glass jars and baskets. Then, in the space underneath the window, one idea is to include a short shelving unit that holds sliding baskets, which would be perfect for fruit and vegetable storage. 
13. Sliding ladder
If you have tall shelving in your pantry, you'll need some way to reach the top shelves. While some keep a folded step stool in the corner of their room, perhaps you want a more permanent fixture, in which case you could add a sliding ladder. Often seen in large libraries, this feature slides from the top and allows you to reach everything on your shelves with ease. 
14. Floating shelf above the sink
Those who are really tight on kitchen space could add one thick, floating shelf above the sink. This shelf idea could be the perfect place to keep glass jars of food. It's best to store items that have been decanted in a space like this, because they'll be visible at all times, and matching jars are always better to look at than the packaging from the grocery store. 
15. Shelves with brackets
To give your pantry shelves a sturdy appearance, consider including brackets underneath each one. These could either match the shelves, as is the case with the wooden pieces above, or be made out of another material like metal. If you don't want them to stand out at all and are simply using them to add stability, paint them the same color as the back wall so that they blend in. 
16. Rustic dark wood
While light wood will brighten a room, dark wood will give it a more rustic and moody feel. The shelves above are all the same size as well, to provide a cohesive and orderly look. Another shelf storage idea is to label what's on each of your shelves, and one way to do this is by hanging small cards that list all the ingredients and foods stored in each space.
17. Hanging storage
This is a metal, free-standing storage unit that's open on all sides. One of the benefits of a piece like this is that you can use the sides to hang items like utensils and dishes. To do so, simply use metal hooks, which you can space out depending on how large the hanging items are. This will maximize the number of items you can store on these shelves. 
18. Small hanging shelf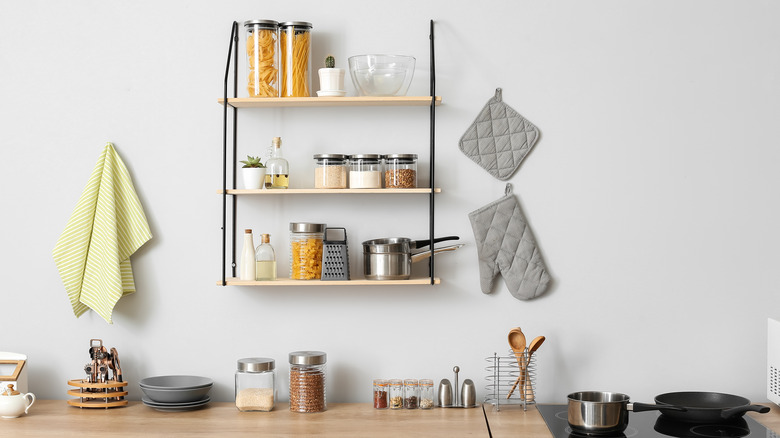 Pixel-Shot/Shutterstock
Fill a blank wall by hanging a small shelving unit on the surface. These are typically made out of multiple materials, with a metal frame and solid wood shelves. While not extremely large, this shelf idea will provide some extra storage without taking up any countertop or floor space, which will help you maximize the amount of usable space in your kitchen.
19. Metal brackets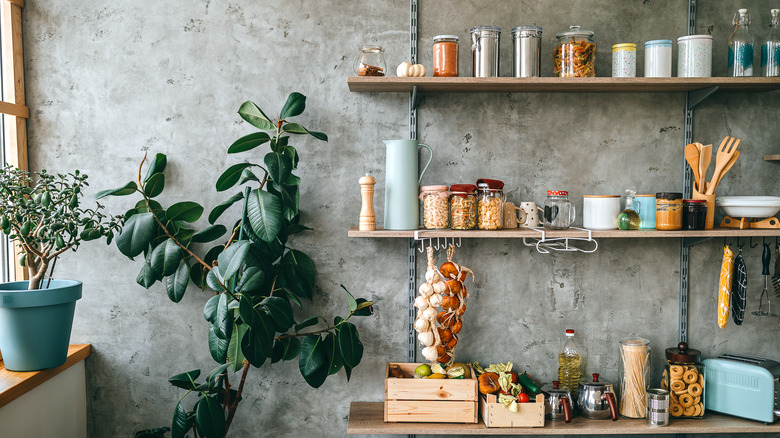 Mixetto/Getty Images
Another idea for filling an empty wall is by including shelves on brackets. These can be easily adjusted, to provide either more or less vertical space on each shelf. While the brackets are usually made out of metal, the shelves could be made out of a number of materials, from wood to plastic to metal. To make the most out of this choice, you could also hang items from the bottom of your shelves. 
20. Deep shelves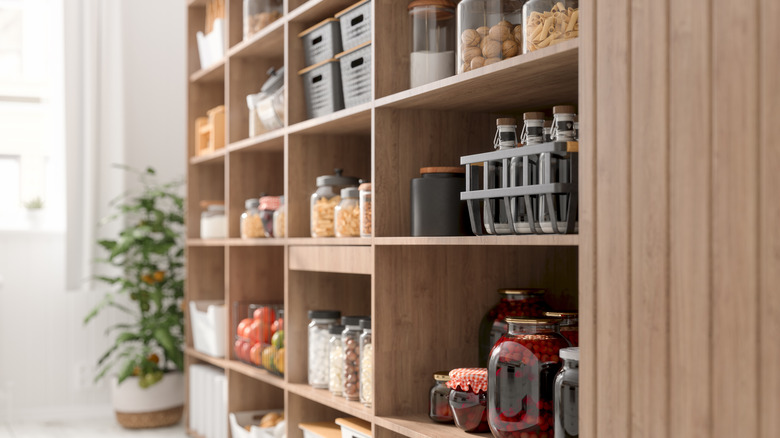 Onurdongel/Getty Images
Choosing deep shelves is typically best for those who want to store their food inside containers like baskets. This is because, without the baskets, it would be hard to reach items in the back of the shelf. The containers can easily be slid out, allowing you to reach everything with ease. Another storage solution for deep shelves is keeping your items in large jars, as these will take up more space and be easier to see than smaller items. 
21. Pullout shelves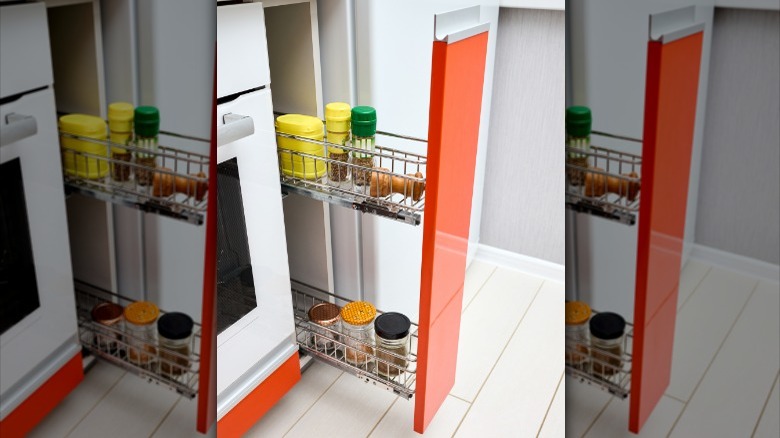 RYosha/Shutterstock
Maximizing the space in a small kitchen is all about finding clever storage solutions. A pullout shelf is one of these smart space-saving ideas, as it takes up a tiny area but adds a lot more storage to your kitchen. This could be placed in the narrow opening next to an appliance or a cabinet, and the shelves will need to have edges, so all your items stay on the surface. 
22. Ladder shelf unit
Pixel-Shot/Shutterstock
If your cabinets are full and you don't have a designated pantry space, consider adding a free-standing shelving unit, which could be tiered like the option above. This means that the bottom shelf is the largest and the surface area gets smaller and smaller as you continue up the ladder. You could use this piece to fill any empty space, but if you do this, it's best to decant items into decorative baskets or jars. 
23. Metal shelves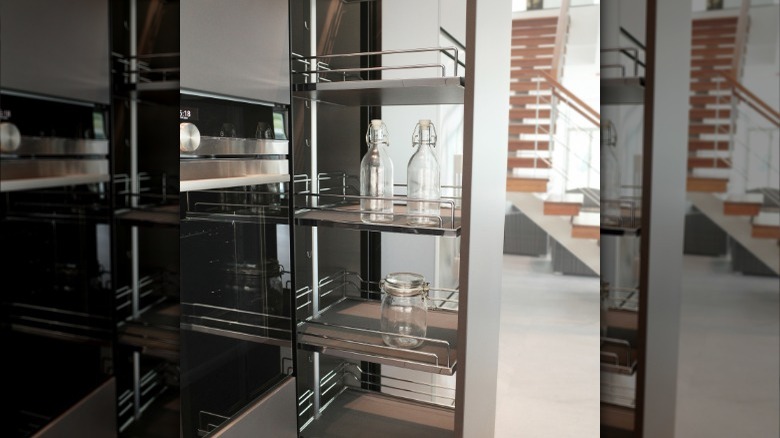 PK-Donovan/Shutterstock
Solid metal shelves are durable, easy to clean, and can match just about any aesthetic. If you choose this shelf option, you may want to consider adding wire borders on each side, especially if the shelves are narrow. These borders will keep everything in place without taking up any of your storage space. The above shelving unit actually slides out from inside the wall, which saves lots of space in the kitchen.
24. Wire racks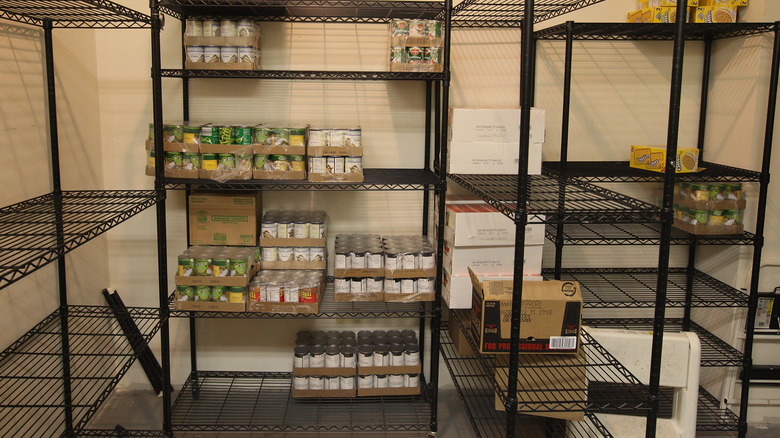 Scott Olson/Getty Images
The main benefit of choosing wire racks for your pantry is that they're easy to keep clean. Any crumbs or small grains will fall through the small holes onto the floor, where they can easily be swept up. Another benefit is that wire is durable and customizable. However, keep in mind that because wire isn't a solid surface, it can be challenging to store things like skinny bottles on such shelves.
25. Shelves and cabinets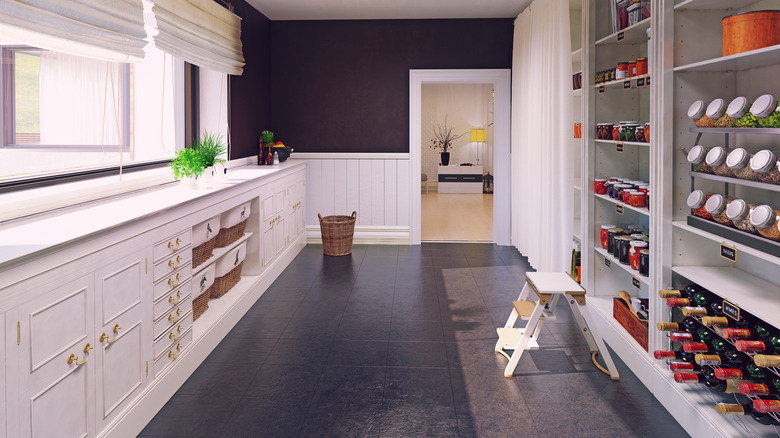 Vicnt/Getty Images
If one side of your pantry has large windows, try a combination of shelves and cabinets in the space. The shelves could be placed on the opposite wall and could extend from the floor to the ceiling. Then, underneath your windows, you could include cabinets. This pantry storage idea will also provide you with a large countertop, which could be used for food preparation. 
26. Corner shelves
Those who have a cornered pantry could create corner shelves that wrap around the walls. Right on the corner, you could include storage solutions like a spinning lazy susan or a large jar. Another shelf storage idea is to place your biggest items in this area, like your small appliances, as they'll be easier to reach than smaller items. 
27. Glass door
Something else to consider when designing your shelves is the type of door you should place on the pantry. If you love the look of your shelves and enjoy having an organized space, you could include a door that's made out of glass. On the other hand, those that want their pantry to be hidden away should choose a solid door. 
28. Free-standing pantry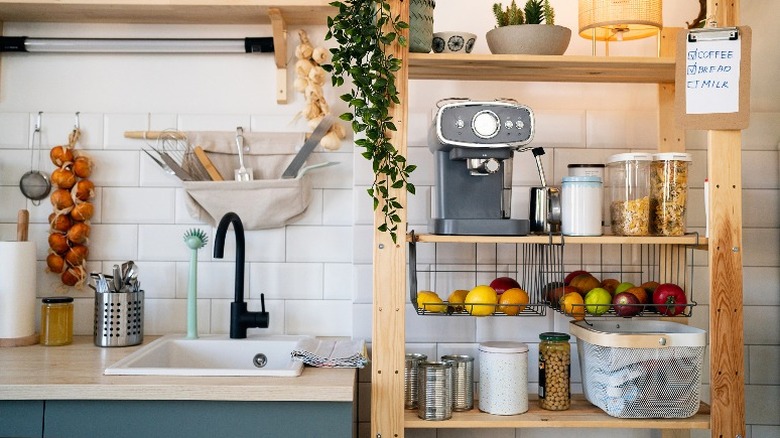 Srdjanpav/Getty Images
This free-standing pantry is positioned right next to the sink, which would make food preparation easy. To streamline the design of the piece, it has both wooden shelves and a wooden frame. They also maximized their storage space by including metal hanging baskets for fruit on one of the shelves. Other interesting features of this shelf idea include plastic storage containers, a ceramic jar, and a shopping list hanging on a clipboard. 
29. Closed cabinets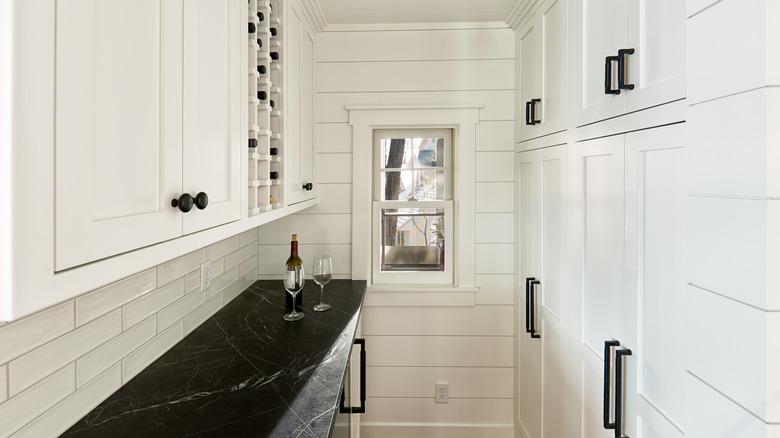 Yinyang/Getty Images
If you hate the look of open shelves, you could always opt for completely closed cabinets. These will make your pantry look extra organized, so you don't have to feel embarrassed by your mess. Because you may be able to store more items inside your cabinets than you would on shelves, this may also provide you with enough space to add a wet bar or an extra countertop in your pantry.