The Worst Error You Can Make When Redoing Your Pantry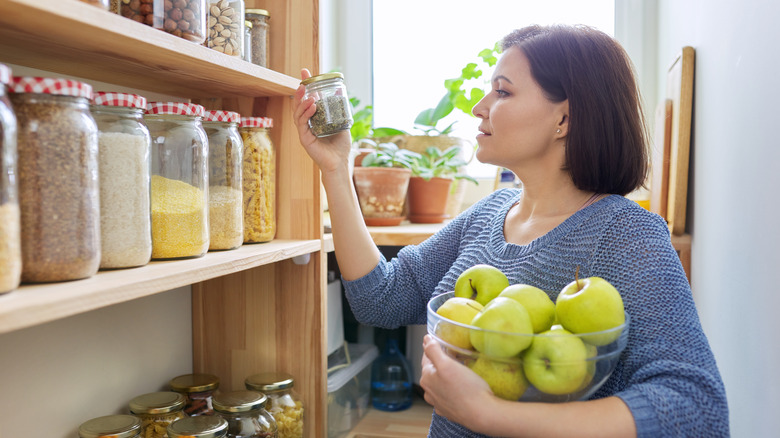 VH-studio/Shutterstock
When you think about the ideal pantry, perhaps Khloe Kardashian's flawless setup comes to mind. Many want the gorgeous pantry of their dreams, complete with matching bins and spinning lazy susan containers. An organized pantry is the basis of any functional kitchen, and yours is bound to be messy without well-thought-out storage space for food and other kitchen equipment.
According to Caitlin De Lay, creating the perfect pantry setup may be easier than you think. The key is knowing how to balance aesthetics with functionality. If designing both a beautiful and functional pantry is your goal, you may want to know some common pantry mistakes before you begin the renovation process. Whether you're building a pantry from scratch or redoing an existing one, there are some errors you'll want to keep in mind so that you can avoid them – and there's one main error you want to make sure you don't make.
Common pantry renovation errors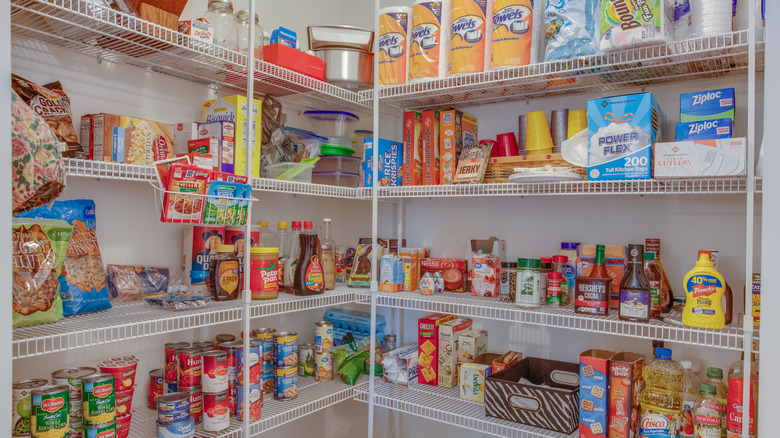 Pipas Imagery/Shutterstock
There are a few common pantry renovation errors that you'll want to avoid. The first is not choosing the proper lighting. According to Lighting Access, an overhead light may not be enough for a functional pantry. This is because light shining only above the top shelf will most likely cast shadows over the rest of your pantry, making finding items difficult. You could install LED light strips under your shelves to fix this issue. These can be battery-operated or rechargeable, and there are motion-sensor options.
Another common error is choosing the wrong material for your shelves. Wire shelving may be a huge mistake because it won't be able to hold smaller items like oil bottles without them falling over. Many experts agree that plywood is the ideal shelf material for a pantry. You could also install cabinets if you don't like looking at the clutter.
The worst error
Kristen Prahl/Shutterstock
However, the worst error you can make in your pantry happens during the organizational process: choosing the wrong containers. According to HGTV, pantry bins should be transparent and stackable to see what's inside and save pantry space. The selected containers should be the most functional for you and the area. This means that, while you may want wicker baskets, they may not be the most brilliant move. Also, you want to ensure that the containers you choose will fit nicely on your pantry shelves. Measuring your shelves before purchasing bins is the best way to ensure they won't be too large.
Another thing you'll want to do before purchasing containers is taking inventory of all the food and other kitchen items you store in the pantry. This will help you narrow down which bins are right for you. Once you've chosen your containers, be sure to label them as well for an extra organized and accessible pantry.