How To Create A Diy Mirror Frame On A Budget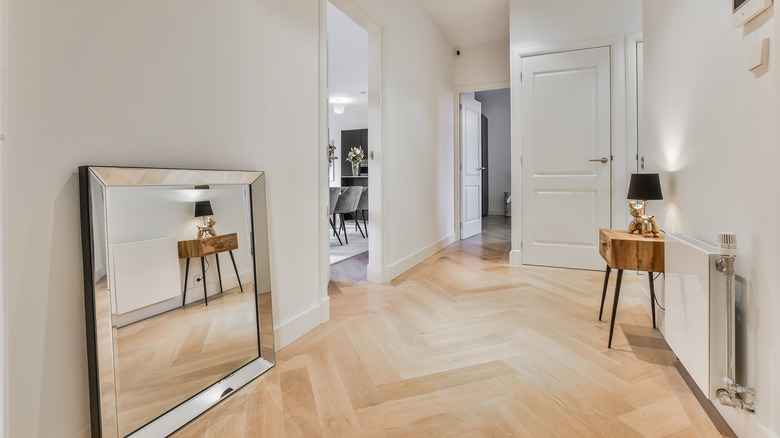 Procreators/Shutterstock
Have you ever encountered a beautiful framed mirror with a price tag that made your wallet whimper in despair? Indeed, framed mirrors can cost a small fortune. And while you may be prepared to spend your hard-earned money like a king, chances are minimal that the frame will perfectly align with your aesthetic requirements. But did you know the solution could be in the power of your own hands and ingenuity? 
Welcome to the world of DIY mirror frames. You needn't be a woodworking wizard or a masterful artist to pull this off. With some forethought, essential tools, and a healthy dose of creativity, you should have a dazzling centerpiece that adds a touch of personal pizzazz to your home décor without emptying your coffers. It's a matter of measuring, cutting, applying final touches, then putting it all together.
A custom mirror frame won't just save you money; it's also a chance to stretch your imaginative wings and craft something unique. But you want to be well-prepared, from assembling the right tools and choosing the perfect lumber for your styling and budget to determining the ideal dimensions of your upcoming creation. After all, you wouldn't want your décor piece to resemble a piece Picasso might have concocted during an exceptionally wild soirée, would you?
Preparation for a custom mirror frame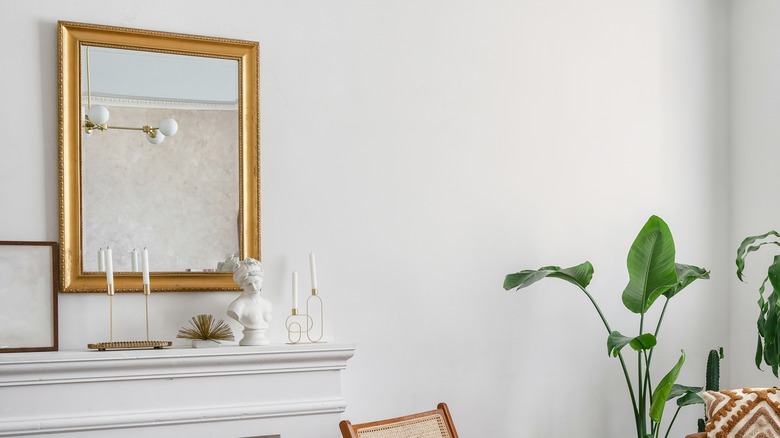 brizmaker/Shutterstock
Gather the following arsenal: a saw (bonus points for a miter saw), a drill, wood screws, high-strength wood glue, a tape measure, sandpaper, stain, and spray paint. In addition, have a level within reach, just in case your creation starts to resemble the Leaning Tower of Pisa. Next, decide on the frame's style. Ensure it reflects — pun intended — your taste and blends effortlessly into your current décor. Fancying a rustic, farmhouse vibe that would make Chip and Joanna Gaines proud? Or, perhaps, a chic, contemporary vibe or something whimsical and eclectic is more your style.
While investing in fancy lumber is tempting, let's not forget we're on a budget. Reclaimed wood is a fantastic choice for a rustic look, but it might cost you more. If you land regular lumber, worry less. Well-chosen and skillfully applied stains can transform even the most ordinary piece of wood into a breathtaking masterpiece that matches your chosen style. 
Measuring your mirror helps with the dimensions of your frame. So, it's not those moments you eyeball it and hope for the best. Consider the proportions of the mirror and the surrounding space to achieve perfect harmony. An oversized frame can create a bold statement and visually balance bulky items within an area, yet it might overwhelm a small room. On the other hand, a slender frame offers a more subtle, minimalistic look but could ultimately look visually weak.
How to make a diy mirror frame from wood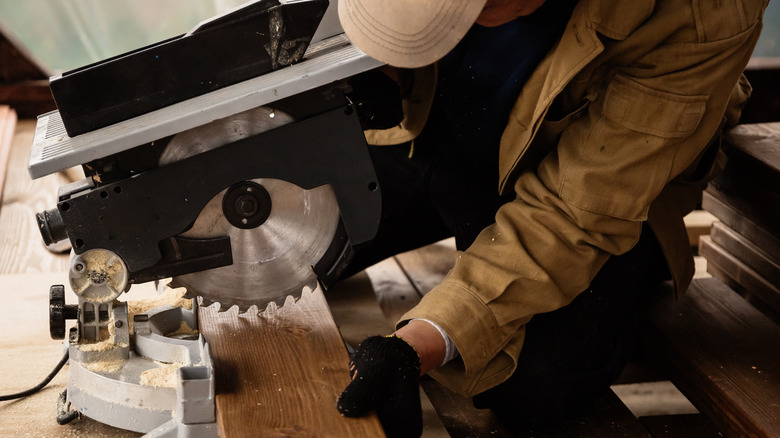 Hanna Taniukevich/Shutterstock
To frame a mirror without taking it off the wall, kick things off with a miter saw. Slice a 45-degree angle at the end of each wooden plank, ensuring they face the right way. The angled ends will soon become the inseparable buddies holding your fabulous mirror frame together. And if you don't own a miter saw? That's not the end. Renowned home improvement stores offer pre-cut boards or provide the necessary tools on-site. Next up, give your boards a fabulous facelift by sanding them. As for staining, a lint-free flour sack or an upcycled t-shirt will do the trick. While the planks dry, jazz up those flat corner braces with paint that matches your frame's hue.
Now, the moment you've been waiting for — assembling your masterpiece. If you're working near drains, seal them off to prevent tiny screws from getting sucked into the void. Then, apply wood glue on the bottom board's surface you intend to attach to the mirror glass. Be cautious not to get glue-happy near the edges or angled ends. Next, place the board at the bottom of the mirror glass, exert some pressure, and hold the piece long enough for the adhesive to set. Repeat for the remaining boards and secure each pair of adjoining ends with a brace. And there you have it; a wallet-friendly, custom mirror frame. Feel free to unleash your favorite decorations to infuse flair into your mirror.