Vacation House Rules Names The One Room Your Rental Guests Won't Compromise On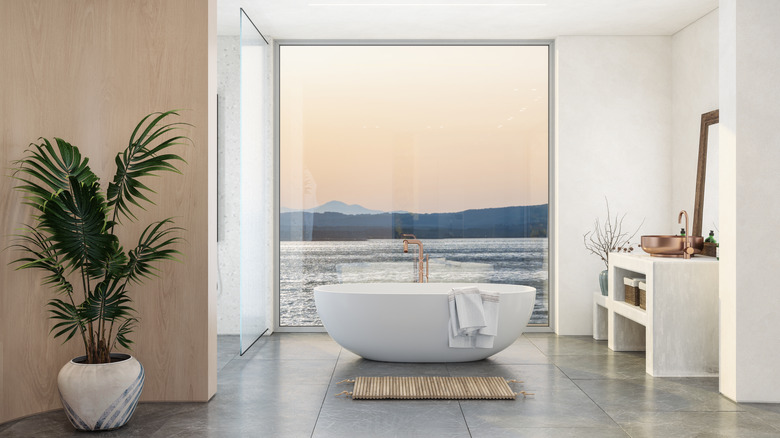 Onurdongel/Getty Images
According to Vacation House Rules host Scott McGillivray, it's important for anyone with a rental to invest in the bathroom during a renovation. Renters always want to feel like they are getting value for their money. Choosing between a dated bathroom and a modern one, even if it costs more, is often a no-brainer due to the value it gives the rental property. Speaking on the cabin renovation he was working on, McGillivray told Realtor the $10,000 cost "will translate into great reviews and repeat renters."
A well-designed and well-equipped bathroom is important when renters are involved because they expect a comfortable and functional bathroom during their stay. It provides a sense of luxury, making the overall rental experience more enjoyable. Guests also look for cleanliness and hygiene when choosing a place and an upgraded bathroom often feels more in line with these standards. By saving renters from a drab bathroom, vacation rental owners can meet the preferences and expectations of their customers, which is always good for business.
Benefits of upgrading the bathroom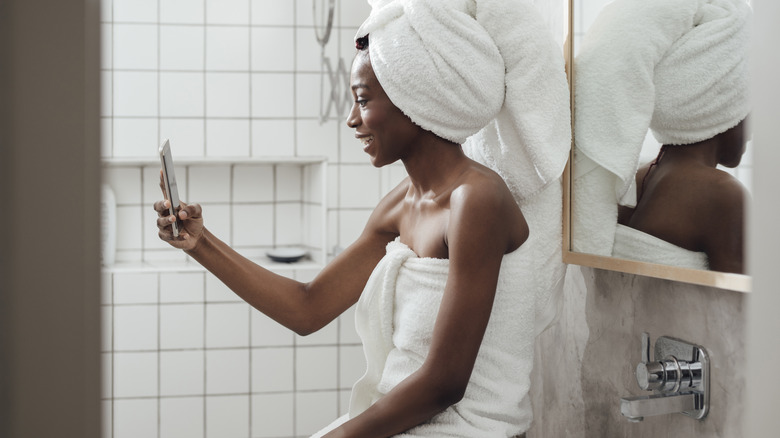 Freshsplash/Getty Images
Bathrooms are a huge part of the home and have the potential or make or break a booking. Look at them as a great way to sell the home, especially when you have a specific brand. Another Scott McGillivray tip is to choose a unique rental identity that can make your property memorable and create an experience for your guests. When your home has a certain theme or concept, the bathroom should be in line with it to tie it all together.
Renovated bathrooms can also increase the property's market value and give you, as an owner, the opportunity to charge higher rental rates. New fixtures and modern design elements are a way to justify premium prices. It's also worth noting that many vacation renters look forward to sharing their travel experiences on social media. A strong brand identity coupled with a visually appealing home is always a great selling point that can even send some free promo your way.
Some bathroom updates to consider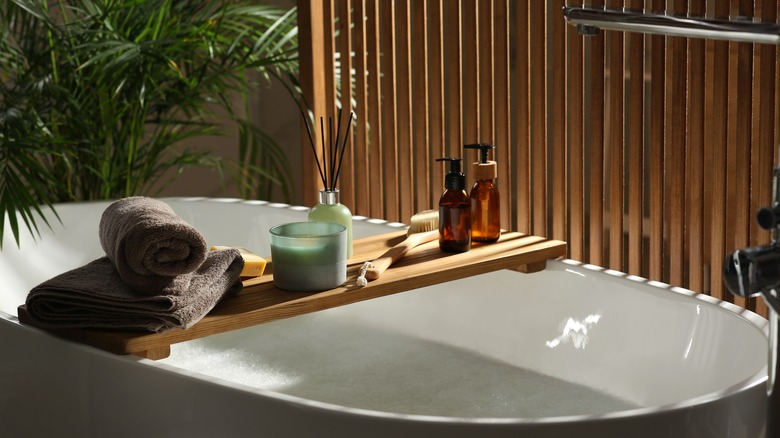 New Africa/Shutterstock
When renovating a bathroom, there are several updates that can significantly improve the overall functionality, aesthetics, and comfort of the space. You can start by ensuring there is adequate natural light and ventilation so the bathroom feels airy and open. Replace old, worn-out flooring with modern styles like marble, luxury vinyl, and large format tiles so the space feels fresh. New faucets, showerheads, and hardware can also modernize the bathroom and enhance its functionality.
Aim to create a spa-like environment for your renters. Good, mood lighting is great to have in a bathroom to achieve that luxury feel. Light fixtures like recessed lights or sconces can improve visibility while creating a pleasant ambiance. Large mirrors, plush towels, and stylish toiletries are some simple accessories you can add to really make your guests feel like they're on vacation.
Adding or improving storage options like a nice vanity with drawers or modern shelving units also adds value. Ultimately, the most important updates will depend on your budget, personal preferences, and the specific needs of your bathroom renovation. Prioritize updates that address any existing issues in the space, improve functionality, and enhance aesthetics.