HGTV's Leanne Ford Explains How To Restore An Old Fireplace With Grout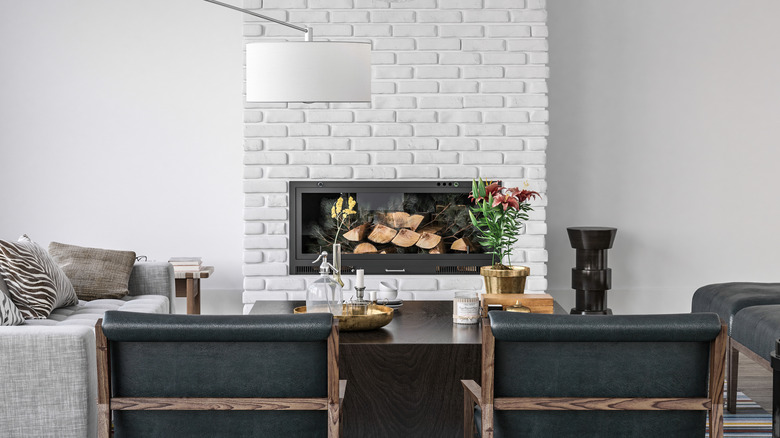 Sihuo0860371/Getty Images
If you know anything about HGTV star Leanne Ford, you probably know that she's a huge fan of the color white. In fact, she believes that anything can be covered with white paint and look beautiful. "People get nervous because they think white is going to be cold," Ford tells The New York Times. "But white paint is anything but cold."
Because of this, she sometimes restores old fireplaces by covering up their red brick with white. However, instead of using paint, she actually uses leftover grout, which she mixes with water and then spreads onto the surface of the bricks with a sponge. When watering down the grout, she says, "The more water you add to the grout, the lighter it goes on, and the less water you add, the thicker it goes on," per an Instagram post. She continues that, while applying it to the bricks, "every once and a while squeeze the sponge and let it drip." She also says to "start at the bottom and work your way up so the drip lines stay." Then, once the bricks are dry, your space will have an entirely new look, and the original bricks underneath will still be intact.
Deciding whether or not to use Ford's technique
Typically, those who hate their fireplace either demolish it or change the look by covering it with paint. However, Leanne Ford's restoration technique doesn't destroy or completely cover up the existing fireplace. Instead, it allows the texture and pattern of the bricks to shine through while also removing some of the warmth in the undertones.
To decide if this technique is right for you, consider whether you want to keep your bricks as they are or give them a new, more neutral look. "But there's good brick and bad brick," she tells The New York Times. "You have to step back and see how it works in the space. You don't have to save the wood or save the brick. What you need is a house you love." Further, when talking about her own fireplace transformation, she says, "I used my favorite DIY grout wash technique ... to bring the red tones of the original fireplace down a bit so that the fireplace fit in seamlessly with the rest of the space," per an Instagram post. Therefore, look at the big picture and decide whether warm or cool-toned bricks work better in your home.