HGTV's Nate Berkus Demonstrates How Bins In The Bathroom Can Make Your Life A Breeze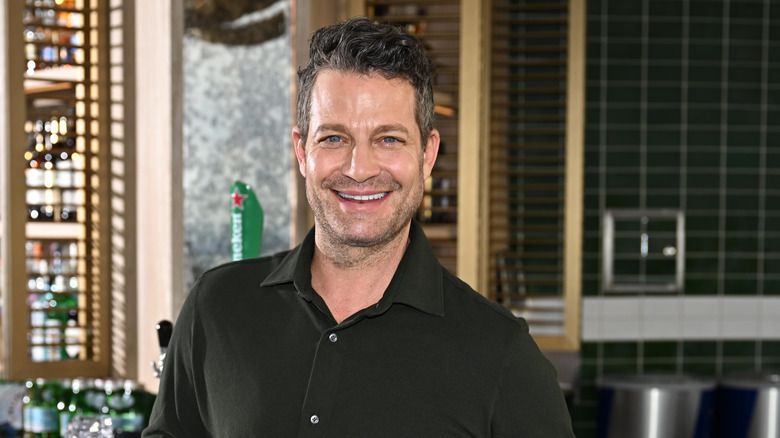 Dave Kotinsky/Getty Images
Nate Berkus is on another role when it comes to a well-organized bathroom, and his tips for utilizing clear, plastic bins are no exception. He can relate to the age-old conundrum of keeping towels, toiletries, accessories, and so forth stored out of the way while staying within easy-to-find reach. "My @natehome bins have taken over our life and I'm not mad about it... Especially in the kid's bathroom," he wrote on Instagram. In fact, he mentions how he applies his own advice about organization and, of course, the bins in almost all areas of his home.
In the bathroom especially, things can get misplaced or get switched from one drawer or cabinet to the next. And what makes matters worse is when a person is rummaging about trying to find the one necessary item while rushing around getting ready for work or school. Hence Nate, being a dad of young kids, solved this issue with his clear plastic bins that come equipped with a handle to allow you to see the contents inside and easily pull them out (though he's big on labeling storage items as well).
How to use the clear bins
As Nate explains, the clear bins save both time and space when storing everything you need in the bathroom. In the video, for instance, he pulls out a long, narrow bin where towels can be rolled up and placed inside, allowing at least five or six to fit. The narrow width of the bin also gives enough room for additional storage containers to be placed beside each other on the same shelf. On another shelf, a few more shallow bins with handles are displayed, with each one holding toiletries, hair accessories, and facial tissues in an orderly manner. Furthermore, the bins' length seems to match the depth of his shelves. Thus, nothing can get tucked behind them and consequently misplaced.
Nate's rationale behind using these bins in the bathroom relates to busy mornings when the household is trying to get out the door on time. For instance, his daughter can easily locate one of her hair accessories in its proper bin. Ultimately, easily visible storage makes for simpler morning routines and a smooth start to the day.