The Shiny Kitchen Hardware HGTV's Jenn Todryk Avoids At All Costs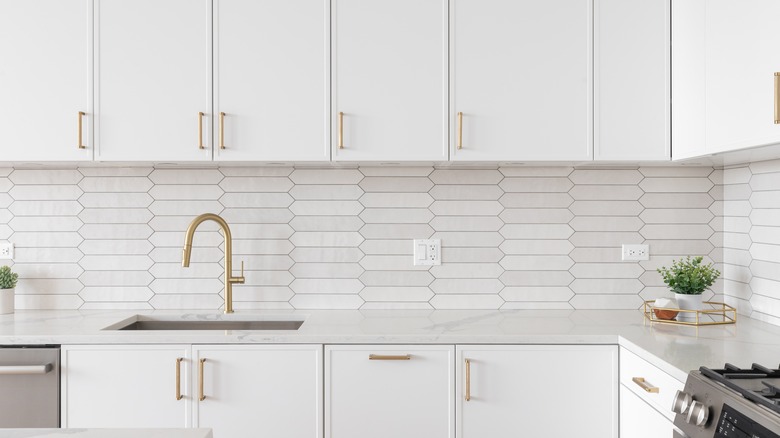 Hendrickson Photography/Shutterstock
Having the same interior setup can make your home feel mundane. Yet, trying to keep up with kitchen trends can be exhausting because something is always going out of style when something new and fresh comes along. Instead of doing a complete renovation in every room, there are a few ways to make slight changes that significantly impact the overall appearance.
HGTV's design expert Jenn Todryk pays close attention to the details, like the kitchen's cabinet hardware. For her, shiny gold hardware around the kitchen is dated and ought to be replaced. You don't always have to rip out the entire room to transform it into something new and different though.
The finishing touches in a room are just as important as the color palette you choose, the lighting you install, or the material you pick for the kitchen countertops. Minor details execute the space, making it feel complete. On the other hand, kitchen renovations can be expensive if you plan to replace the flooring, cabinets, or large appliances.
But if you work with what you have and follow a few renovation hacks, you'll save money and have a brand-new space. For example, paint the cabinets a new color instead of replacing them. Or, DIY your floors with vinyl that you can place on top of the existing floors instead of ripping them out. Let's start small with Todryk's tips on avoiding gold hardware.
Stay away from dated hardware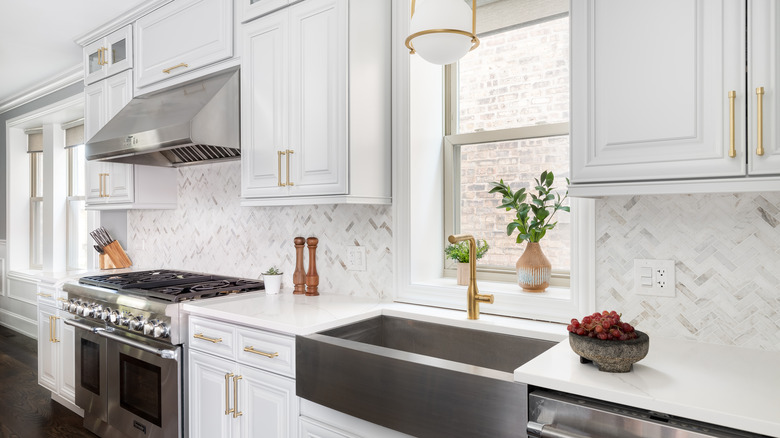 Joe Hendrickson/Getty Images
When you move into a previously owned house, sometimes it doesn't feel like your home, even though it's new to you. So, making minor alterations can help create the homey feeling you want. During an episode of HGTV's "No Demo Reno," Jenn Todryk helped renovate married couple Brittany and Jack's kitchen, dining room, and their kids' bedrooms and bathroom with a $90,000 budget and an eight-week timeframe. Brittany and Jack moved into their previously owned home with just their belongings. Todryk made minor tweaks to make the house feel like it had always been Brittany and Jack's home.
There were a few elements the married coupled fell in love with when they chose their home. The kitchen cabinets were their favorite — instead of Todryk removing the cabinets entirely, she switched out the shiny gold hardware with a brass style, with backplates covering the holes from the other hardware. The brass finish offers a soft yet sophisticated look to the kitchen cabinets. Todryk used a screwdriver to remove the gold features to prevent damaging the cabinets — the drill gun would've been harder to control without accidentally scratching the surface.
Types of hardware you could add to your kitchen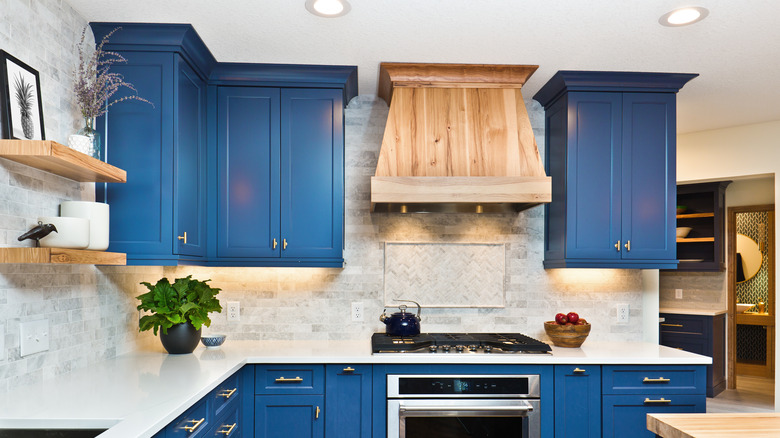 Yinyang/Getty Images
If you want to refresh your cabinets, replace the hardware with a new style. It's the most affordable option you can get done in a short amount of time. Choosing a hardware style can be challenging since there are so many options. However, your kitchen's theme can make the decision easier. For example, if you have a Farmhouse interior style kitchen with wooden features, opt for black hardware to add contrast. You can choose between bar pull or mushroom knobs — either will give an elevated look.
For a French kitchen style that includes more decorative elements like curtains and seat cushions, you'll want to use copper hardware to enhance the elegant touches in the space. Moreover, French interiors have personal touches, such as ceramic pottery and flowers in vases, so copper knobs look best on the cabinets for a subtle yet delicate appearance.
A more traditional kitchen interior has many details, natural wood features, and masonry countertops. The cabinets are typically white or wood, so you have more wiggle room to work with for hardware. Opt for stainless steel knobs with white cabinets for a sleek look or ornate drop handles for wood finish cabinets.