Is Peel-And-Stick Tile A Good Idea For Outdoor Spaces?
Transforming your patio from plain to grand on a tight budget will always be challenging. However, it shouldn't be a far-fetched dream. You can achieve stellar results by employing peel-and-stick tiles, which feature an adhesive backing that allows for easy installation and sticks on a wide variety of surfaces, including other tiles, walls, wood, or concrete floors. Unlike traditional tile, these offer incredible versatility. For instance, you can easily peel them off anytime you want to upgrade your design.
It's simple to use peel-and-stick tiles to give your outdoor space a trendy look. However, this option is not ideal for all exterior areas of your home. Remember, most peel-and-stick tiles aren't water resistant, so they may not be rugged enough to withstand the harsh elements they'll be exposed to in some outdoor spaces. As such, you need to be choosy during installation to get the most out of your investment.
Outdoor applications of peel-and-stick tiles
Most peel-and-stick tiles will tarnish or warp if exposed to intense UV radiation and moisture. Therefore, they are primarily suitable for installation in sheltered exterior spaces, such as covered patios and porches, sheds, and sunrooms. Given how hard it is to control outdoor temperatures, choose options that can withstand both hot and cold conditions. For example, suppose your area frequently experiences temperatures less than 32 degrees Fahrenheit or beyond 80 degrees Fahrenheit. In that case, you can't go for just any type of tile. Instead, your exterior living space deserves tiles with epoxy-based backing that will bond firmly. For maximum longevity, install them on flat hardwood or concrete surfaces where they will adhere better.
Blemishes on your shed floor can be an eyesore. They can make you feel helpless if you don't have the financial muscle to fix the entire area. Lucky for you, self-stick tiles can cover those oil stains and other discolored spots to give that floor a new lease on life. Remember, simplicity is key for such applications, so opt for earth tones like brown, tan, black, or gray.
It's not unusual to find grease or debris in outdoor spaces because they are exposed to wind or may serve as temporary storage for oil-leaking equipment. Ensure the surface is squeaky clean for a successful installation.
Installing peel-and-stick tiles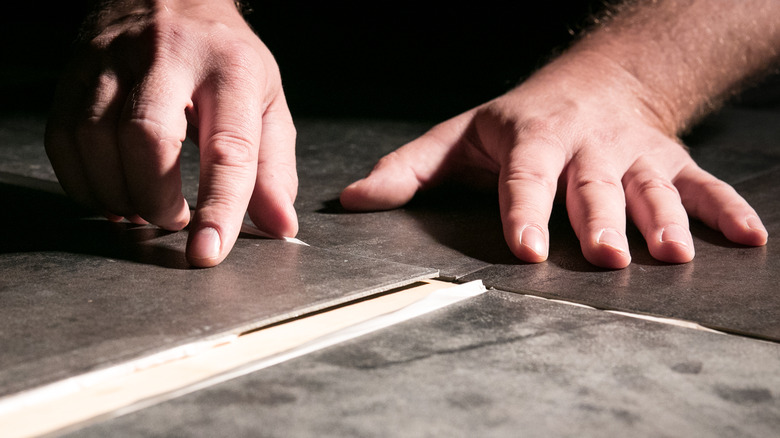 Benjamin Clapp/Shutterstock
Although not as durable as other materials, peel-and-stick tiles can last over 20 years, provided you install and maintain them well. Keep in mind that the sticky adhesive will always surrender everything to moisture, including your awe-inspiring tiles. That said, never install them on a damp outdoor surface, whether concrete or hardwood. Avoid applying on moist, dewy mornings; sunny days are ideal for your DIY installation. To exercise extra caution, you can use a dampness meter to confirm no moisture is left on the concrete floor before placement.
Sometimes we don't pay attention to the outdoors as much as we do indoors. So uneven surfaces, cracked concrete, or broken wood on your patio can easily go unnoticed. Avoid attaching tiles on bumpy surfaces because they won't stick firmly, and you'll likely be disappointed with the result. Are you a sucker for patio fire pits? Sorry, you must choose between peel-and-stick tile flooring or the fire pit since excessive heat will result in a loose backing. You may also want to consider adding a layer of concrete sealer or primer to ensure the adhesive backing and the concrete subfloor form a formidable union.
You might feel the urge to walk around your porch immediately after you finish the installation. The temptation is real, but give the space at least 24 hours for the backing to adhere fully. You may even consider using a roller to ensure all tiles attach uniformly and firmly.