How To Tastefully Embrace The Denim Décor Trend, According To Experts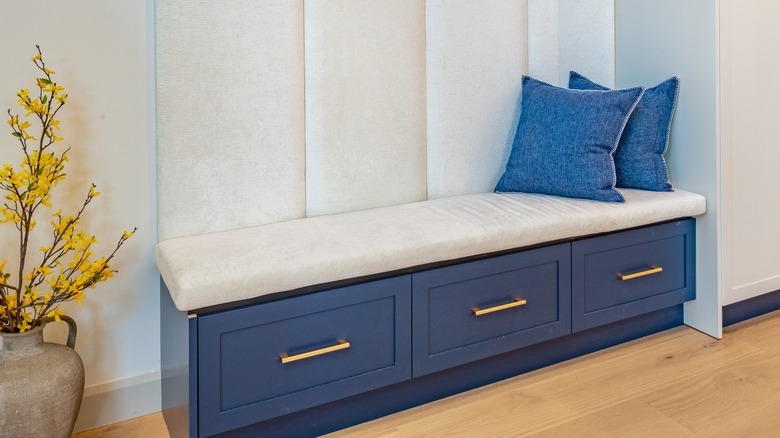 Sheila Say/Shutterstock
While denim is one of the biggest staples in fashion, it's rarely found in home décor but that's starting to change. The casual yet classic nature of denim combined with its durability makes it a very clever addition that people have started to consider when designing their homes. Design experts support this recent decorating trend and recommend seeing denim as a neutral that can switch up your space just like it switches up an outfit — in small doses that go a long way.
Interior designer Erin Chelius sees denim as a timeless detail that can easily add warmth and texture to the home while Ellie Mroz sees it as laid-back and cool, yet functional. "It's already broken in, which makes it approachable and sensible for clients with young children," noted Mroz (via Better Homes & Gardens). Perspectives like these show how versatile denim is and how it can fit right into virtually any interior design situation.
Go big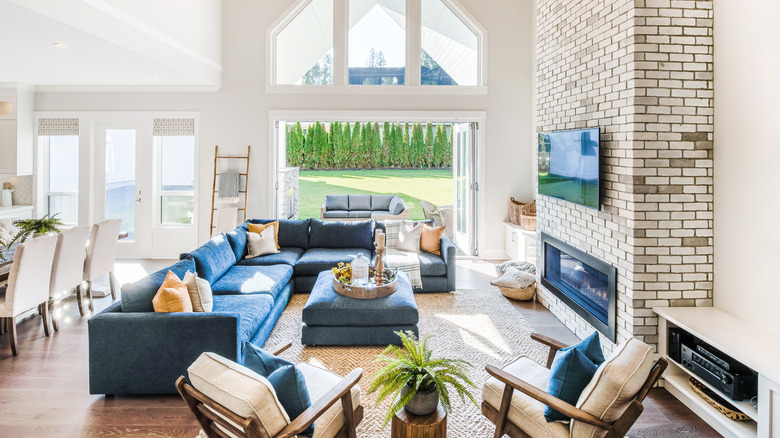 Sheila Say/Shutterstock
A major way to use denim in interior design is as an upholstery fabric for a big furniture piece like a sofa, chair, or headboard. In addition to being durable, denim has various options in terms of colors, thickness, and elasticity, and the fabric is a unique way to make a statement. Bull Denim is 100% cotton and a common type used for home décor upholstery. If you're looking for a noncommittal and more flexible option, try denim as a cover instead.
To use denim tastefully on your couch, opt for a very dark color and a modern frame. These details can transform it from looking like an amateur DIY project to a luxury piece, especially with a more elegant theme. Instead of remembering your old jeans when you look at the sofa, it'll feel more natural in the space. Note that not all denim materials are easy to clean or good for moisture exposure, so consider your climate and the amount of use your furniture piece is going to get.
Small hints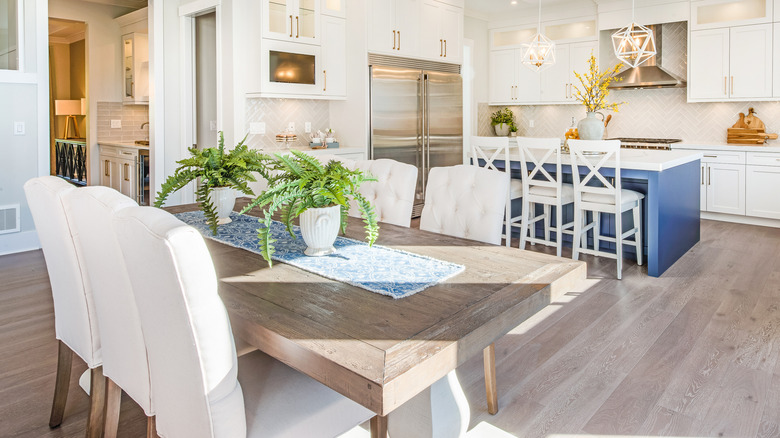 Sheila Say/Shutterstock
Keeping things simple with small hints and pieces is a smart way to incorporate denim into your home décor, especially when you have a fixed theme and just want to test the material. Denim throw pillows and blankets are an easy way to do this because just one or two are enough to add some visual interest to a room. "I always suggest trying trends in smaller items you could easily switch out in the future once the trend has passed," shared interior designer Desiree Burns (via Better Homes & Gardens). Since denim is a great material for a DIY project, creating small items like coasters or area rugs is another thing you can do. DIY also adds a nice personal touch to your home.
Another tasteful path you can take with the denim décor trend is to go beyond the traditional blue by incorporating the material in other unique colors like white or deep, dark green. As mentioned, these pieces will simply add a nice texture to the environment instead of reminding you of jean jackets or pants. The recent MÄVINN collection by IKEA, for example, includes items creatively and sustainably made from leftover denim. With simple products like hanging organizers, table runners, aprons, and tote bags, the collection shows how adaptable denim is as a material and how seamlessly it fits into the world of interior design.