We Should All Be Adopting This Functional Celebrity Kitchen Island Trend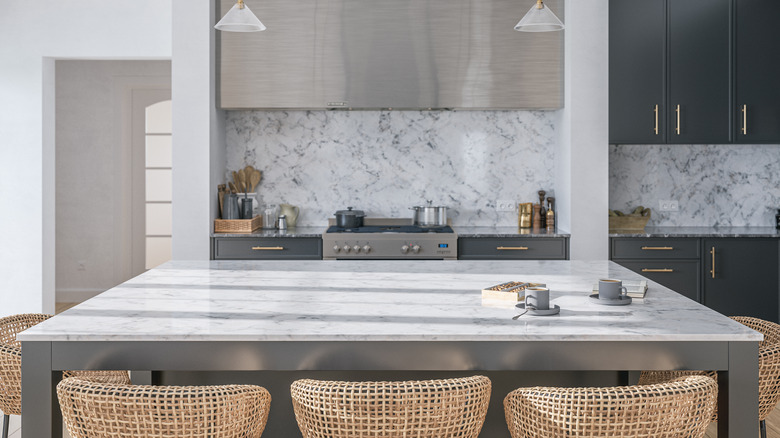 Gladiathor/Getty Images
Everyone knows that the kitchen is often the heart of the home. Even celebrities, whose homes are far more spacious and grand, often use their kitchen as a main living space, despite an array of elegant formal dining rooms and outdoor patio spaces galore. One very important element that seems to be cropping up in celebrity kitchens far and wide is the statement island, which not only forms a focal point in gloriously well-designed kitchens but also offers a key gathering spot for family and friends.
If you're looking to bring this all-important element into your kitchen, whatever its size, there are a number of key things to keep in mind that make these celebrity kitchen islands just as beautiful as they are functional. Even with a small kitchen, there are ways to center it as a gathering place in the home, just on a smaller scale. By concentrating on size, materials, placement, functionality, and comfy seating options, you can have a stylish kitchen island befitting a star.
Kitchen island materials
Depending on the overall style and feel of your kitchen, materials for your island can vary. For tennis phenom Serena Williams, this means a large sleek white marble island with plenty of space for food prep and a deep sink that matches the kitchen's clean, contemporary vibe. It's the wooden, angled tabletop that abuts the marble island that is the real stunner, however, offering standard chair-height seating that faces whoever is working in the kitchen. The warm, deep wood of the table and upholstered chairs instantly grants a coziness and comfort that contrasts with the cooler marble.
For model Chrissy Teigen, this means a long diner-style counter with over-padded leather bar stools and a nearby marble-topped dining nook that compliments her home's earthy sleekness. Reese Witherspoon's white shaker-fronted island is topped with rustic wood planks and flanked by farmhouse-chic metal tractor stools, offering a perfect perch for family and entertaining. Alexandra Daddario's blue-paneled island has a sea-washed California boho feel. The effect is breezy and casual while offering comfy stools for eating and a sleek classic marble top.
Kitchen island size and function
While these celebrity kitchens are usually larger in scale than many homes, that doesn't mean you can't create similar island focal points and cozy spots to gather and eat. Olympian Simone Biles's curved island is a great solution for getting extra counter and seating space while still having a smaller kitchen footprint. The curved shape and overhead chandelier make it feel like a small dining nook right there in the kitchen.
Comfort is one of the key elements of great celebrity kitchen islands, so look for alternatives to standard bar-height stools that can become uncomfortable for long-term seating. Opt for varying heights, soft cushy materials, and sturdiness that invite lingering for hours no matter how large the island is. Placement and direction of the island are also important, with the ideal arrangement offering a chance to interact with whoever may be preparing food, sufficient space to not interfere with kitchen flow, and an easy transition between food prep and dining.