How To Transform Your Outdoor Patio To The Perfect Workspace
Working from home has its perks, but when you're ready for a vitamin D fix, how about taking your workspace outside? The process of setting up an outdoor home office bears some resemblance to transforming a room in your home into your work area, but with some necessities that you may need to add to your patio. These traits include a functional and comfortable spot to sit and place your laptop and other items, along with adequate shade, lighting, and sound for those virtual meetings.
Considering that you'll be outside where the conditions can get somewhat unpredictable, having some sort of ventilation and maybe a heat source would be helpful. Plus, to be able to add those extra comforts, you will need to have a power plug or two installed if you don't already have outdoor outlets. Regardless of the alterations that are required, you can have a purposeful and aesthetically pleasing outdoor office that'll boost your enthusiasm for each new workday and help you to focus on the tasks at hand.
Seating and desk setup
Having the ideal space and furniture that factor in your work habits, comfort level, and your job's requirements is vital to productivity. While you might be tempted to resort to using the patio furniture that you've had for years, designating a spot just for work would be the best route to take. So if you have enough room on your patio, take up a corner (or more if necessary) to set up a workstation, and go for it.
You can utilize something simple like a comfortable office chair, stool, or folding chair along with a table that's mobile or a desk that can withstand the elements. One idea, for instance, is to add a bar or countertop in your chosen spot or use a standing desk with a stool so you can have the option to stand or sit while you work. If you require constant mobility that allows you to focus, you can opt for a motion stool that offers comfort while standing, sitting, or even just leaning. Moreover, this type of seat prevents slouching which can put a strain on your back and neck.
Shade and screens
During the spring and summer months, shade is crucial for comfort and the visibility of your monitor's screen, especially if you don't already have a covered patio. For a quick fix, you can add sun sails by attaching them to hooks mounted close to the roof and hooked onto the top of a nearby fence or to posts. Additionally, awnings, canopies, and umbrellas offer some protection from the harsh rays.
And to decrease the sun's glare even more, you can add shade screens to the sides of a covered patio or to a pergola. The breathable fabric still allows a cool breeze to blow through, along with providing more privacy for your workspace. While curtains or screens help improve your ability to see your screen more clearly, you can also consider getting a screen protector that decreases the sun's glare and takes the strain off your eyes.
In this manner, your productivity won't be negatively impacted. Plus, if you layer your sources of shade, like using an umbrella when you're sitting beneath a pergola, you'll achieve even more visibility.
Light and sound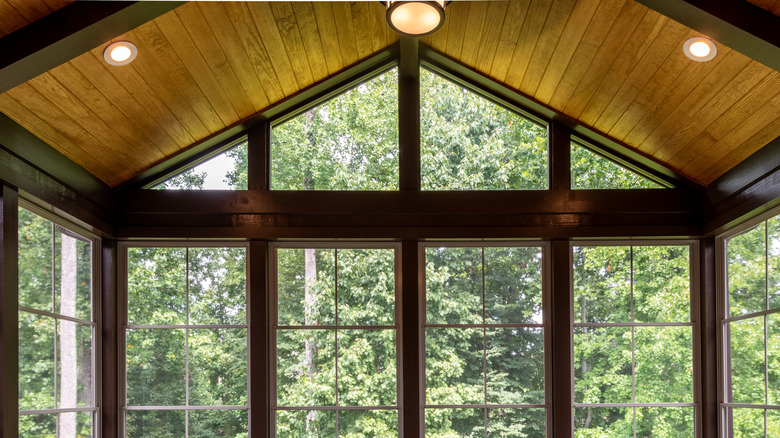 VIS Fine Art/Shutterstock
You will also see how well working outdoors coincides with a flexible schedule, especially if you have the proper lighting. If you prefer the odd hours, like evening or dawn, you'll need some supplemental lighting. With many varieties of battery-powered desk lamps, you're sure to find something that's highly functional and accents your workstation in an appealing manner.
Even if you already have recessed lights or sconces installed on your patio, your eyes would surely appreciate the extra desk lamp. For video calls, you might also add a ring light which comes in handy at any time of the day since the sun's brightness can get rather unpredictable. Thus, you'll have no worries about shadows hiding your face or appearing as if you're holding a flashlight under your chin.
Additionally, your setup requires a good sound source like Bluetooth speakers or a noise-canceling headset with a microphone, depending on how loud it is outdoors. With the speakers, you can pipe in your playlist if background music helps with your concentration. Otherwise, the headset or headphones would work best if you're surrounded by sounds of nature or just your barking dog.
Climate control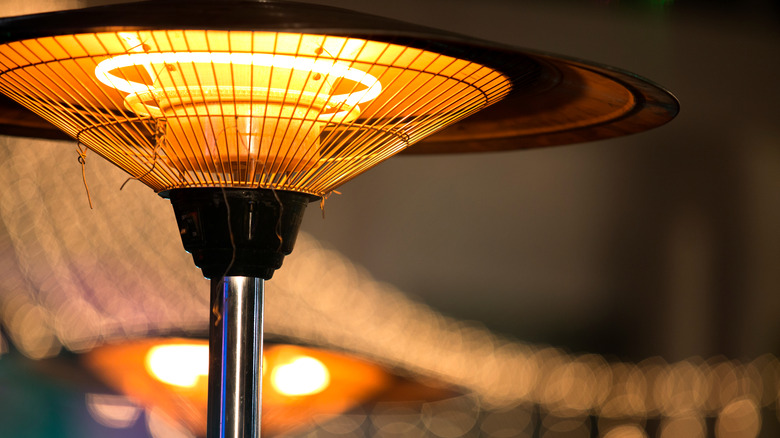 Photographielove/Shutterstock
If your patio is already equipped with a ceiling fan, then you might be ready for the warm weather months, and during this time of the year, you should probably opt for working in the morning or at dusk when the heat is not so intense. This not only protects you but also your laptop, cell phone, and other devices that don't like hot temps.
In addition to carefully planning your outdoor office hours, you can add other amenities that ward off excessive heat or cold depending on the season. During the warm months, you can start with a simple fan that would enhance the air circulation provided by its ceiling counterpart. The benefits of using a fan include the low humming that might offset any other noise that occurs in your yard. Moreover, it keeps mosquitoes away.
On the other end of the spectrum, you can invest in an outdoor-rated evaporative cooler which is useful for the entire patio as long as it's not the type that emits a fine mist of water. That would be detrimental to your laptop and other gadgets. During the cooler season, if needed, you can bring out the patio heater (or two depending on the size of your workspace) which provides a nominal amount of warmth. If your patio has an outdoor fireplace, then you'll stay rather comfortable.
Consider adding electricity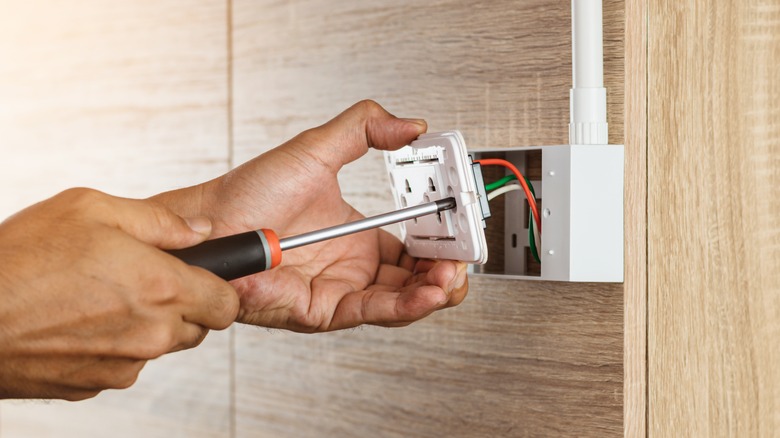 ETAP/Shutterstock
When you're starting off, you can probably get away with using extension cords and a large power strip, but for the long haul, you'll need a safer power source that's installed by a licensed electrician. This step, if you don't already have electrical outlets, would make your outdoor home office fully functional. Having one or two outlets close by adds more possibilities to what you can accomplish during your hours of working outside.
Moreover, you'll add more convenience and improve your productivity if you don't have to go in and out of the house plugging and unplugging extension cords or recharging batteries. Plus, you'll get rid of the tripping hazards once you lose the extension cords. And while you're consulting with an electrician, you can also have light fixtures installed that provide enough illumination for your workspace. This would be ideal in the event that you run out of outlets or if you don't want to take up desk or table space with a lamp.