The Coat Tree Alternative HGTV's Jonathan Scott Loves For Improved Hanging Storage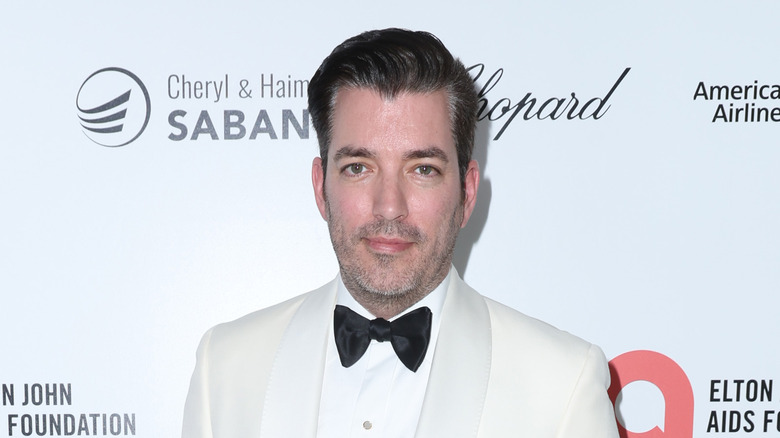 Phillip Faraone/Getty Images
When dealing with a front door that opens right into the house, Jonathan Scott advises ditching the coat tree and installing a pegboard on the wall instead. He sees it as an improvement that optimizes organization for those who don't have the buffer of a foyer. "This is a much better use for this space," he said while designing a client's home (via Realtor.com). "They needed to have storage, they needed to have a wall where they could just hang a whole bunch of coats, somewhere to put the boots."
A pegboard can be a better alternative to a coat tree for a bunch of reasons, mainly because of how much room they save. They are great, especially in smaller areas, because they take up wall space instead of floor space. By mounting a pegboard on the wall, you create vertical storage and keep the floor clear in an entryway that is already tight. Coat trees, on the other hand, typically take up valuable space. They might also have limited capacity to hold many items and may tip over when they become overloaded due to instability.
Perks of pegboards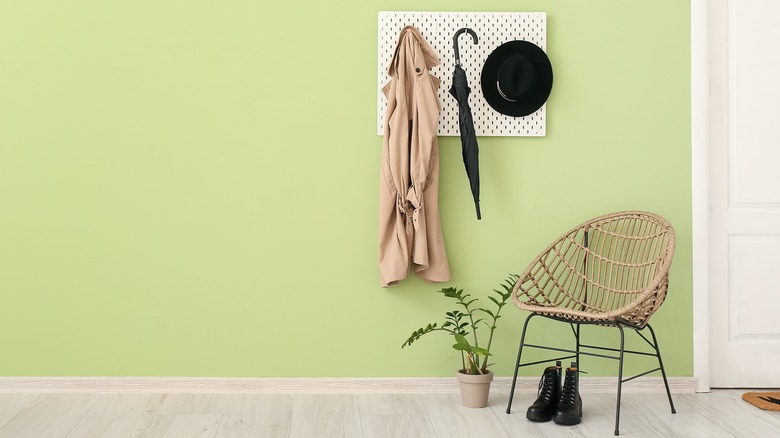 Pixel-Shot/Shutterstock
With a pegboard, you can neatly arrange and display items, making them easily accessible and visible. Unlike a coat tree, where items may overlap or become hidden behind each other, a pegboard allows you to organize your coats or other belongings in a way that is more aesthetically pleasing and convenient. According to Jonathan Scott, a pegboard is much more functional than a single coat tree, per Realtor.com. Their versatility allows you to choose a size and shape that fits your specific needs and available wall space, as well as the types of pegs that best suit your items. You can attach baskets, containers, and even small shelves on them to provide an added layer of organization for your scarves, gloves, and sunglasses.
Pegboards are also a better storage solution because they can be used for a wide range of purposes beyond hanging coats behind a front door. They can be installed on the kitchen wall to hold utensils, in the bedroom to hold accessories, and in the garage to hold tools. Depending on the specific model and material chosen, pegboards can also be a more cost-effective storage solution than coat trees. Some common materials are hardboard, wood, and steel.
More smart storage solutions for the front door
When planning storage for your front door area, consider the available space and your specific needs. It's usually helpful to combine different storage solutions to create a functional and organized entryway. While you can buy a pegboard, you can also DIY it, allowing you to custom-fit it to the wall. Another DIY method you can try is installing hooks or pegs directly on the wall. They will hold your coats, jackets, or umbrellas the same and keep the floor clear. They can even add some decoration, like a stylish, Bohemian hat hanger.
If you have plenty of space behind the door, consider floating shelves to hold and organize many items at once. Hanging a key holder behind the door is another great solution, so you always know where they are. In addition to wall storage, you should also select something to store the items that are commonly left on the floor. For example, a shoe rack or shelf behind or near the front door can keep your shoes neatly organized and easily accessible and prevent you from tracking dirt into the house.