The Chic Costco Storage Solution Expert Designers Swear By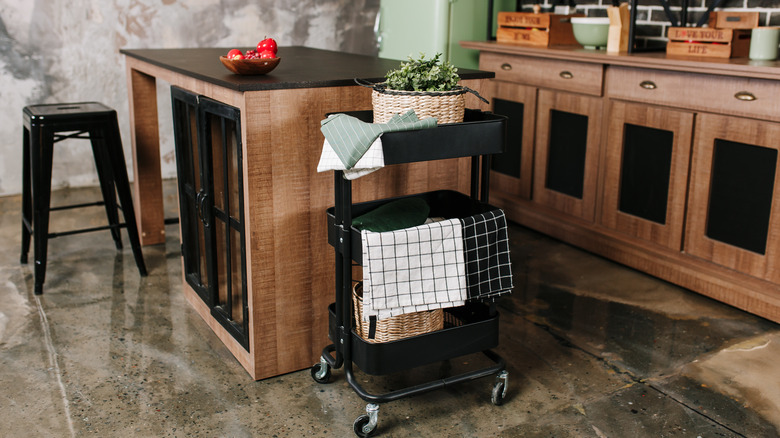 Oksana.Bondar/Shutterstock
If you're like most people, you look around your home and wonder where all this "stuff" came from. Most homeowners would agree that no matter the size of the house, you'll find a way to fill it with more belongings than you have space to fit it all. Organizing and design experts know what you need and have storage solutions they swear by and a place to go to get them: rolling storage carts from a retailer like Costco where you can find a wide selection.
Utility carts were previously all about function over style, but Costco has tossed that old way of thinking and has more than a half dozen wheeled carts that fit a variety of aesthetics, needs, and budgets. BestLifeOnline reached out to Autumn Stankovsky, an interior designer, who remarked on the way the different styles could mesh with existing home décor, pointing out, for example, how the rustic look of a wood-topped cart would complement a country-style kitchen, while the clean lines of a metal cart would work better in a kitchen that has a modern, sleek vibe.
Finding the right style for your purpose goes beyond matching a cart to your cabinets and curtains. Think about details like what you wish to store on the rolling cart, how wide you want the spaces between the shelves to be, whether you need locking wheels, the number of shelves, whether you want to attach magnets (making a metal cart handy), and whether a pull-out drawer is needed.
Store everything in chic kitchen carts
One of the best places in the home to use a rolling cart is in the kitchen since it instantly gives you more counter space whether by adding another prep surface or allowing you to put all things coffee on the cart. The storage carts at Costco come in a variety of styles from a simple stack of metal market baskets (super chic and perfect for storing apples or potatoes) to larger carts that can take the place of a kitchen island. The large carts sport features like large work surfaces, drawers, multiple shelves, towel rods, and pegs or hooks for attaching utensils.
One of Costco's carts is the Chris & Chris Chef Series Kitchen Cart. Available in either white or brown, the cart features a butcher block end grain wood top. If you use your butcher block as a work surface, end grain wood is an excellent choice, says Hungeling Design. They note that the wood is ideal for a cutting surface since it's comprised of "individual staves of wood...oriented vertically and glued together," which makes the wood surface "forgiving" enough to hold up to a lot of slicing and dicing.
Birch Barn Designs notes that if you like the look of a butcher block, however, you'll want to be aware of any potential maintenance needs. Check the manufacturer's recommendations since wood surfaces generally require some regular upkeep even if it's just a little mineral oil rubbed in every month or so.
Roll your cart into any room of your house
Some rolling carts have a distinctively kitchen-y look. It might be a butcher block top or a towel bar that gives it that particular vibe. Other carts, however, aren't pigeonholed by a style that keeps them locked up in one room only. Cheapism showcased several carts on wheels available at Costco when they discussed the organizing and storage options at the big box retailer. While one was certainly designed to be a kitchen storage solution, the other two carts would work well and help organize and declutter just about any room of the home.
The Oceanstar 3-Tier Storage Cart at Costco is a chic organizer that designers would drool over, particularly once they realize that each of the tiers is a removable 11" x 17.5" wooden tray. The cart can make quick work of gathering magazines, mail, and books that might be cluttering a family room. It could also look spectacular in a bedroom, holding lotions, makeup, a hair dryer, and the many other items vital to helping you look your best. It also might be a perfect "must-have" to hold arts and crafts supplies, allowing you to lift a tray and move it anywhere.
Sometimes you need more than a tray to help you get organized, which is where the Seville Classics 3-Bag Laundry Sorter with Adjustable Clothes Bar or the Trinity 3-bag Laundry Cart can come in handy. Both carts will make you wonder how you ever did laundry before.