How To Care For Outdoor Curtains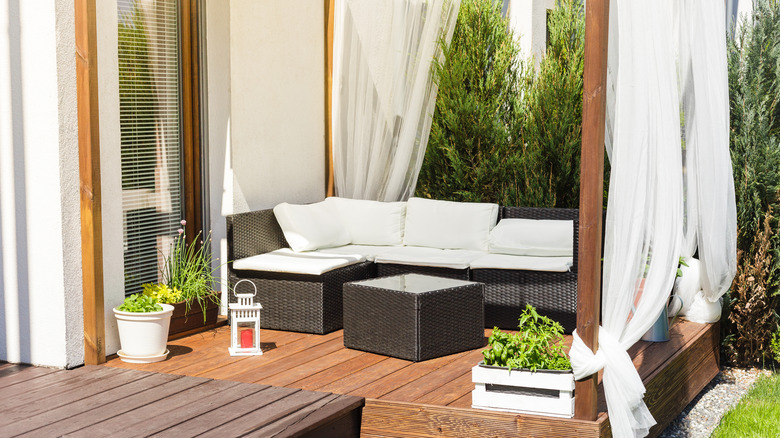 Dzika_mrowka/Getty Images
We may receive a commission on purchases made from links.
Outdoor curtains sacrifice much to offer much-needed curb appeal and protection from intense UV rays and wind. As such, it's only fair to reciprocate their efforts by giving them proper attention, just like you do with indoor ones. From bird droppings, debris, wine stains, oil spills, bacteria, and clinging bugs, cleaning and caring for these curtains might seem like a mammoth task. Luckily, it isn't. However, providing optimal care means cleaning, drying, maintaining, and storing them properly.
The first step is figuring out what they are made of, as this is the key to cleaning and storing them to maximize their lifespan. For example, a cleaning method that works best for polyester might not do justice to linen. Thankfully, most outdoor curtains are designed to be durable and withstand the elements, so you're unlikely to have to get them dry-cleaned so that they look as good as new. Another helpful tip is to check the manufacturer's recommendations and follow them to the letter; the details matter if you want your outdoor curtains to serve you for years to come.
How you can clean outdoor curtains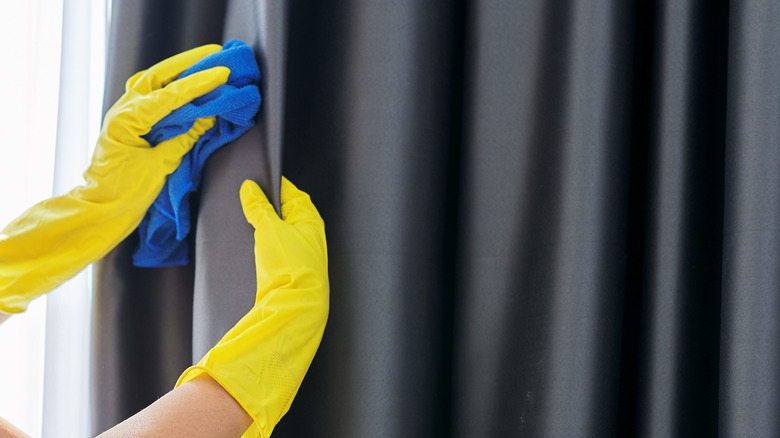 VH-studio/Shutterstock
While cleaning outdoor curtains periodically is essential, it's best to take care of any mess immediately since some blemishes will become trickier to remove with time. So dealing with them as soon as possible helps avoid frequent deep cleaning and excessive scrubbing that might weaken or damage the fabric. For stains like coffee spills, the first option should be to use a gentle dry cloth, which can eliminate about 90% of the damage on moisture-resistant fabrics. If the discoloration remains, you can soak the cloth in lukewarm water and detergent, then wipe the affected areas to lift the stain. This method is suitable for synthetic materials and waterproof outdoor curtains. Another method you can use every week to get rid of dust, pollen, and pet hair is vacuum cleaning.
During outdoor activities like mowing a lawn, you may brush against your curtains, causing stubborn spots like grass stains, oil marks, and grease patches; these will likely require soaking. Do a spot test to check if your detergent of choice causes discoloration. If everything looks good, soak it for at least one hour before hand washing. Are you pressed for time? Machine washing will do the trick, but employ a low spin cycle for delicate materials such as linen and silk to prevent tearing or stretching.
Proper maintenance of outdoor curtains
One of the main reasons people install outdoor curtains is to get protection from UV rays. As they do that job faithfully, the elements might be too much for them, causing discoloration and weakened fabric. Thankfully, you can protect them by applying a UV-resistant fabric protection spray. Alternatively, you can remove them when it's rainy to prevent heavy soiling. During fall or winter, remove your curtains to protect them from water, snow, and dirt that might accumulate on them for a long time. The proper storage procedure involves folding and placing them in a closet or another place free from moisture; this will prevent the accumulation of mold.
What if mildew and mold find a habitable ground to thrive on your lovely curtains? Worry not; you can often do away with these by using color-safe bleach unless otherwise noted by the product's care instructions. Create a solution of one part bleach with four parts warm water and apply it on the affected area, then give it about 15 minutes to absorb. The next step is blotting the area with a microfiber cloth or sponge to help lift the stain, then rinsing it thoroughly to remove any remnants of the bleach. Hopefully, these tips will help keep your outdoor curtains squeaky clean no matter the situation outside.