Christina Hall's Smart Tip To Make Modern Decor More Homely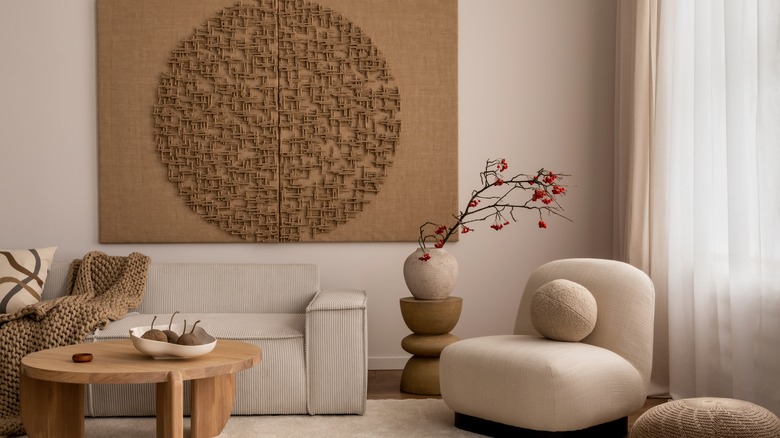 Followtheflow/Shutterstock
While HGTV's Christina Hall doesn't prefer a traditional design, she also doesn't love an ultra-modern look either since it can feel uninviting. She mentioned this after purchasing her Newport Beach, California home with her husband, Josh Hall. "We made a lot of changes throughout the whole house," she told Realtor.com. "It's extremely modern, and modern — believe it or not — is probably my least favorite style. It feels a bit cold if it's not done correctly." If you're in the same predicament, Hall suggests swapping out your cool tones for warmer, neutral hues and embracing an earthy appearance. "We added our own take on a modern style. We added an organic vibe — I call it a Bali flair. We softened it; we added more wood textures."
Another way to describe Hall's preferred aesthetic is to say that it's a mixture of many different interior design styles, which creates a layered appearance. "Coming soon, turning this modern house into a modern/coastal/boho/organic home," she wrote on Instagram, announcing the purchase of their new home. By mixing together all of these aesthetics, she's able to create a space that feels cozy and inviting. 
Hall's favorite homely decorations
To create a homely vibe in a modern space, you'll need to use the right decorative pieces. Luckily, Christina Hall has a long list of her favorite items on her Amazon storefront, and many of them fit her aesthetic perfectly. For instance, if you're looking for a coffee table, she chose the Christopher Knight Home Abitha coffee table, which features a faux wood design and metal legs. This piece will make your home feel cozy since it has a muted wood tone, which you could pair with other wooden elements. 
There are also plenty of smaller decorations you could display around your home, like a pair of round and cream Voln Ceramic Vases. Because these items have a curved, organic shape, they're ideal for creating a homely feel, and Hall suggests adding pampas grass for a bohemian look as well. Woven baskets are also key, such as the BlueMake Woven Seagrass Belly Basket, as the natural material will provide your home with more texture and an earthy appearance. It's one of her top picks and is ideal to use for storage or as a planter. Finally, fringed and textured blankets, like the Bourina Throw Blanket, will also make your home feel more comfortable and organic.
Making her Newport Beach home more cozy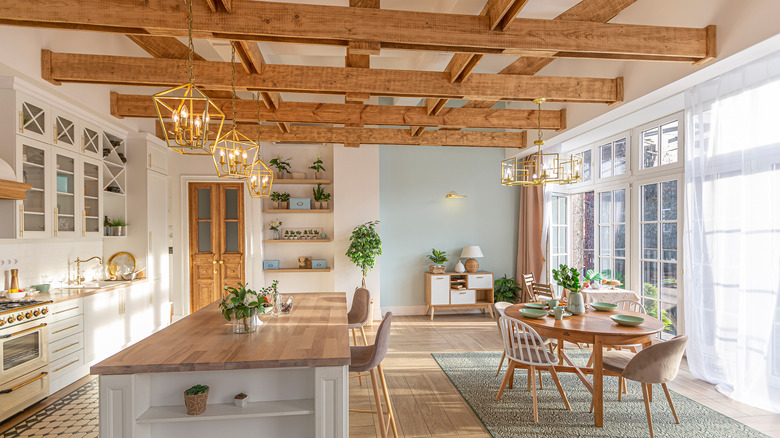 Pinkystock/Shutterstock
Because "Bali flair" is her preferred home style, Christina Hall made sure to incorporate it into her new Newport Beach home. One of the ways she does this is by using as many natural materials as possible and embracing large windows. "Living by the coast, I picture [coastal design] as the indoor-outdoor feel, a lot of natural light, bringing in wood textures, wooden tones, natural oak cabinets, real plants," Hall told Realtor.com. Hall has also offered a sneak peek of the inside of her home, which features modern windows that brighten the room and warm wood planks on the ceiling that make the expansive room feel cozier, per Instagram.
Hall says that her favorite room in the home is the primary bedroom because "it feels really tranquil. It's all glass, and there's really cool bamboo that you look out at. It has vacation vibes," she said. She also adds a boho-industrial feel to some of the spaces by including moodier shades. "Josh and I both love black, so we added a lot of black in the house," she noted. "We went with all black café appliances that look super cool; they add an edge to the modernness." By mixing edgy, modern tones with warm, textured elements, Hall creates the exact style she adores.