Mayonnaise Is The Unexpected Cleaning Product That'll Make Your Bathroom Really Shine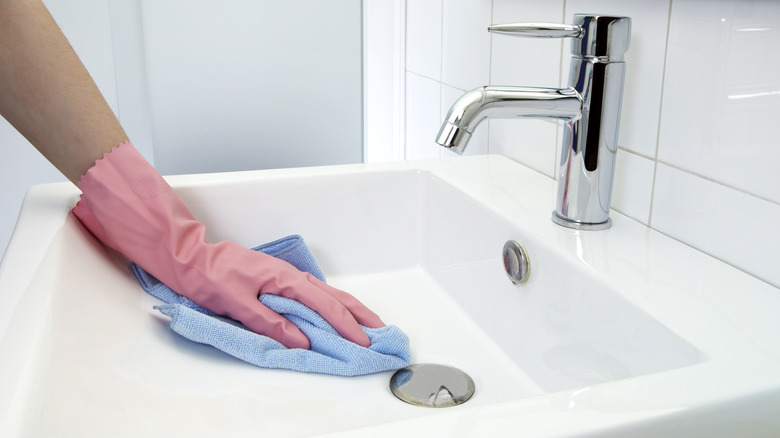 Xefstock/Getty Images
You likely have heard of using vinegar or lemon juice around the house to clean, but next time, consider reaching into your fridge for some mayonnaise, too — especially if you struggle to keep the porcelain in your bathroom shiny and sparkly. It's true, while most people only think to use mayonnaise when making a sandwich or a batch of potato salad, it's surprisingly great for cleaning as well. Specifically, rust stains on porcelain can be easily removed by spreading mayonnaise over them, allowing it to sit for a few minutes, and then wiping the condiment away. It'll seem like the rust has magically disappeared, and your bathroom will look great again.
Besides removing rust from porcelain, mayonnaise has a number of other incredible, and surprising, cleaning uses. The oily condiment is also shockingly good at getting smudges off stainless steel. Whether it's fingerprints or stuck-on dirt, spreading some mayo over your stainless steel sink and appliances and wiping it off will make them look new.
Others ways mayo can help around the house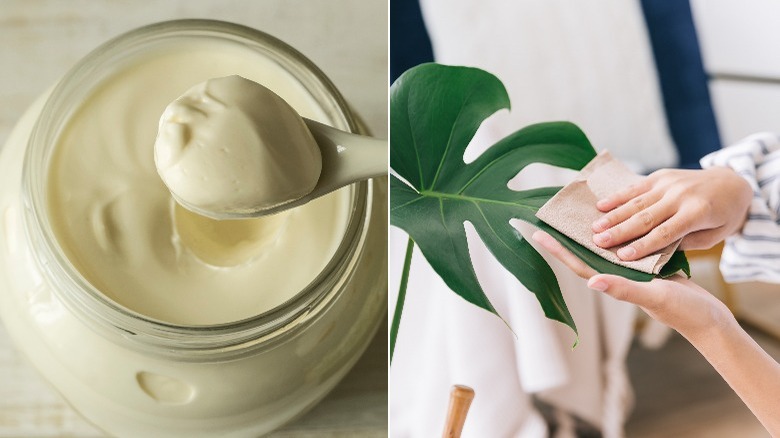 Artit Wongpradu & Tutatamafilm/Shutterstock & undefined
Though it's a bit counterintuitive, slathering mayo over surfaces can help keep your home looking nice. For those with children, for example, scrubbing crayon off walls can be a painstaking and time-consuming task, but using mayonnaise rather than soap and water may just prove a game-changer — similar to mayo removing rust stains from porcelain. While this method could leave an oil stain on flat finishes, for other walls, try rubbing some mayo over those crayon drawings. After a couple of minutes, wipe it away with a damp cloth and the crayon should be gone.
The condiment is also great for lubricating noisy door hinges. Simply take the pin out of the hinge, cover it with mayo, put it back, and the door should stop squeaking. Because of its shiny appearance, applying mayo to plant leaves will also make them look nicer and may help them absorb more sunlight. Mayo will also remove pesky stickers and the residue they leave behind.
How to clean wood with mayo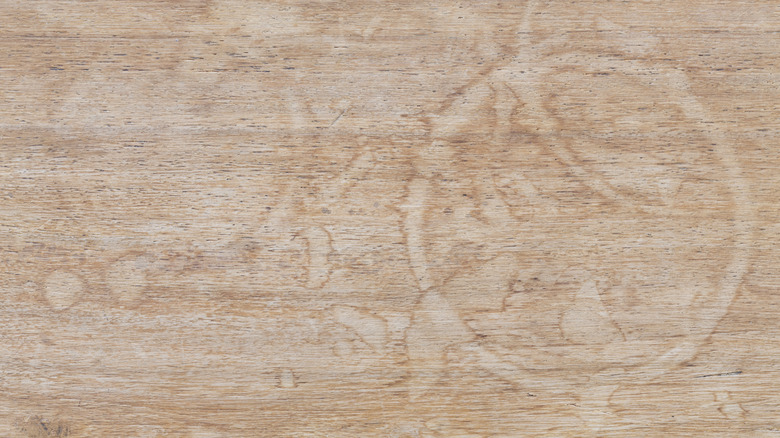 Paul Maguire/Shutterstock
If you struggle to get scuff marks off your hardwood floors, try cleaning the floor with an oil-based soap, smearing the scratches with mayonnaise, and leaving it until the next morning. When you wipe the mayo off, the marks will appear to be gone. This is because the oil makes its way into the crevices and hides the scratches. The mayo will blend into the color of the wood, and it'll be like the floor was never scuffed.
Marks left behind from glasses of water set on wooden tables can also be removed with mayonnaise. Simply spread a dollop over the watermarks and wipe it off after several minutes (note, some experts recommend waiting a few hours to overnight). This should get rid of the pesky stains; but if you're concerned this method may make them worse, try testing a small area before applying the condiment to the entire table. You might also want to try polishing or cleaning your wood furniture with mayo to make them shine — just like a bit of mayo did for your porcelain sink and/or tub.