The Biggest Mistakes People Make When Using Their Under Sink Cabinet For Storage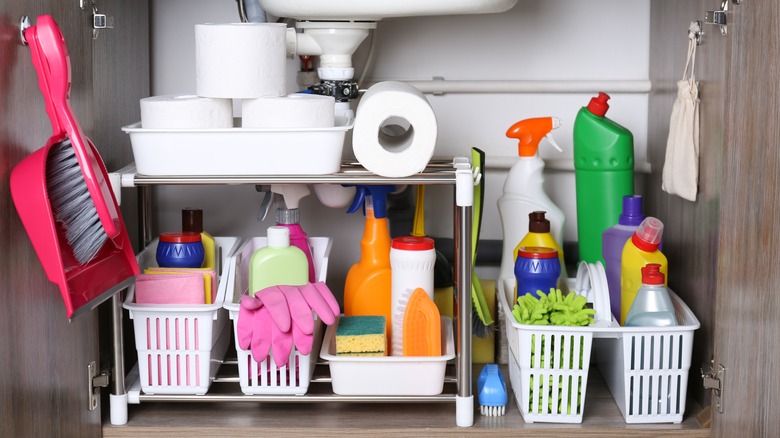 New Africa/Shutterstock
Put one curved pipe at the back of a cabinet, and seemingly everyone forgets how to use the space! What is it about the cabinet under the sink that causes everyone to make mistakes when trying to figure out how to stack bars of soap or line up bottles of cleaning products? We should know how to use the space for maximum storage and convenience, yet the addition of an oddly-shaped pipe seems to throw otherwise organized people for a curve. 
It seems that the exposed drainage conduit — relatively large in comparison to the area encompassing most under-sink locales, to be sure — makes using the cabinet feel more complicated than it need be. One reason could be that the voluptuous curves of the pipes aren't typically conducive to squared-off, geometrically pleasing storage. That alone, however, shouldn't stop you from trying a few tips and products to make the under-sink area an ideal place to stash necessary items.
When Akron Life talked to a home organizing expert, they discovered that the space underneath sinks is typically a jumble, but putting items on tiered shelves or in a shower caddy can help by creating groupings of similar size, shape, or use.
Stackable pull-out plastic drawers also are a good starting point, says BetweenCarPools. The drawers allow you to use space all the way to the back without the annoyance of pulling everything in the cabinet out to get to whatever is hiding in the deep recesses adjacent to the pipe.
Stacking and storing using good under-sink organizers
Reflecting what seems to be everyone's little addiction to watching TikTok videos of other people organizing their homes or coming up with great hacks, SheKnows commented on an under-sink organizing shelf that fits around those impossible-but-necessary pipes under kitchen and bathroom sinks. The rack isn't one-size-fits-all, making it even more useful. It expands from 17 to 25 inches, which is what makes it so versatile. 
The Rice Rat Under Sink Organizer has two shelves, is a cinch to put together, and is made of a powder-coated metal that is resistant to rust, which is an important factor for any item you're using under a sink. Even in the best of circumstances, you should allow for the possibility that a pipe could drip. Minimize the damage by having rust-resistant organizing items, and keep anything that could get damaged by water in containers.
While the two-shelf organizer is useful, it may not help with taller items. For those, a Lazy Susan could be just what you need. The turntable lets you get to everything easily with just a spin. It's one of the suggestions in an article on whether you're storing your cleaning products correctly, and it's often cited by organization experts as a good tool for pantries, cabinets, and other places where the items in the back are as important as what you store in the front.
Don't put these items under your sink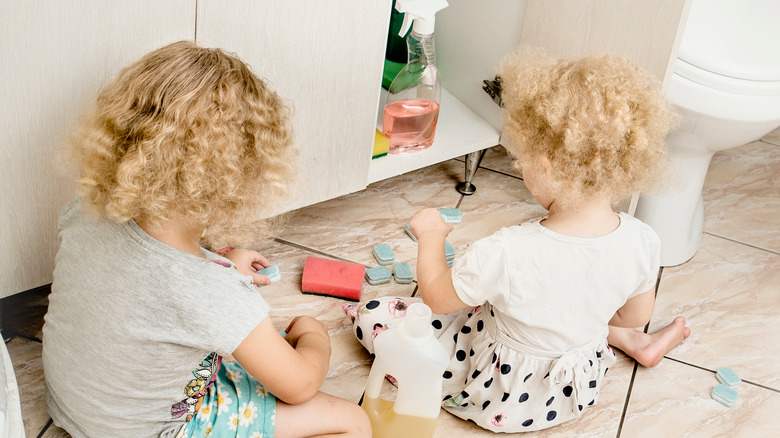 FotoHelin/Shutterstock
While you're thinking about what's under your sink and how to not make big mistakes when organizing all of it, take some time to consider what shouldn't be under there to begin with. The area under a sink might be difficult to organize, but that doesn't mean it should be a dumping ground for items that you don't know what to do with. Experts weighed in on the four things under many household sinks that need to go: Harsh chemicals, paper products, small appliances, and flammable products.
The biggest cautions are for harsh chemicals that would be within reach of children's hands under a sink and flammable products that could combust. Florida's Citrus County Chronicle highlighted those two categories as part of the six items not to place under a sink even if you do have it beautifully organized. They likewise mentioned small appliances since the risk associated with any water damage isn't worth the hassle.
The Chronicle's piece adds a few other categories: ones you don't want under the sink that could get icky if wet, even if it's a barely noticeable drip since it could lead to mold. That means storing pet food or kitchen towels under the sink should be off the list. They also caution against keeping your entire stock of something there (such as all the trash bags you bought at a big-box retailer) where it might take up too much valuable in-reach real estate.