Fixer To Fabulous Explains The Best Way To Keep Your Front Porch Private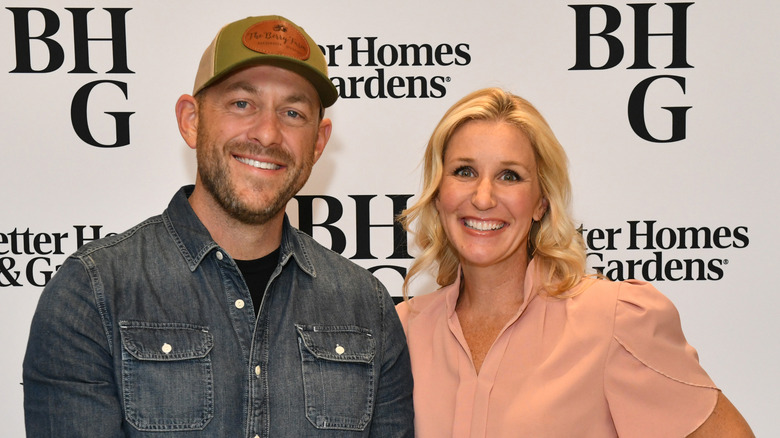 Craig Barritt/Getty Images
We all love a good front porch, especially during the summer. What better place to drink your morning coffee and wake up for the day? The only downside may be a lack of privacy. If you live in an area where houses are practically built on top of one another, you know how annoying it is when you want to sit out on your porch, but you're on display for everyone else to see, which can really kill the mood. So, what can you do to fix the problem?
In the episode, "An Old Rancher Gets a Chef-Inspired Face-Lift," of "Fixer to Fabulous," hosts Dave and Jenny Marrs encounter this exact issue with their clients' home. Because the front porch offers no privacy, the Marrs are tasked with finding a way to conceal the area. Their solution? The couple created a little seating area behind a slatted wood fence designed with cushioned chairs and potted plants.
The perks of building a fence
The Marrs chose a slatted fence for its mid-century aesthetic, but mainly out of practicality. "It also provides privacy," Jenny explained, per Realtor.com. "They can enjoy this space, and it could feel like a little enclosed courtyard." Because the house is made of white brick, the wood adds a touch of warmth to the front of the house. Plus, the series of plants in front of the fence create additional privacy. This area is excellent if you have children as well. They can join you in the front yard, but you don't have to worry about them running into the street.
While the Marrs chose a slatted wall for their clients, you can adapt your fence to any material you'd like. If you really want to keep your front porch private, you might consider a solid wooden fence. Depending on your home's aesthetic, brick may be a better fit. You could even use shrubbery if you'd like. In any case, the goal is to make your space private and peaceful.
More ways to privatize your front porch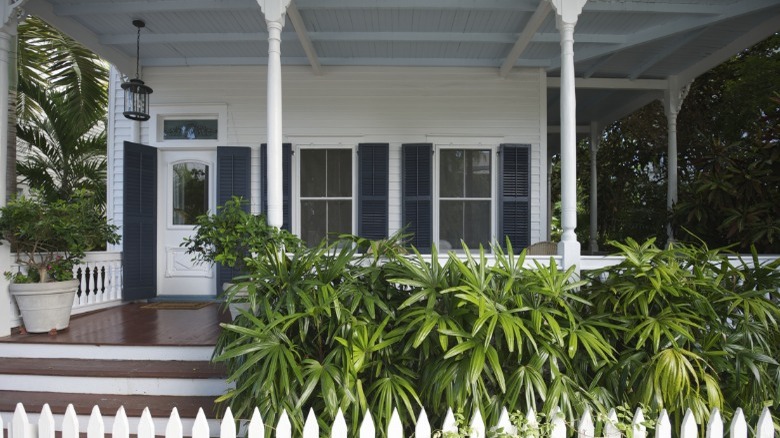 Peskymonkey/Getty Images
If you're searching for ways to make your porch more private but don't want to build a fence, you can use plants and shrubbery to get the job done. There is no right way to go about this; it's all up to the type of plants or bushes you like. If you aren't sure where to start, may we suggest flower boxes? You can strategically place them along the porch's railing if you have one, and go all out by also adding hanging plants. If your front porch doesn't receive much sun, select hanging plants that don't require direct sunlight, such as the pothos or spider plant.
Lattice panels are an excellent choice as well because they don't completely block you off from the rest of the world, and they aren't as intimidating as a brick wall. They offer a more cottage-like aesthetic, so if you're into that type of vibe, we couldn't recommend this option more.