How To Steal The Look From Home Depot's New Vacation Rental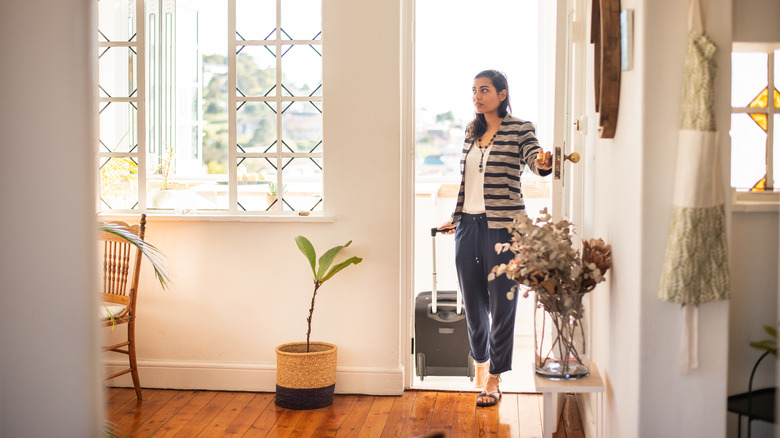 Nickylloyd/Getty Images
When you think of Home Depot, hardware and home improvement necessities probably come to mind. But what about home decor? Yep, it has that too. Now, you can decorate your home with pieces you can easily find at the popular home improvement store. In collaboration with VRBO, known as the Berkshires home makeover, Home Depot helped design influencers create a new getaway rental for guests to enjoy. Don't have time to check it out for yourself? The good news is you can totally steal the look and bring the vacation to you. 
If you want to replicate this perfect vacation getaway, it doesn't mean you have to go out and buy everything the designers used in the Home Depot rental. The idea is to take design elements from the space and apply them to your own home. This vacation rental space is light and airy with a neutral color palette. The designers also incorporated plenty of art and greenery throughout the home, which really drives home the vacation-getaway aesthetic. 
Opt for a cottagecore kitchen
If you aren't on the cottagecore train already, it's time to hop aboard. With the help of Home Depot, design influencers Holly and Brad Lauritzen were able to create the ultimate cottagecore kitchen, per Home Depot. It's stunning design you can easily recreate. Cottagecore is all about romanticizing nature, so it focuses on neutral colors and natural materials, such as wood, wicker, and greenery. Once you have those key design elements, you can customize the space to your personal style. For cabinetry, we recommend a mossy green or slated blue. They add color but aren't over-the-top.
A wooden table like Home Depot's Edmund dining table is always a safe bet. To achieve that cottagecore vibe, consider adding wicker chairs, such as the Safavieh Minerva dining chairs the Lauritzens chose for the Home Depot rental. And nothing says cottagecore more than the Home Decorators Collection rolling kitchen cart. 
Play up the patterns and textures
A common theme in the Home Depot vacation rental is the use of different patterns, particularly in the bedroom. When it comes to adding texture to a space, the more, the merrier. Designer Fariha Nasir helped create the secondary bedroom of the property, which she designed by mixing and matching patterns and textures. For the wallpaper, she chose Home Depot's York Wallcoverings Rowan wallpaper. She also included a Jayden Creation Hallstatt retro arm chair and Brookside Molly bed frame to furnish the room.
Nasir also incorporated a Layla oriental area rug and a set of Livex Lighting brass wall lamps. This diverse mix of textures and patterns makes the space more interesting and really leans into that vacation rental vibe. In order to pull off a space with so much going on, it's important to have some cohesiveness. Always remember the rule of three when choosing the layout of your furniture and decor. This will be your reference point when decorating the space.