The Design Hack You Can Pick Up From HGTV's Home Town To Break Up Open Spaces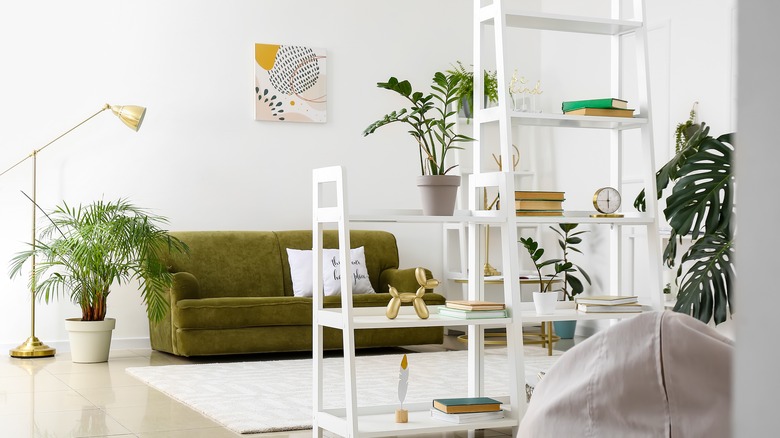 Pixel-Shot/Shutterstock
Many modern homes feature an open floor plan where the main living spaces are in one room or one continuous area. It's no secret these spaces look beautiful. Wide rooms filled with natural light can feel grand and make smaller homes feel larger. However, as stunning as these rooms can be, open spaces can have some drawbacks. Having some separation between rooms can provide a sense of privacy, particularly for families whose members may be doing separate activities.
The push for more separation increased during the pandemic when more people were living and working at home, and the trend has continued. Homeowners are often looking for separate spaces for an office, working out, or simply relaxing. But when you have an open floor plan, it can be costly to add walls to create the separation you may want. Luckily, Erin and Ben Napier from HGTV's "Home Town" have come up with a brilliant way to add separation into open rooms.
The designing couple added open shelving to a client's home to separate the living room and entryway from the dining room. The bookshelves that extend to the ceiling look like architectural features that add charm to the space. Being open on both sides allows light to flow through both spaces. And they create an easy division that creates distinct spaces without closing either room to feel cave-like.
A defining feature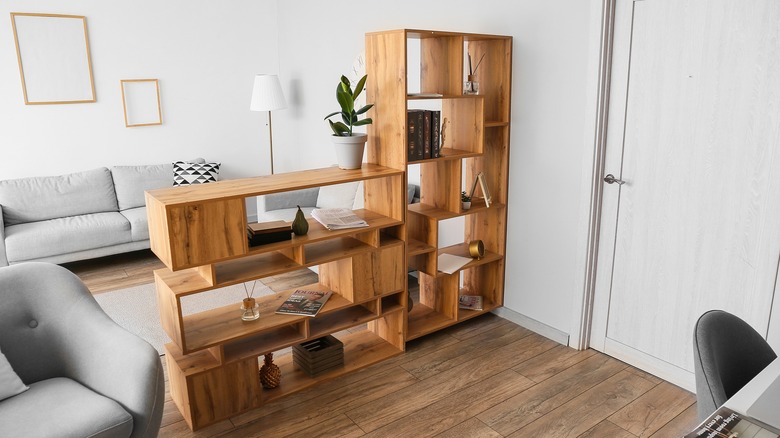 Pixel-Shot/Shutterstock
Defining distinct spaces in your home can give you the best of both worlds; a home that feels open and airy and some separation that can add intimacy to a large floor plan. Shelves are a way to add separation between rooms or spaces and allow a homeowner to bring more of their style and personality into the design through the books, decorative objects, and trinkets that sit on the shelves.
The double-sided built-in open shelving is a great addition to open floor plans to maintain sightlines from room to room and let light flow throughout the space. But for homeowners who want more distinct, closed-off spaces, shelves are still an option. Erin Napier explains that cased openings, a simple opening between rooms like a door or passageway, look more original for homes built before and during the 1930s. Open floor plans in these older homes get rid of some of the charm, so a little separation is the right choice. That doesn't mean you can't modernize these features.
In an episode of "Home Town," Erin and Ben Napier added a wall of built-in shelving around a doorway from the den to the kitchen of a cabin they designed for a client. Painted a misty blue color, the older home feels more contemporary, and with plenty of decorative objects on the shelves, the home is an authentic representation of its homeowner.