The HGTV-Approved Kitchen Reno Hack That Won't Break The Bank But Packs A Punch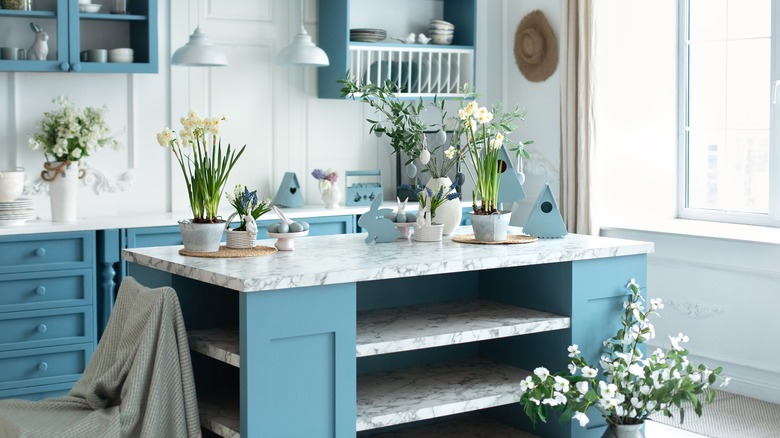 stock_studio/Shutterstock
As the workhorse of the home, kitchens are one place that many homeowners focus their time and money when it comes to renovation. Kitchen renovations tend to be on the higher side of the overall price range for home improvement projects. The average cost is about $26,000, with most renovations falling in the range between $14,607 and $40,623.
Though renovations can be costly, you can give your kitchen a cosmetic refresh without having to spend too much money. HGTV shared some inexpensive ways to update your kitchen that still create a statement that makes your kitchen look customized. All you need to do is head to the hardware store for a can of paint. HGTV suggests painting your kitchen island for immediate impact without a lot of fuss. This easy project can transform your kitchen, creating a statement that is literally at the centerpiece of the room. Plus, as the network notes, if you don't like the color or get tired of it, you can swap it out for a new shade and repaint your kitchen island whenever the mood strikes.
Two-toned kitchen cabinets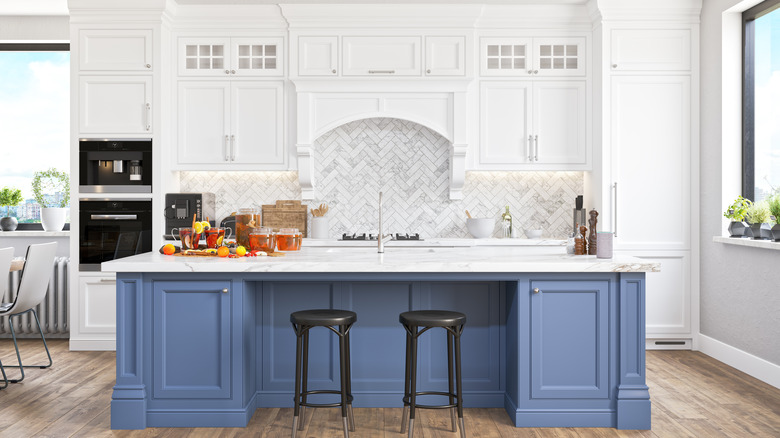 Imaginima/Getty Images
Painting kitchen cabinetry has grown in popularity in recent years as many homeowners look to have unique colors featured in their kitchens. Two-toned kitchens feature two distinct colors on different sets of cabinets, whether that upper and lower cabinets or wall cabinets versus the island. Two-toned cabinets aren't only visually appealing, they can also make a kitchen feel larger. Painting your island a darker color and the wall cabinets or upper cabinets in lighter shades can give the appearance of a more spacious room and help bounce light around the kitchen.
As for the colors that the kitchen island should feature, current popular shades include earthy tones, moody shades, and bold colors. Earthy greens and warm beiges are popular options for anyone who wants a relaxing space. Dark, moody blues, deep reds, and greens are ideal for anyone who wants to add a touch of drama to their home. And for those who want to make a statement, bright and bold colors are the right way to go. Overall, blues and greens tend to be the most popular shades across all tones, but reds, oranges, and yellow are a great way to infuse some personality.
An easy DIY project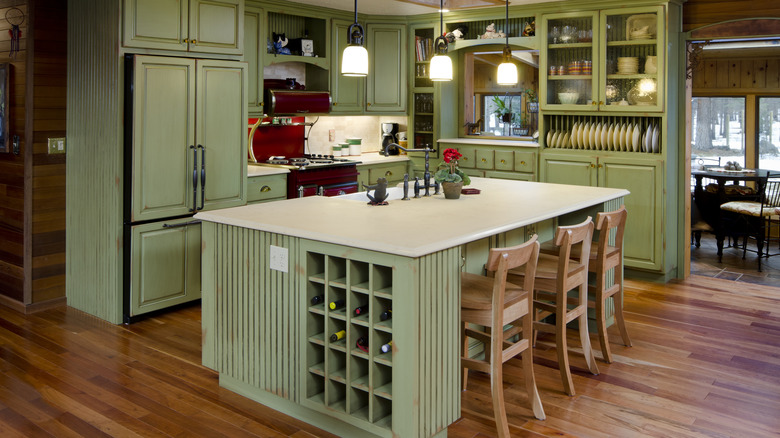 Chandlerphoto/Getty Images
While you can hire a professional to tackle your kitchen cabinets, painting your island is a project most homeowners can take on themselves. Materials needed for this project are easily bought at home improvement stores. The basics you'll need for the project include a drill to remove the cabinet doors, dropcloths, a degreaser, sandpaper or an electric sander. If you need to repair the cabinet doors, paintable wood filler and a putty knife will patch any holes, notches, or scratches.
To paint your island cabinets, start by thoroughly cleaning the surface of the doors and cabinet boxes, using a degreaser as well as gentle soap. If your island has been previously painted, you may want to use a paint remover to strip the previous color to ensure the new coat isn't affected by the old color. Patch any scratches or notches with the wood filler, let it dry, then sand it down. You'll want to sand the whole cabinet faces and boxes to create a smooth surface. Prime the cabinets before giving them two coats of interior paint. You may opt to remove the cabinet doors to make painting and drying a little easier. Even if you're a novice at home updates, this is a project you can do in a weekend.