The Common Design Feature HGTV's Emily Henderson Did Not Add To Her Kitchen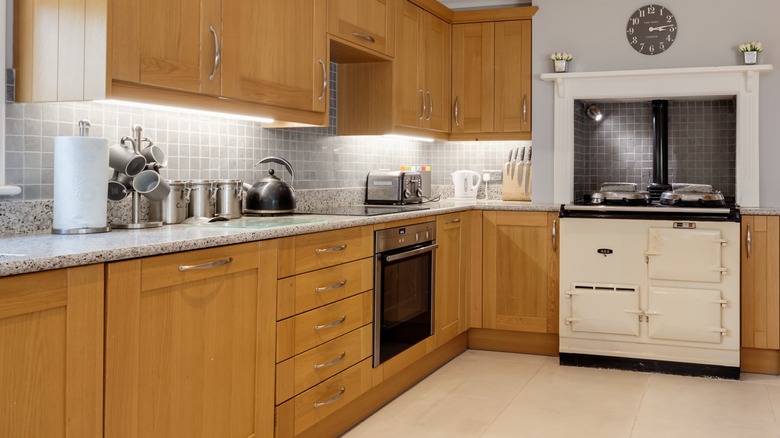 Mike Higginson/Shutterstock
If you want to make your kitchen as functional as possible, you may decide to add a toe kick on the bottom of your cabinets. This is a tiny recessed space that allows you to place your toes underneath the cabinets when cooking or cleaning on the countertops. This could help you stand straighter and create a more comfortable feel when working in the kitchen for long hours. However, HGTV designer Emily Henderson decided not to include this common feature in her kitchen. Why?
Well, according to her, it all comes down to preference and a few key benefits. She says that not having a toe kick keeps the space from getting covered in scuff marks, which was a problem in another one of her homes. "I think it was more to make it simple and streamlined, easier to clean, etc.," she continues on her blog, Style by Emily Henderson. She adds that while a toe kick can make it easier to cook, she doesn't have any complaints about her design choice.
What Henderson chose instead
Instead of featuring a toe kick in her kitchen, Emily Henderson decided to place wooden trim that matches the cabinets around the base. While a toe kick is slightly recessed or goes inwards, her trim protrudes out a few centimeters. When writing about her kitchen design in another blog post, Henderson says, "We tried extremely hard to choose materials that were timeless, hardworking, high quality, and felt very 'us' but appropriate for a farmhouse," and the cabinet trim fits all of these requirements. 
However, Henderson does have a word of warning about her design choice. "But a good thing to remember which I always forget about is that you can't put this trim under any appliances — dishwasher, fridge, and drawer fridges," she writes in her first blog post. This means that, underneath these appliances, there's going to be an empty area that may take away from the aesthetics of the space. Further, the trim also forced her to have to install the heat vent on the floor, which she says can be annoying since food and crumbs can easily fall into the vent.
How to achieve Henderson's kitchen design
If you want to follow in Emily Henderson's footsteps and forgo the toe kick for cabinet trim, you can create a similar look by choosing the same white oak cabinets, which were purchased from Unique Kitchens & Baths. When referring to this store's products, she writes, "They are so high quality, are perfectly executed, and are super timeless," per her blog. These cabinets are also completely customizable, so you can choose to include any of the features Henderson did or change them according to your preferences.
Interestingly, when Henderson first planned her kitchen design, she was going to include toe kicks but later changed her mind. On Unique Kitchens & Baths' website, they say that the flush toe kick is the standard. Perhaps Henderson chose her more unexpected design feature to make her kitchen stand out against the rest, as giving her cabinets an extra detail provides them with a personalized look. 
If you don't plan on swapping out your existing cabinetry but still enjoy the streamlined look, you turn the project into a DIY by covering the toe kicks on your cabinets using baseboards.