The Awkward Christina On The Coast Episode That Broke HGTV Protocol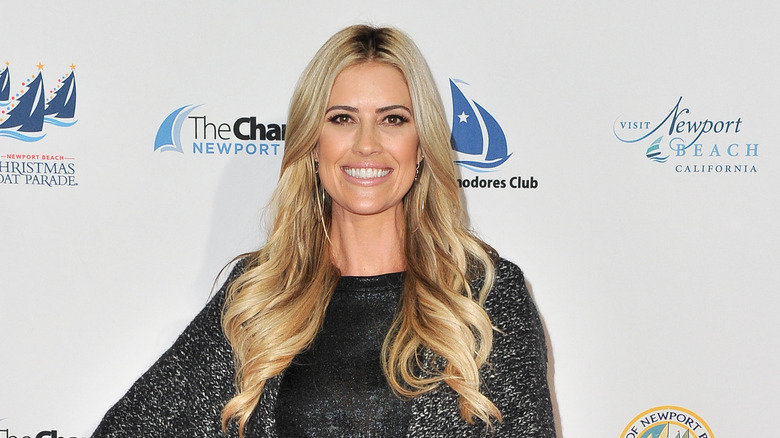 Allen Berezovsky/Getty Images
Christina Hall and James Bender are no stranger to designing homes, but there was one "Christina on the Coast" episode that almost left them speechless. In the episode, couple Amy and Scott asked Hall and Bender if they could redesign their fireplace in addition to renovating the other rooms. All seemed to be going well until Hall and Bender returned with tile samples for the fireplace, only to find that Amy and Scott had used their own contacts to refurbish the already complete fireplace. The moment got even more awkward when Hall and Bender noticed a few tile samples nearby, prompting Amy and Scott to admit that they wanted a home bar in the same room, too. 
Hall and Bender then promised to return with tile samples for the bar, only for there to be another issue when they returned. You may think Amy and Scott had learned from their past mistake, but in fact they once again chose their own tiles without waiting to see the samples Hall and Bender brought with them. Not only did the couple potentially hurt Hall and Bender's feelings by not listening to their design advice, but they also broke HGTV protocol in a major way by sourcing outside contractors.
The episode could have been very awkward
Luckily, Christina Hall took control of the awkward moment. Speaking to the camera, she said, "It's not the first or last time a client went rogue. It could be a lot worse." She also told Amy and Scott that she hoped they could communicate properly in the future to avoid a similar incident happening again. 
Fans were disappointed about how the couple bypassed Hall's design advice and chose their own path. On the HGTV Instagram post highlighting the episode, one user wrote that they loved Christina's design choices but hated the fireplace, calling it "hideous" and telling the couple to "trust your designer." Another wrote that they were "shocked and appalled" at how the couple undercut Hall's input. If there's ever a design tip to avoid, it's this one. Attempting to cut costs by undermining the expertise of your interior designers and seeking out your own contractors and samples means you'll be in for a toe-curlingly awkward moment when you have to explain the situation to them like Amy and Scott.
Christina Hall often plays it safe with her designs
Despite it being a staple home renovation program on HGTV, "Christina on the Coast" hasn't always had the best feedback, and one of the more common complaints about the program revolves around Hall's kitchen design trends. When Hall posted to Instagram announcing her return to the design world alongside a few photos of previous kitchen renovations, reactions were mixed. Though most of the comments were positive, praising the clean, boho, and rustic kitchens, some seemed to be tired of Hall's use of neutral colors like gray and white. A few comments also said they would like to see her try less modern designs.
Judging by these comments, it's clear that Hall's designs aren't to everyone's taste. Still, Amy and Scott shouldn't have gone behind Hall's back to pick out the tiles, and they especially shouldn't have had someone else complete their fireplace — let's hope viewers watching the episode took note of what not to do when hiring an interior designer.