Christina Hall's Bar Glassware Tip Will Upgrade Any Room In Your Home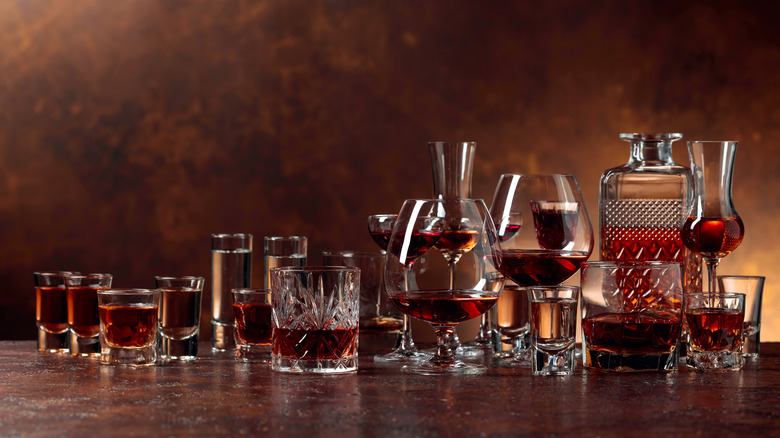 Igor Normann/Shutterstock
From a champagne-themed birthday party for her 40th to offering suggestions on how to set up the perfect bar for guests, HGTV's Christina Hall exhibits that as much as she's about decorating she's also big on curating items for entertaining. Making note of one of her tips shared on HGTV, we love the way she uses collected containers to hold both libations and munchies. This includes both vintage decanters with fancy stoppers and large lidded snack jars filled with pretzels and nuts, both of which look way more interesting than standard liquor bottles and mundane snack bowls.
Taking that cue all around the house, ideas abound for using all the bottles and jars that were way too pretty to throw away along with glassware more purposefully collected. Yes, a bar like the one Hall has created is the perfect place to use an eclectic mix of glassware. But spreading the love of glass containers to your bedrooms, kitchen, and bathroom can make for interesting focal points just about anywhere.
Ways to use collected glass in your home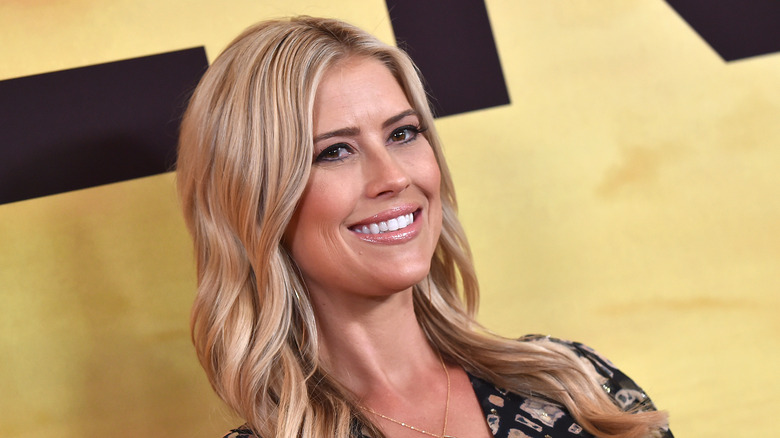 DFree/Shutterstock
Whether you're a bona fide glass collector or just like to hold on to interesting bottles and containers that are perfect for repurposing, there are indeed clever ways to use glassware everywhere in your home. The kitchen makes a great place to start because there are so many things you can decant and display in unique bottles and jars. From flavored vinegar and olive oil to bulk snack foods, the need to hide them in the pantry is over when they're placed in handsome glass containers. 
Moving to bedrooms and baths, one of those great liquor decanters Christina Hall uses at the bar would also make an amazing bedside water bottle for your guest room. Add a vintage glass tumbler and sit the duo on a lovely tray to complete the look. Pretty bottles with glass stoppers also serve nicely as decanters for bubble bath, massage oils, and bath salts. Tired of the apothecary jar look? Collectible vintage candy dishes with matching lids can contain everything from bath bombs to cotton balls and they can be found in every color imaginable. What could be better than a storage solution that also looks great on your counter?
Where to acquire a collection of glass decanters, jars, and bottles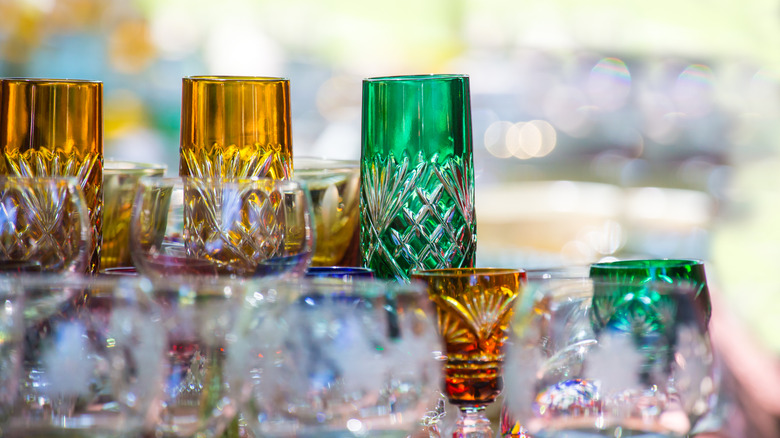 Rainer Fuhrmann/Shutterstock
As you use up foods and beverages packaged in glass bottles, think about unique ways you can reuse them. Many aren't quite interesting enough to keep, but over time you'll likely save a few that work for this purpose. You can also spruce up the lids of more ordinary jars with paint to match your décor.
Not a thrift store shopper? It might be time to get to know a few in your area if you're interested in collecting glassware. Those types of venues along with flea markets, antique malls, estate sales, and even garage sales can all yield glassware you can collect and incorporate into your home in unexpected ways. And, don't overlook Facebook Marketplace as a shopping venue full of possibilities.
While you're secondhand shopping for glass containers for holding food, drinks, or household items, you'll generally want to buy them in excellent condition. However, don't overlook a great decanter because the stopper is missing since you can easily order replacement corks online that will protect contents and discourage spills. With some patience and diligence, you'll soon have your own collection of great-looking glass containers to use all around your home just like Christina Hall.