How To Use Facebook Marketplace As The Ultimate Furniture-Shopping Tool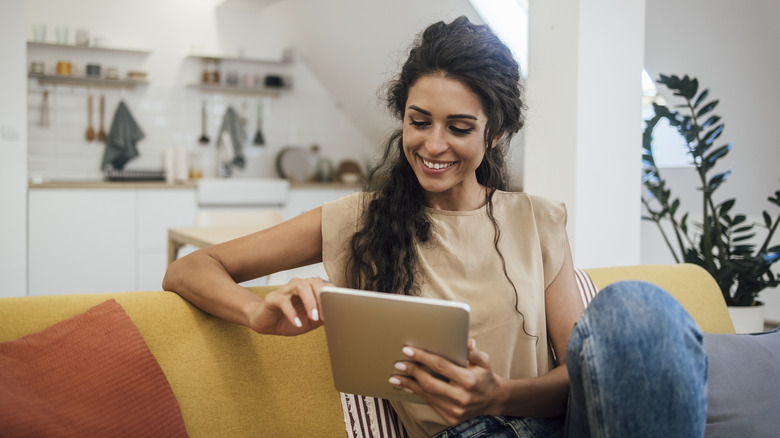 Mixmedia/Getty Images
Facebook Marketplace is the ultimate furniture-shopping tool for any budding savvy bargain hunter. You can find pretty much anything on there, as it essentially operates as an ongoing garage sale. It is truly a treasure trove of furniture waiting to be discovered. While it's fun to browse, it can be difficult to navigate if you are looking for something specific, or don't know how to get the best deal. If you're looking to spruce up your living space without breaking the bank, this guide is for you. Say goodbye to the days of endless window shopping and say hello to a world where your dream coffee table is just a few clicks away!
With Facebook Marketplace, you have the power to connect directly with sellers, ask questions, and negotiate prices like a pro. It's like having your own personal shopper, except this one works 24/7 and never charges a commission fee! So, whether you're a seasoned thrifter or a furniture-shopping newbie, this is everything you need to know to transform Facebook Marketplace into the ultimate furniture-shopping tool.
Use different phrasing to find what you're looking for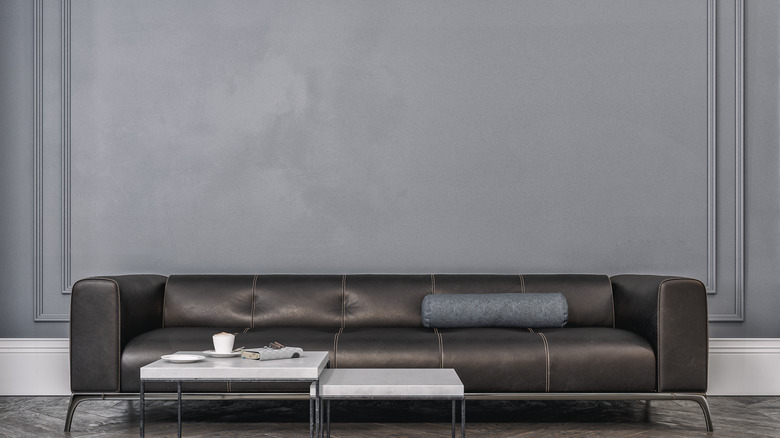 Gladiathor/Getty Images
The key to finding what you want on Facebook Marketplace is thinking like a seller, not a buyer. This is because there are lots of different ways to describe the same item. For example, if you are looking for a "post-modern black sofa," someone else might just call it a "black couch." To another person, it might be a "dark sofa," "charcoal loveseat," or even a "midnight settee."
To cut through the noise and find gems, you have to think outside the box. If you can think of any synonyms for what you're looking for, be sure to use them. This is especially true if you've been looking for a certain item for weeks and nothing is popping up. You might need to take a more creative approach with your words. If you are struggling to think up the words to use, online synonym tools are a great start, as they can give you lists of what to look for.
Save favorite listings to teach the algorithm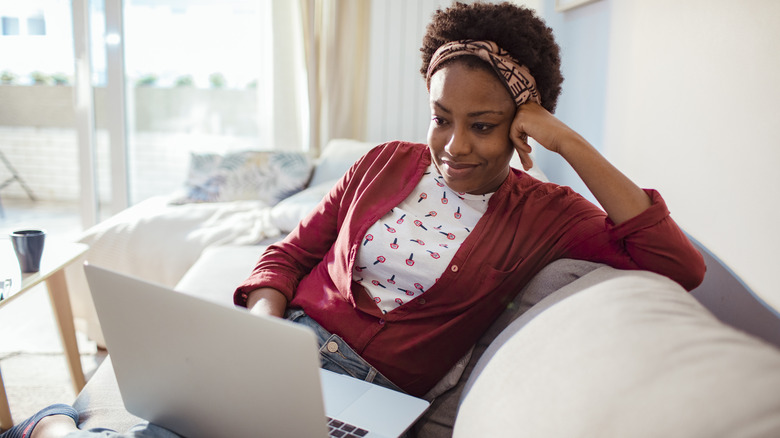 Vorda/Getty Images
The Facebook algorithm is pretty smart. We've all experienced the sudden onslaught of Erin Napier gossip posts after we liked one photo of a recent "Home Town" remodel. When using Facebook Marketplace for furniture, the best way to make the most of it is to harness those creepily accurate suggestions and use them to your benefit. Even if you are not interested in buying something at the time and enjoy browsing Facebook Marketplace just for the heck of it (who doesn't?!), you should be saving posts as you go. You can teach the algorithm what you like by clicking the "save" icon on the bottom right of the post.
If you see a pink crushed velvet loveseat you love, a refurbished wine rack that fits your style perfectly, or even a queen mattress because you know you'll need one when you move, save it. The more you save, the more the algorithm knows what you like. With this information, Facebook can show you items more aligned with your style and preferences. You can save things you don't intend to buy or are even out of your price range to teach it what you want to see. You can even make different folders to save items into, so if you don't want to clog up your list of things you might buy, make one called "algorithm" and save inspiration there ... a bit like a Pinterest board.
Join local furniture-buying groups for better deals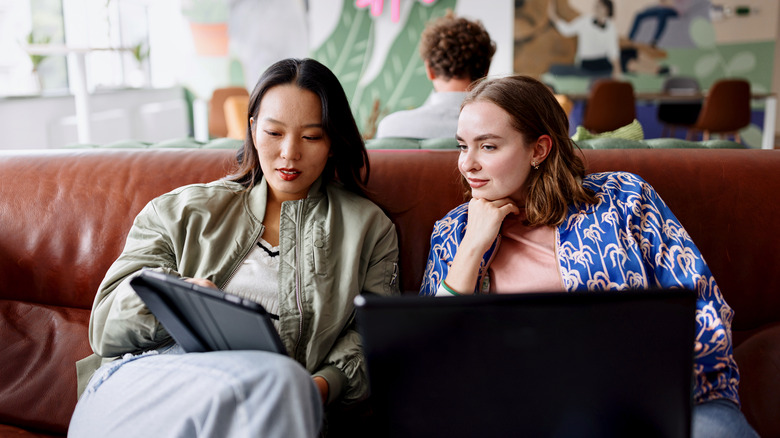 Anchiy/Getty Images
Sometimes the best place to buy furniture on Facebook isn't in the official Marketplace, but in secondary pockets that resellers create within Facebook groups. Whether you are in the immediate market for a new piece or are just interested in seeing what's out there, one of the best things to do is to join local furniture-buying groups on Facebook. Check for "[your area] + furniture resale" in the group search tab. Experiment with your county, city, neighborhood, etc. to find the most active one. Once you join one, Facebook tends to suggest other similar groups. So, finding the first one is often the biggest piece of the puzzle.
Joining these groups is a good idea because they often have active communities and provide a platform for buying and selling furniture specifically in your area. It can be better than the general Marketplace because there might be "flippers" in the group that hunt down pieces at fleamarkets and fix them to sell. This takes a lot of the work out of finding vintage furniture. It also means you would have first dibs, as you might see them posted in the group before they hit the seller's page. These groups also often have advice about how to flip pieces yourself, broadening the items you can buy for your home.
Use the Follow feature for your favorite sellers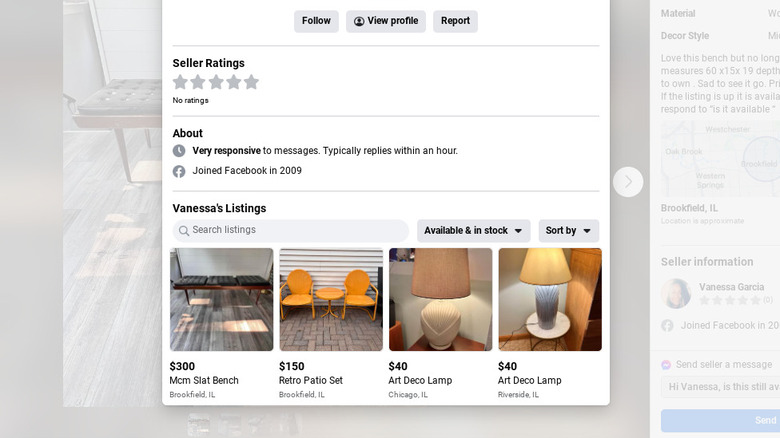 Emily Kammerlohr/ House Digest
You can get the most from Facebook Marketplace if you treat it like Pinterest. Just like you might follow an account filled with amazing furniture and decoration ideas on Pinterest, you should do the same on Facebook. So, if you come across a seller with a great selection of furniture or someone who frequently posts items you like, click the "Follow" button on their profile. This way, you can stay updated on their new listings and be among the first to know when they post something new so you can snap it up.
This is different than adding someone as a friend on Facebook. Following someone is purely for public information; you won't share any personal information with them. There is also no reciprocity, so the seller won't be able to so see your private Facebook profile unless they add you as a friend. Actively using the following feature also teaches the algorithm what kind of sellers you like. Because of this, the listings you start seeing in your feed will become more tuned into your style.
Increase your radius to 250 miles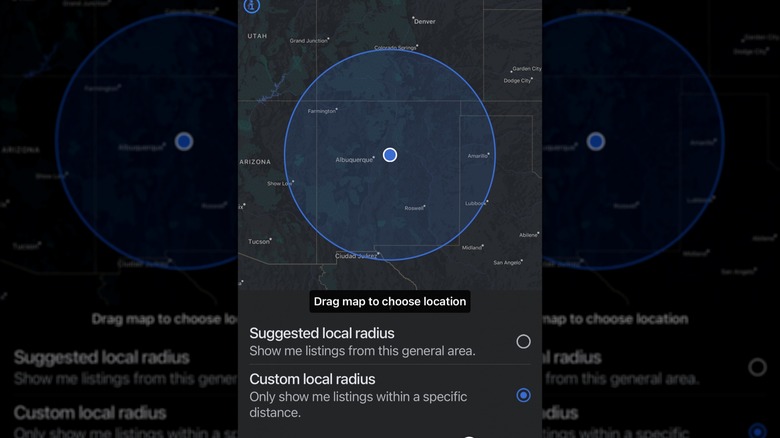 Emily Kammerlohr/ House Digest
We know you don't actually want to drive 250 miles to pick up a new coffee table. Whatever you save by buying secondhand will likely be eaten up by the gas to get there and back. However, much like a dating app, sometimes you must cast a wider net to get good options. Open Marketplace and click on the blue location in the top right-hand corner. From there, drag the slider all the way to the right, which is 250 miles.
Over the next few days, save everything you like, no matter where it is located. This will teach the algorithm what you're looking for to a more exact level since you now have more options to choose from. From there, go back to the locations page a few days later and bring it back down to your preferred distance radius. You'll now have better picks. If you are moving and know you will need furniture in your new location, you can even set your location on Marketplace ahead of time and do the same exercise to start priming the algorithm before you get there.
Use basic keywords to find more affordable furniture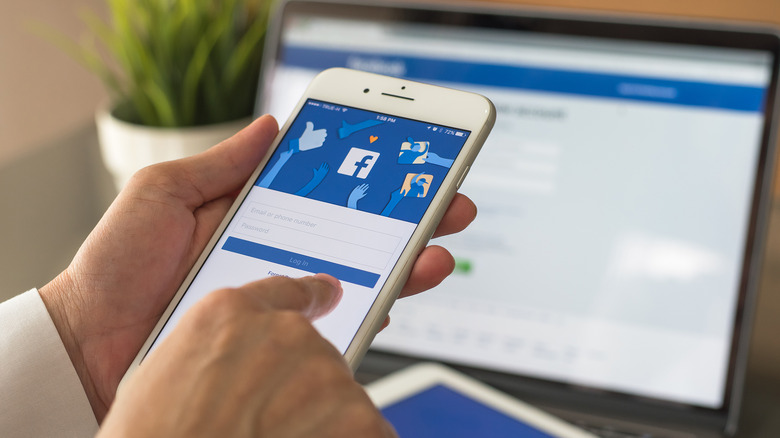 Chinnapong/Shutterstock
Much like some people might consider your couch a settee or your recliner just a chair, there are lots of people who might not even use those words. There are a ton of career resellers on Facebook Marketplace. These are people who make their full living buying and flipping furniture online. If you want to buy from them, you can typically find their listings with hyper-accurate design keywords. Things like "Midcentury Modern," "Post Modern," and "Memphis Style" will pull up exactly what you are looking for. However, items from these folks come with a hefty price tag that might not be what you are looking for from a secondhand piece of furniture.
If you want to buy cool vintage stuff but with garage sale prices, you need to step around the professionals and buy directly from someone who is cleaning out their garage or parent's home. These folks will typically use more basic keywords like "leather wooden chair" for a Midcentury Modern chair or "Metal Lighting Pendant" for a Sputnik lamp. When looking for something specific like this, try describing it in layman's terms; you might be surprised by what you can find.
Be open to used and refurbished furniture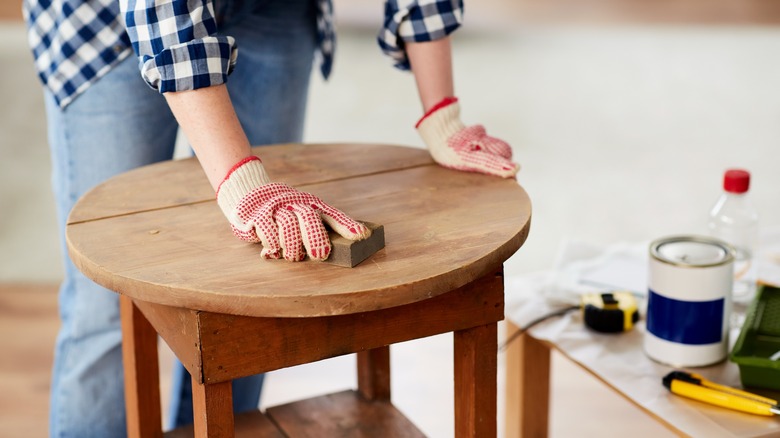 Ground Picture/Shutterstock
Facebook Marketplace offers a wide range of used and refurbished furniture at affordable prices. Sometimes you will see amazing secondhand deals that make your eyes pop out of your head. Someone had a mint condition Barcelona chair in their formal living room and no longer wants it? For just 20% of the retail price? Pinch me! But sometimes you will see listings that just make you roll your eyes, like someone trying to pass off a Billy bookcase from IKEA as new when it's clearly seen better days.
However, to get the most out of the app, it's in your best interest not to dismiss these options. While it's not usually worth buying secondhand IKEA furniture because of how cheap it is retail, don't turn up your nose at vintage options that might need a little TLC. After one trip to Home Depot and an afternoon sanding in your garage, you might have something of good quality that provides excellent value for money.
Check their listings before messaging the seller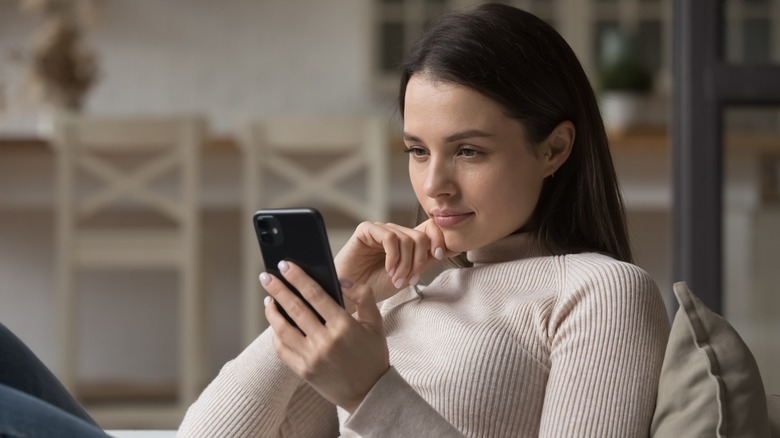 fizkes/Shutterstock
When you find something you like, check the seller's profile before sending them the "I'm interested" message. This is because sometimes sellers put up multiple listings of the same item, all at different price points. They do this when they want to see if it will sell for more or less. If you find they have a duplicate listing up for less money, message them from that listing to save yourself some coins. You can take a screenshot of it as a bit of leverage if the price suddenly changes.
If they don't have a duplicate listing, but you found another offer for the same item nearby for a lower price, you can also mention that. Sometimes people are just keen to get rid of an item (especially if they are moving, settling a loved one's estate, etc), so they are open to negotiating. The key is to be kind in your phrasing and not come in too low, but just ask for a "price match."
Set up alerts so you don't miss anything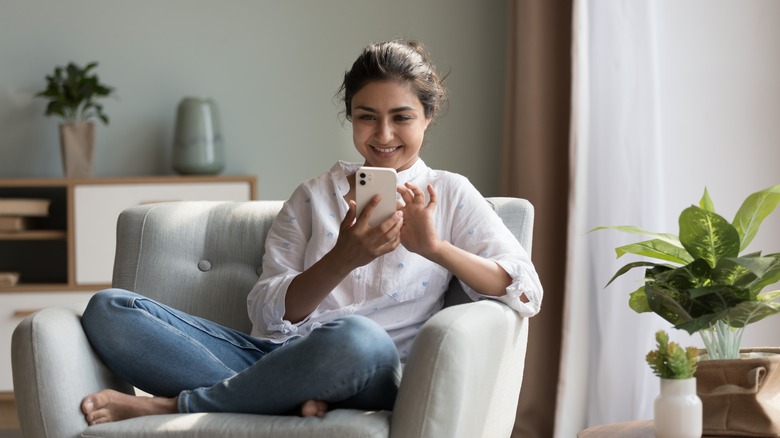 fizkes/Shutterstock
There is nothing worse than looking for something specific for months, seeing a listing, and getting the "Sorry, I've already sold it!" message back from the poster. To avoid this disappointment, you need to set up alerts to stay ahead of the game. Much like concert tickets to the event of the century, you need to be online and ready to pay as soon as what you want becomes available.
To stay informed about newly listed furniture items that match your criteria, set up alerts for specific keywords or categories. To do this, go to Marketplace and type your preferred keyword into the search bar, such as "black couch" or "Crate & Barrel." This will automatically take you to the search page with the keyword listings, and at the top of the page is a small button with a bell. Click that, and you will automatically create an alert for the keyword. This way, Facebook will notify you when the kinds of things you are interested in are posted. This also teaches the algorithm, and your feed will be filled with more items related to your alerts.
Look up reviews before you buy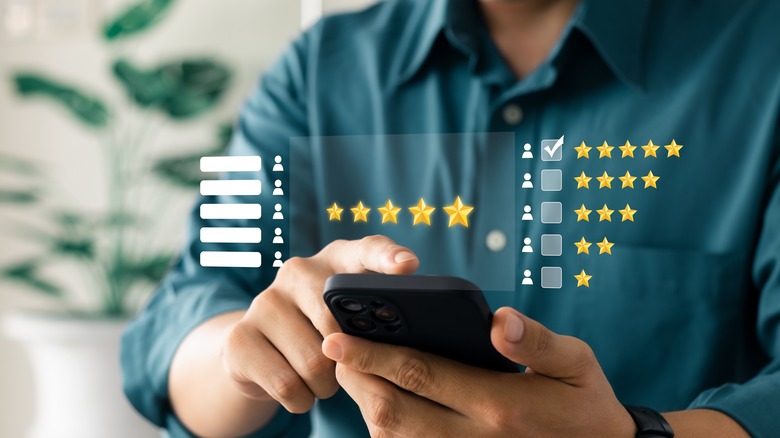 Thapana_Studio/Shutterstock
Before buying anything on Facebook Marketplace, especially anything relatively new in general, be sure to look up reviews. If you are purchasing a vintage item, check to see if the seller is well respected in the Marketplace community. In this case, it's more about the lister's reputation than an issue with the item. However, if you're about to buy a used CB2 couch or Studio McGee lamp, chances are you can still purchase it new online. Quickly look it up to see the reviews and double-check if there's a reason the seller is trying to get rid of it.
Is the item an overall lemon, and those who bought it retail are now trying to get rid of it? Or is this seller moving overseas and just doesn't want to take it with them? You can save yourself a lot of headaches from buying something that's not worth it by seeing its retail store's reviews.
Check for delivery options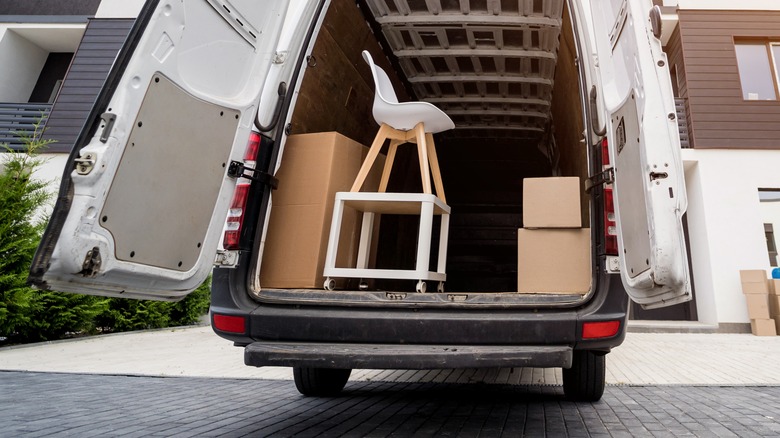 Roman Zaiets/Shutterstock
If you don't have a car or are buying an entire dining room set that won't fit in your Corolla, fear not. There is still hope for using Marketplace to avoid paying retail. Sometimes, sellers on Facebook Marketplace also offer delivery services for an additional fee. It's best to be upfront about this in your message. For example, "I am interested in the table, but it won't fit in my car. My zip code is 12345. What would you charge for delivery to this location?"
While you can always rent a truck for the day or ask a friend or family member to borrow their car, starting with the seller is always easiest. By being upfront and mentioning in the initial message that you are willing to pay for a delivery, you are more likely to find success. This is because many other buyers might assume delivery is included, or won't be willing to pay, so you will be set apart.
Consider bundled deals to save money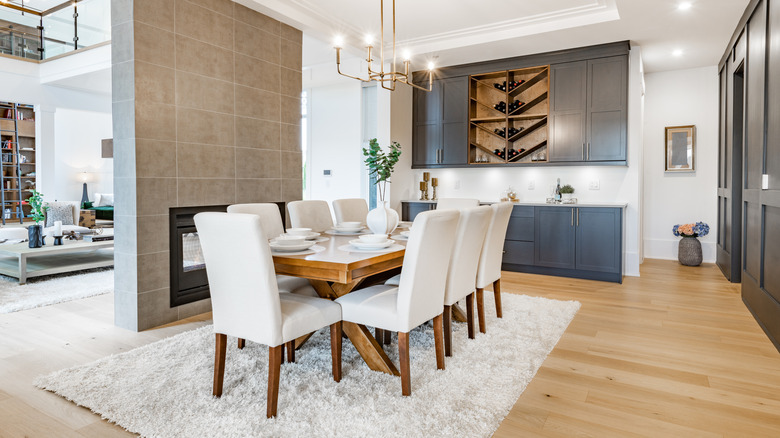 Sheila Say/Shutterstock
Sometimes sellers may offer bundled deals, where multiple furniture items are sold together at a discounted price. This is often the case when somebody is moving or hosting an estate sale. You will find things like bedframes with mattresses and bedside tables, full dining room sets, and the like. If you are moving somewhere new, only want coordinated furniture sets, or need to furnish multiple rooms in your home, keep an eye out for these opportunities.
The best opportunity is when you buy from someone moving abroad. In this case, you will be able to grab every piece of furniture possible from someone desperate to get rid of it. Bedroom sets, picture frames, and even kitchen appliances are available at rock-bottom prices. Sometimes, you will see these posts on Marketplace; other times, you'll click on one item and the seller will bring it up as an option. If you prefer to shop these sales often on Facebook, join expat groups in your community, as they always come up.