Paint Colors Joanna Gaines Swears Are Timeless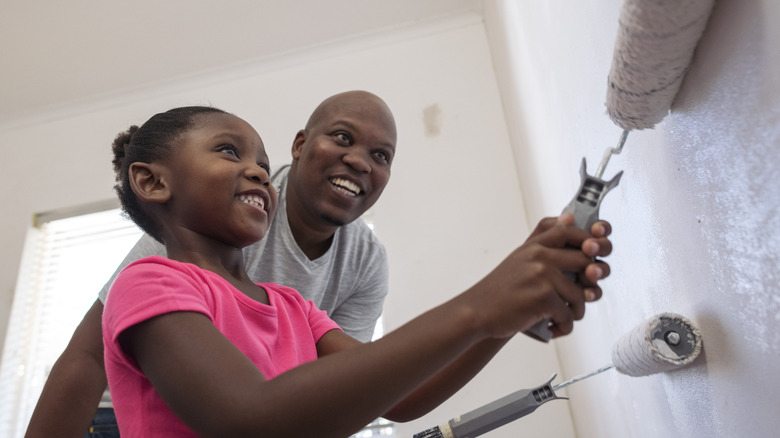 Pixelcatchers/Getty Images
Joanna Gaines is known for her decades of home renovation experience, so it makes sense that over the years, she has narrowed down the paint colors that she thinks are truly timeless. If you're looking to gather inspiration for your next renovation project, look no further, as the "Fixer Upper" star spoke to Country Living about her picks.
For busy areas of your home like the kitchen, living, or dining room, Gaines sticks to classic neutrals. "For high-traffic areas like kitchens and living rooms—and almost any space­—I like to keep things simple and use a creamy, neutral white," she shared. According to Gaines, "[These colors] create a bright, clean space and offer a versatile backdrop for décor." She recommends the Magnolia color Shiplap specifically, a charming white with creamy undertones. 
Neutrals are timeless due to their elegance and the fact they don't come and go like non-neutral color trends. Using neutrals in your home decor is relatively easy, but you don't always have to go for the most obvious style. For example, kitchen cabinets featuring the off-white shade will create a cozier look than fully neutral walls would. As for your living room, a cream sofa is high-maintenance, especially if you have pets or children. However, walls painted in 'Shiplap' and finished with 'True White' for a white trim (as recommended by Gaines) will bring an inviting energy into the space.
Turn your bedroom into a calming oasis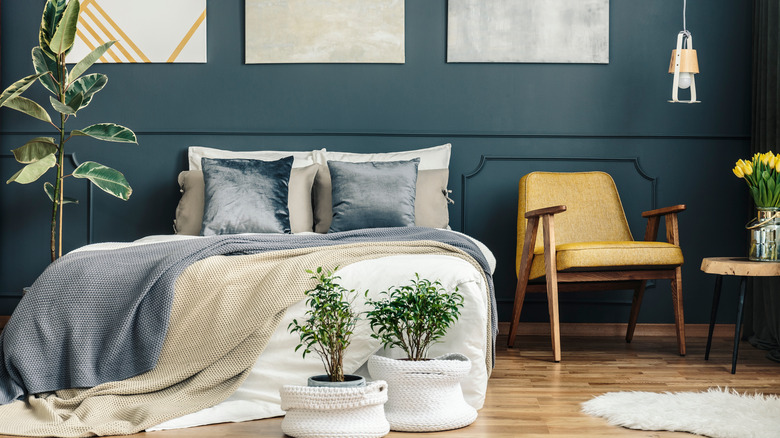 Ground Picture/Shutterstock
Now you know that neutrals are best for busy communal areas, what about private spaces like your bedroom? You may think that, once again, lighter colors would create the perfect atmosphere for you to unwind in, but Joanna Gaines actually recommends choosing a unique color for your bedroom. "Bedrooms are a great place to take a risk and use a little more color," she shared with Country Living. "I would love to see a client use 'Weekend' in their bedroom. Like weekends, this color puts me at ease."
The deep blue shade of 'Weekend' is inspired by denim and will look just as vibrant on your walls as in the paint can. Though you may not think of blue as a timeless color, certain core shades like classic denim blue and navy blue will lend a grounding element to your bedroom that never goes out of style.
Due to its darker look, we recommend keeping the use of 'Weekend' to an accent wall. Though gorgeous, the blue hue isn't the best paint pick for a smaller bedroom, as it could make your space appear gloomy and closed-in. A good way to avoid this when decorating with darker colors is to choose accessories in a lighter shade. We also recommend choosing a brighter color for a contrast that pops. Ochre and mustard go beautifully with denim or teal-hued blues or try light gray for a neutral contrast.
Reconnect with nature using shades of green
Goodboy Picture Company/Getty Images
The final paint color Joanna Gaines loves is green. There are tons of different greens, but Gaines' favorite greens lean on the natural side — think moss and freshly rained-on leaves rather than lurid lime green or super dark hues. The interior designer often uses green as a neutral shade in her renovations, and it's because of green's earthy connotations that it reads as timeless rather than trendy.
Via Country Living, she revealed, "At the moment, I'm really drawn to fresh botanical shades, like 'Magnolia Green.' I've always been drawn to nature in my design work and really love bringing a touch of it inside. I think it would be fun choice for kitchen cabinets, or anywhere that needs a touch of nature." If you're not sure about green paint in your kitchen, green is additionally a great shade for bathrooms due to the calming vibe it carries. Green is also a gorgeous color for your hallway or any sort of entryway space because of its fresh look. Guests will feel instantly at home and surrounded by nature, even indoors.
Moreover, Gaines recommended incorporating warm-toned wood accents into any room featuring green for a look that reads more sophisticated than shabby chic. Utilizing Gaines' warm wood tip, you could add a wooden bench in your entryway or a wooden storage cabinet in your bathroom for a finishing touch.