How You Can Flip Old Dishware Into Adorable Bird Feeders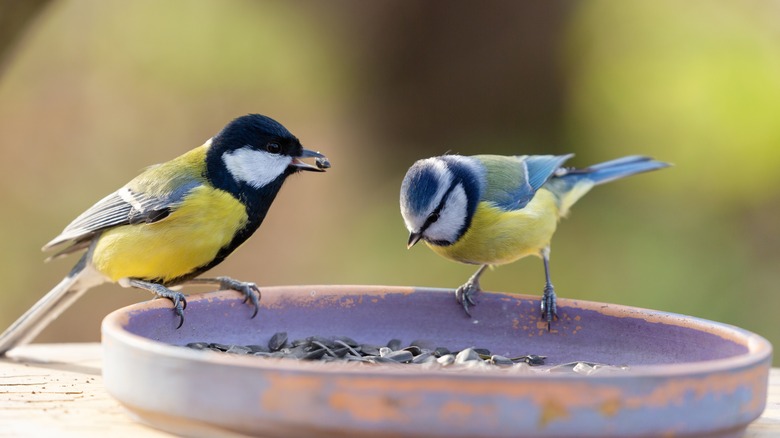 Nitr/Shutterstock
Vintage dishes are stunning, from gorgeous mid-century floral designs to intricate antique china from the 19th century. While some of these pretty artifacts are used to fill dish cupboards and curio cabinets, others sit dusty in boxes or unloved on thrift store or flea market shelves. Many are in great condition, but others show their age through cracks, chips, and crazing. What to do with these unloved pieces? A creative DIY to add a bit of upcycled and vintage charm to your garden, and a spot for the natural wildlife to gather, is to make a bird feeder that is as functional as it is pretty.
Not only does this thrift flip project make excellent use of old dishes, saving them from the trash or landfill, but it is also a great eco-friendly solution to an uninspired garden. It's also a lovely alternative to ordinary plastic store-bought feeders that can be made easily and inexpensively using thrift store finds or old, discarded dishware. You can create hanging varieties using twine and hooks or a version that you can stick in a planter or in the ground.
Making a vintage dishware birdfeeder
This easy project requires only a few essentials. For dishware, choose beautiful pieces that speak to you. Many utilize ceramic cups and saucers, but you can also use glassware, plates, and serving trays. For hanging planters, you will need twine or other outdoor-friendly hooks, bird seeds, and a strong adhesive meant for ceramics (many recommended E-6000 or DAP clear silicone). For a teacup design, begin by placing a line of adhesive on the saucer or plate where you want the cup to rest. With the handle facing upwards, place the teacup in the line of adhesive, allowing it to balance, holding it in place as needed until it is stable. Allow it to sit for one to two hours until the adhesive fully dries.
If you've placed your cup in this position, attach the twine to the handle, and the bottom saucer or plate will sit straight and perpendicular to the ground. If not, you can always create a triangle sling for the bottom of the plate with three pieces of twine and connect them to the center. In order to create a ground bird feeder, you will need dishes, adhesive, a glass bottle, and a piece of rebar or metal garden stake. Use the adhesive to affix the bottom of the plate or saucer to the bottom of the bottle (wine bottles work great for this). Once dry, place the bottle down over the stake or rebar and fill the plate with bird seed.
The perfect cottagecore garden accessory
With so many unloved vintage dishes out there, the possibilities for this project are endless. You can also create totem-like sculptures using dishware of various varieties and heights, including stemmed and non-stemmed glassware stacked and glued together in a beautiful configuration. Set these in the garden filled with seeds or allow rainwater to collect and create small, beautiful bird baths and spots for passing thirsty bees and butterflies. You can also use adhesive to add other vintage accents like animal figurines.
Group feeders together for a quaint English garden effect using floral dishes. You can also use brightly colored dishes for a bolder and more colorful look. These feeders look great on a side table, porch railing, or tucked in a large planter. These unique OOAK feeders are not only a treat for the birds but also are perfect accents for cottagecore and romantic-themed outdoor spaces, especially when combined with floral textiles, plenty of overflowing planters and bushes, and whimsical woodland accents.