How To Limewash Your Walls Like HGTV Star Leanne Ford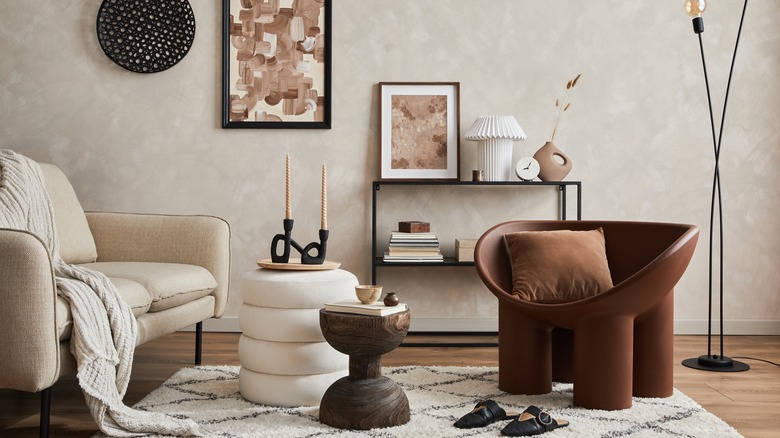 Followtheflow/Shutterstock
Interior designer Leanne Ford from HGTV's "Restored By the Fords," has a signature light, minimalist, and neutral style. Her projects are often described as cozy, modern, and aesthetically pleasing. When working with an overall neutral palette, adding texture is essential for keeping the design interesting. Limewashing is a great way to create understated visual interest while maintaining a cozy and modern vibe.
Limewash is a paste-like substance made by mixing limestone and water. The treatment is applied to walls, bricks, and other facades to create a textured finish that is reminiscent of aged stone. And though it can make your home look expensive and bespoke, it's a project that most homeowners can take on themselves with tools bought at local hardware stores. However, Ford has another method that can achieve the limewash look without this substance. She explains that her technique is like "modern day sponge painting" and says all you'll need is a spray bottle, matte paint in a darker and lighter shade (she uses Behr Dynasty's Studio Clay and Brown Eyes in a matte finish), water, sponge, and a paint roller, per her website.
Sponge-on limewash
While interior designer Leanne Ford's limewash method doesn't use the actual limewash paint, it still captures the look of the natural textured finish. Ford says to start by rolling the lighter paint color over the wall (via her website). Then use the sponge to dab the darker color over the lighter shade. You'll want to pat the color with a rag to blend it out; enough to soften the edges but not too much that it becomes all one color. You still want to be able to see some spots of the lighter color.
It's also important to note that this method requires you to work fast while the paint is still wet. Working on small sections of the wall will be a better option than trying to tackle the entire wall at one time. However, if the paint starts to dry while you're working, Ford notes that you can spritz the area with water to keep it wet and workable. Another tip the designer says to keep in mind is that the more dark paint you apply, the darker the area will be. However, you can lighten it again if the area is too dark by layering and blending the lighter hue on top. What's great about this method is that you can use any shade of paint to create a bespoke limewash finish. However, to truly get the look, it's best to choose the same color in different shades.