Why You Need To Clean Your Bathroom More In The Summer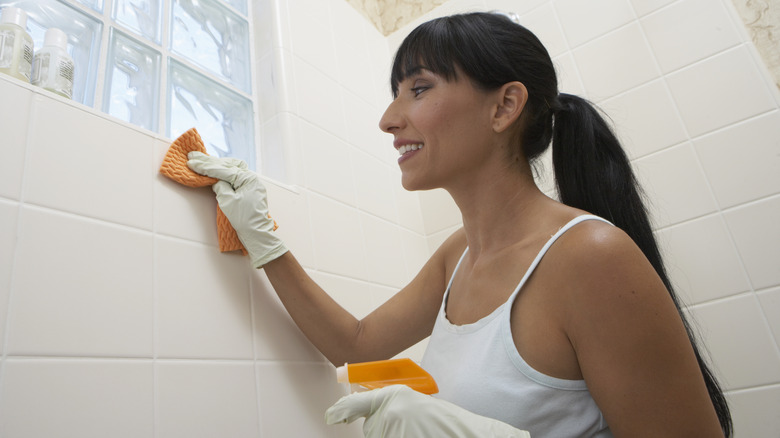 Barry Austin Photography/Getty Images
Is there anything better in the summer than a refreshing dip in the pool or having friends and family over for a barbecue? Both events mean your bathroom is guaranteed to get more use, which is why you need to keep it extra clean and free from excess germs. Even if you're just catching some rays out on your deck, your bathroom is getting more use if you're showering afterward, especially if you're rinsing suntan lotions down the drain. Things like shea butter and cocoa butter can lead to clogged drains, so give your bathroom some extra TLC this summer to keep it sparkling and in good working order.
The same is true if you have guests over for summer parties. Your plumbing system is working harder and your bathroom is exposed to more germs than it's used to. But, don't worry — there are steps you can take to keep your bathroom clean all summer long. There are also several areas to pay extra close attention to, as your bathroom has plenty of unassuming places for bacteria to collect.
Mold growth in the summer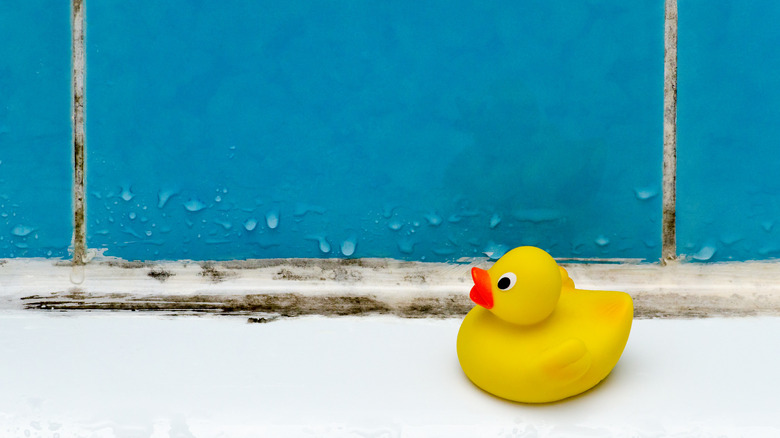 nadisja/Shutterstock
When water heats up, it creates a humid environment. This can cause mold in your bathroom, especially if you shower more in the summer. You may notice mold on your shower curtain, on your grout or caulk, and even on your ceiling or walls. When possible, use cloth shower curtains such as cotton duck — not only are they better for the environment, but you can wash them. In between showers, simply wring out any excess water and let it dry outside of your tub to deter mildew growth, especially in the summer. 
If you notice your shower has signs of mold or mildew, you can try a budget-friendly grout-cleaning hack, which uses non-toxic ingredients you probably already have. For starters, spray your shower walls with a water and vinegar solution and let it sit for a minute or two. Once it's had time to work its magic, simply wipe away any dark spots. You can also use the same water and vinegar solution to wipe the mold off of ceilings and walls. You may also notice that your shower is draining slowly, especially if you're using it more often in the summer. Baking soda and vinegar can clear up a variety of clogs without harming your pipes or the environment. 
Focus on appliances and fixtures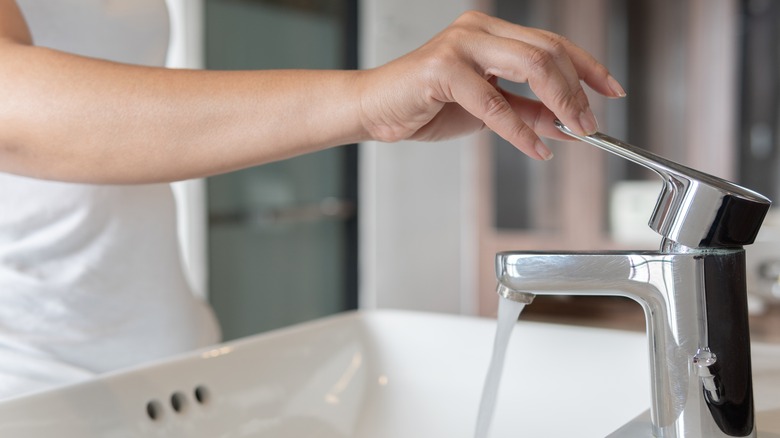 Art Stocker/Shutterstock
Your toilet handle sees extra germs all summer long, especially as guests come in and out of your home. Clean your toilet after hosting parties and let vinegar sit in your toilet bowl overnight to help kill germs and viruses. If you have a rug in front of your toilet (or anywhere in your bathroom), launder it weekly or after guests are over. Bathroom rugs are breeding grounds for a variety of bacteria and mildew, especially in the summer, so it's vital to clean them often.
Remember to clean your faucet frequently, too, especially if your bathroom is seeing extra use this summer. When you turn on your faucet, your hands are dirty, which means your faucet has an overwhelming amount of bacteria on it — you might encounter e-coli, staph, and coliform bacteria! If your bathroom is seeing a lot of extra use this summer, just remember it needs a little extra care to keep it mold, bacteria, and germ-free. Last but not least, if you have hard water, you may want to clean your showerhead more often to remove hard any water stains.