Can You Paint Laminate Countertops?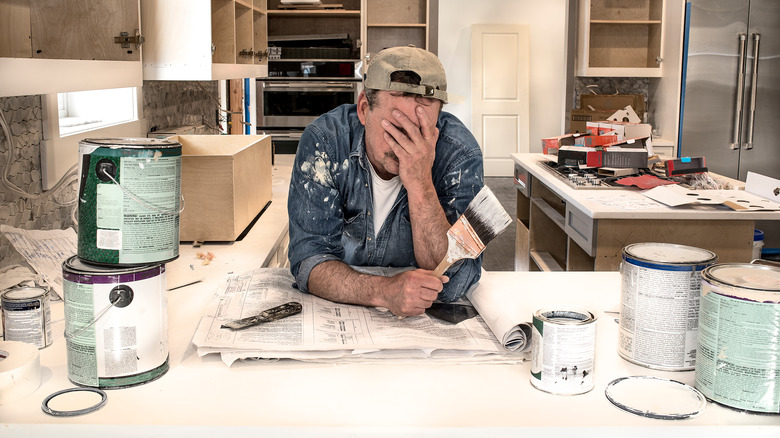 Jon Rehg/Shutterstock
Since Formica introduced laminate countertops in the early 1900s, they've been a popular countertop option among homeowners as they're cheaper than quartz, natural stone, and composite materials. Further, they're extremely low-maintenance, dirt and moisture-resistant, and easy to install. But these countertops are not incredibly durable as they scratch easily and might look worn down after a few years. Luckily, you can paint your laminate countertops to reinvigorate them without shelling out a lot of money to replace them.
You can even paint your laminate countertops if you don't like how they look or if they don't match your overall design aesthetic. The best part is you can customize the look and feel of your existing laminate countertops. You don't have to invest in expensive power tools — though there are some tools that every homeowner should have — to give your countertops a facelift. You just need some quality primer, a few coats of paint, and a dependable sealer to get the job done. However, you must clean and prep the surface before painting it.
Clean and prep the surface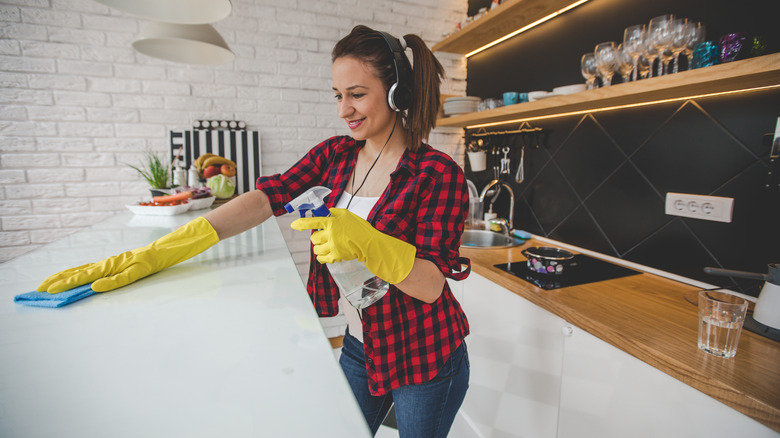 South_agency/Getty Images
To paint your laminate countertop, you need to clean and prep the surface first. Remove all appliances from the countertop and cover the cabinets and floor using old cloths or plastic sheeting to protect them from accidental paint splashes. You might want to throw open the windows and turn on the exhaust fans to improve the room's ventilation. Now, you can begin preparing the surface for paint. The first step is to clean the surface thoroughly. Throw in some elbow grease and use a kitchen cleaner or detergent — avoid anything with ammonia in it — to degrease the countertop and remove dirt and dust buildup.
Once you're satisfied that your countertop is as clean as possible, step back and allow it to dry completely. While it's drying, choose a water-based acrylic paint that goes with your overall color and design scheme. After the countertop is dry, wear protective eyewear, gloves, and a mask to sand the surface with 150-grit sandpaper. Use a damp cloth to clean the surface and let it dry.
Paint and seal laminate countertops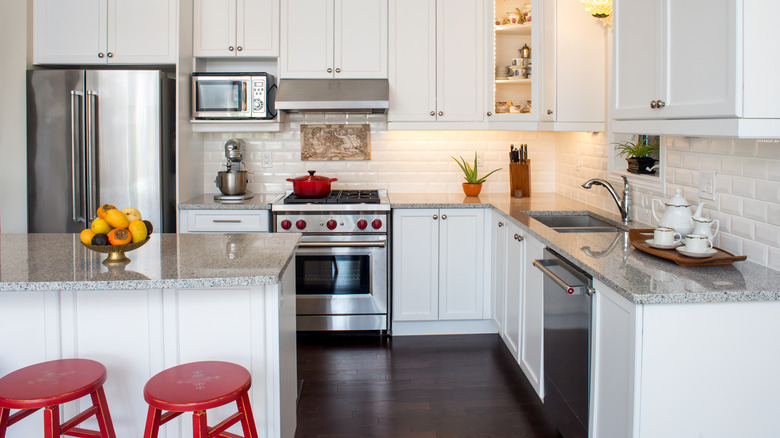 Chefmd/Getty Images
Before painting your laminate countertops, apply a coat of primer to the surface to hide its existing color. Use a paint roller to evenly apply a thin layer and keep a paintbrush nearby to reach all the nooks and crannies. Let it dry overnight or give it at least six hours to adhere to the surface. Once it's dry, apply a second layer and let it dry, too. Now, pour your chosen paint on a tray and use a clean roller to paint the laminate countertop. A clean paintbrush can come in handy while painting corners, too.
After the first paint dries, apply a second coat to let it dry before sealing it to add finishing touches to the countertop. You can apply a few coats of clear acrylic or pour a glossy countertop resin to ensure that your paint job lasts longer. If you're pouring resin, pop any bubbles immediately and clean drips along the corners. The final step is to allow your sealant to dry completely. Be gentle on your freshly painted laminate countertops for a couple of weeks to allow the paint and sealant to settle in.